Queen launches Diamond Jubilee year with multifaith reception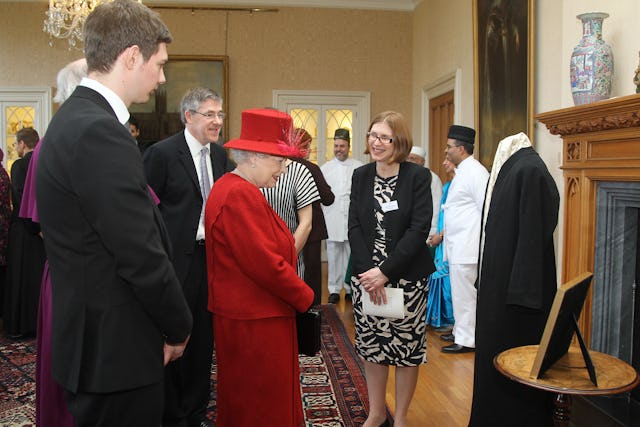 LONDON, England — Representatives of the United Kingdom Baha'i community joined members of eight other religions at a special gathering to mark the Diamond Jubilee of Her Majesty Queen Elizabeth II.
At a reception held at Lambeth Palace – official residence of the Archbishop of Canterbury – Baha'is, Buddhists, Christians, Hindus, Jains, Jews, Muslims, Sikhs and Zoroastrians discussed their beliefs with the Queen and His Royal Highness the Duke of Edinburgh, and showed them treasured objects from the various faiths.
Highlighting the ongoing centenary commemorations of 'Abdu'l-Baha's travels to Egypt and the West, the Baha'i community displayed a robe that He had worn. Baha'i representative, Shirin Fozdar-Foroudi, described the simple robe as a reminder of the spirit of 'Abdu'l-Baha whose life of service was an example to all.
The exhibit also included a framed calligraphic rendering of words from 'Abdu'l-Baha's first ever public speech, delivered on 10 September 1911 at London's City Temple: "The gift of God to this enlightened age is the knowledge of the oneness of mankind and of the fundamental oneness of religion."
The Queen listened and carefully followed the text as the words were read by Dr. Fozdar-Foroudi.
The Baha'i delegation also consisted of Patrick O'Mara – Secretary of the National Spiritual Assembly of the Baha'is of the United Kingdom, Nasrin O'Kane from Northern Ireland and Liam Stephens from the Isle of Skye.
"The Queen spoke to us of how widespread the Baha'i community appears to be," said Dr. Fozdar-Foroudi.
"We also took the opportunity to thank her and the Duke of Edinburgh for the services that they have rendered over the past 60 years in promoting the principles of unity, equality and justice among the diverse peoples of the Commonwealth," she said.
The reception held on 15 February was one of the Queen's first public engagements to celebrate her Diamond Jubilee year.
Addressing the gathering, the Queen said, "Faith plays a key role in the identity of millions of people, providing not only a system of belief but a sense of belonging."
"Our religions provide critical guidance for the way we live our lives and for the way in which we treat each other."
"It can act as a spur for social action. Indeed religious groups have a proud track record of helping those in the greatest need."
The Queen concluded by sending good wishes to each of the faith groups represented by the guests, "in the hope that – with the assurance of the protection of our Established Church – you will continue to flourish and display strength and vision in your relations with each other and the rest of society."