100 years ago, historic journeys transformed a fledgling faith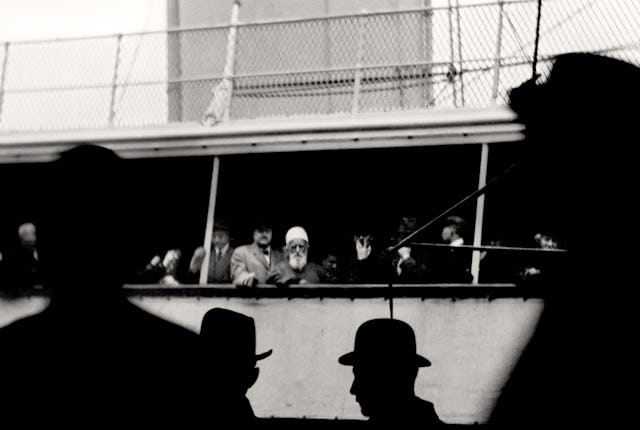 HAIFA, Israel — One hundred years ago, 'Abdu'l-Baha, the eldest son of Baha'u'llah and His appointed successor as head of the Baha'i Faith, embarked on a series of journeys which, over the course of three years, took Him from the Holy Land to the Nile delta, from the Pacific coast of North America to the banks of the River Danube.
Despite His advanced age, 'Abdu'l-Baha set out in August 1910 to present Baha'u'llah's teachings about the dawning of a new age of peace and unity, to high and low alike. These historic journeys launched a fledgling faith on its way to becoming a world religion.
"He was sixty-six years old," the Universal House of Justice has written in a special message, dated 29 August, to mark the centenary, "an exile since childhood, with no formal schooling, a prisoner for forty years, in failing health, and unfamiliar with Western customs and languages. Yet He arose, without thought of comfort, undeterred by the risks involved..."
"With the inauguration of 'Abdu'l-Baha's travels to the West, the Cause of Baha'u'llah, hemmed in for more than half a century by the hosts of enmity and oppression, burst its restraints."
Breakthrough into new cultures
Following the Young Turk Revolution of 1908, when all political and religious prisoners of the Ottoman Empire – including 'Abdu'l-Baha and His family – were set free, He began to plan sharing, in person, the Baha'i teachings with the world beyond the Middle East. Two years later He left the confines of the Holy Land, heading first to Egypt where he stayed for one year.
Then, in August 1911, 'Abdu'l-Baha set sail for Europe, spending a month in London and two months in Paris. After returning to Egypt for the winter, He set off again in March 1912 for an eight-month long tour of North America, followed by second visits to London and Paris, as well as journeys to Austria, Germany, Hungary and Scotland.
"From the time of Baha'u'llah's passing, the Baha'i Faith's spread to North America and Europe had been a very significant development," says Moojan Momen, an historian based in the United Kingdom, "but these communities were rather few in number."
"So 'Abdu'l-Baha's visits not only saw Him generally proclaiming the Baha'i teachings further afield, but also consolidating the religion's breakthrough into new cultures."
At 'Abdu'l-Baha's first ever public talk – given at the City Temple church in London on 10 September 1911 – 'Abdu'l-Baha told the congregation, "The gift of God to this enlightened age is the knowledge of the oneness of mankind and of the fundamental oneness of religion."
"Over and over again, He stressed the need for understanding between people, for bringing religions together, for world peace," explains Paris-based writer Jan Jasion, who is researching 'Abdu'l-Baha's travels in Europe. "He wanted to bring people closer to God and for them to understand the reality of religion and rid themselves of superstitions."
'Abdu'l-Baha was also able to participate comfortably in discourses about themes that lay outside of the Middle Eastern experience. "For example, the great dangers of racism;" notes Firuz Kazemzadeh, emeritus professor of history at Yale University, "the relationship between capital and labour, and the conflict between worker and employer; the impending Great War; and federalism as a solution to the problems among the States."
For three years, 'Abdu'l-Baha tirelessly addressed thousands of people – including clergymen, journalists, academics, diplomats, philosophers, suffragettes, and social reformers. He also – perhaps most importantly for Him – met with, and attended to the needs of, the poor.
Among those deeply impressed by Him was Dr. David Starr Jordan, the American scientist and university administrator, who famously said, "'Abdu'l-Baha will surely unite the East and the West, for He walks the mystical path with practical feet."
Dr. T. K. Cheyne of Oxford, the celebrated theologian, spoke of 'Abdu'l-Baha as the "Ambassador to Humanity."
"What is striking is that, while 'Abdu'l-Baha had a great deal of praise for progressive thinkers, He was also very clear-eyed and uncompromising in His assessment of the ways in which they fell short of their own ideals," says Kenneth E. Bowers, the current Secretary of the National Spiritual Assembly of the Baha'is of the United States. "He challenged people to rise above their own understanding of reality, to a higher level of realisation – a spiritual level as well as the social."
There were other aspects of 'Abdu'l-Baha's personality that further delighted those He met, says Mr. Bowers.
"He carried Himself remarkably well in cultures that were entirely alien to Him. I think one of the things we should remember about Him – and which we sometimes forget as a characteristic of a 'spiritual' figure – is that He was someone who was extremely witty and charming."
"A major religious event"
By the time 'Abdu'l-Baha's travels came to an end, the nascent Baha'i community had received a wider vision of their Faith, and citizens of nine countries, on three continents, had been informed of the Baha'i teachings for the first time.
"At the beginning of 'Abdu'l-Baha's ministry, the Baha'i Faith was a fairly obscure religious movement. There was very little accurate information about it anywhere," says Moojan Momen. "By the end of His life, not just in Europe and North America but all over the world - in Asia, the Pacific, Australia, South Africa, South America - large numbers of people knew about the Faith and had a positive impression of it."
"His travels were certainly a major religious event of the 20th century," says Dr. Momen. "They had much the same sort of effect as St. Paul's journeys which had a sizable impact on the spread of Christianity."
Kenneth E. Bowers believes it is impossible to conceive of today's American Baha'i community, for example, without taking 'Abdul-Baha's visit into account. "Through His life and words, He was the personification of Baha'u'llah's teachings. He inspired the first handful of Baha'is not only to spread their Faith but, just as importantly, withstand all sorts of tests. In a very tactful, loving and wise way, He set the example to be followed."
As a result of 'Abdu'l-Baha's journeys, the Baha'i community began to propagate His ideas further and these became reinforced in the general population. "This is where the real impact of His visits lies - in the capacity of the community He raised to continue what He taught them after all these years," says Firuz Kazemzadeh.
In its letter, the Universal House of Justice invites today's worldwide Baha'i community to reflect not only upon what 'Abdu'l-Baha achieved and set in motion, but on the work still left to do.
His words and actions during His travels, the Universal House of Justice writes, offer "an abundance of inspiration and manifold insights" for meeting the challenges of the present day.