European Baha'is mark centenary of 'Abdu'l-Baha's journeys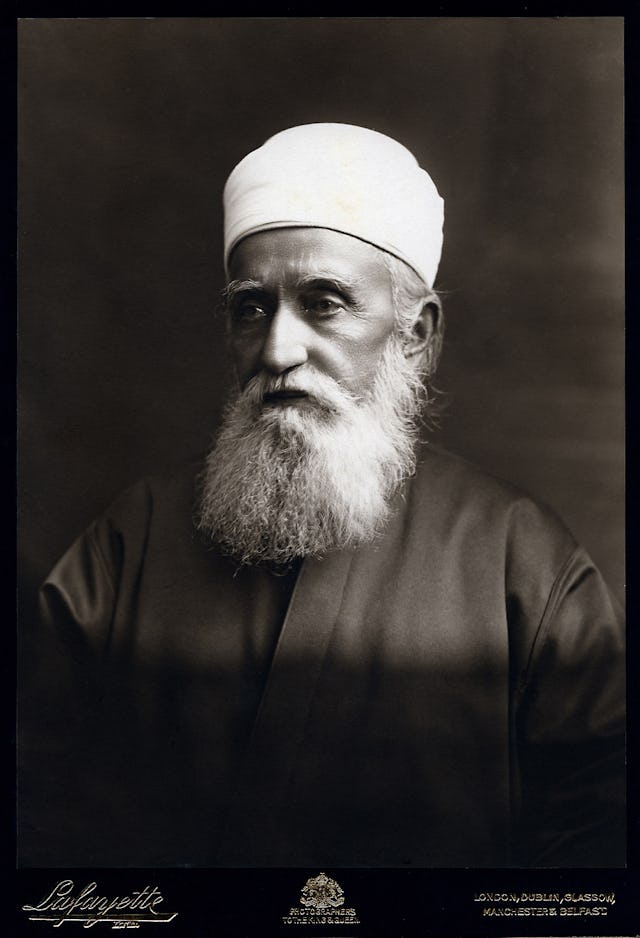 LONDON, England — Baha'is in Europe have been commemorating the 100th anniversary of 'Abdu'l-Baha's historic Western travels by reflecting on the qualities of His unique character.
In France, Switzerland and the United Kingdom, groups of friends have been studying the life of 'Abdu'l-Baha and discussing how it can today inspire their services to the community around them.
'Abdu'l-Baha (1844-1921) was the eldest son of Baha'u'llah and His appointed successor as head of the Baha'i Faith. Following the Young Turk Revolution of 1908, when all political and religious prisoners of the Ottoman Empire – including 'Abdu'l-Baha and His family – were freed, He began to plan presenting, in person, the Baha'i teachings with the world beyond the Middle East. In August 1911, He set sail from Egypt for France, staying first a few days in Marseille before going on to Thonon-les-Bains and then to Geneva, Switzerland, for four days.
"Tireless efforts"
On 27-28 August, a gathering held at Geneva University reflected upon the significance of 'Abdu'l-Baha's stay in Switzerland and its relevance to the work of the Baha'i community today.
"The whole notion of service was so present throughout the weekend," observed John Paul Vader, a member of the National Spiritual Assembly of the Baha'is of Switzerland. "We looked at how 'Abdu'l-Baha's example inspires us to serve: how He stimulated the building of communities, how He served humanity, and influenced public thought. These are the same things that Baha'is are working on now."
"What really struck everyone was the fact that 'Abdu'l-Baha was able to undertake such a strenuous journey at such an advanced age," said Dr. Vader. "We are often very comfortable and consider travelling maybe an hour somewhat tiring – but we saw how tireless He was in His efforts."
In a message sent in April this year, the Universal House of Justice shared how 'Abdu'l-Baha, during His travels, expounded the Baha'i teachings in "homes and mission halls, churches and synagogues, parks and public squares, railway carriages and ocean liners, clubs and societies, schools and universities."
"To all without distinction – officials, scientists, workers, children, parents, exiles, activists, clerics, sceptics – He imparted love, wisdom, comfort, whatever the particular need," wrote the Universal House of Justice.
At the annual Baha'i residential school, held in Evian, France, from 27 August to 3 September, participants explored what it means to be "walking in the path of 'Abdu'l-Baha" as they discussed the current activities of their communities.
"Thoughts of 'Abdu'l-Baha were always present, in the main speeches and any artistic moment," said Laurence Dia, an organizer of the school. "We realised that by following in His footsteps, we would find the powers we need to go ahead in our efforts – and go further."
"Glorious message of unity"
'Abdu'l-Baha arrived in London for a four-week stay on 4 September 1911. At His first ever public talk – given at the City Temple church six days after His arrival in the city – He told the congregation, "The gift of God to this enlightened age is the knowledge of the oneness of mankind and of the fundamental oneness of religion."
Around the United Kingdom, groups of friends have been using the centenary as an opportunity to consider how to apply lessons from 'Abdu'l-Baha to their own lives.
On 10 September, in the town of Reading – for example – Baha'is gathered with their neighbors to study the words that He had spoken at the City Temple exactly 100 years earlier. One participant, a taxi driver from Ghana, remarked on how the love and unity mentioned in 'Abdu'l-Baha's talk was present in the spirit of the meeting. Another neighbor, of Nepalese origin, commented on 'Abdu'l-Baha's "glorious message of unity."
At a meeting in Epsom held on the same day, the town's Mayor – Councillor Sheila Carlson – remarked that she thought schoolchildren should learn about 'Abdu'l-Baha along with Martin Luther King and Mother Teresa.
On the anniversary of 'Abdu'l-Baha's journey to Bristol, 23-25 September, actors, storytellers and musicians shared accounts of the weekend He spent in the city and the profound impression He made on the people He encountered.
"A response of love"
In London, a specially-commissioned play depicting 'Abdu'l-Baha's visit as seen through the eyes of his host, Lady Blomfield, was premiered on 15 September in the historic setting of Leighton House Museum.
In the audience were people who today stay at 97 Cadogan Gardens, the apartment block where 'Abdu'l-Baha lived during His visit. One remarked that it was "wonderful to learn a little more of this fascinating history of my home."
"It was so extraordinary to meet the daughter of a woman who lives there and witness her astonishment at the spiritual history of the building," said Sarah Perceval, who wrote the script and played the role of Lady Blomfield.
"Everyone had such a heartfelt response to the evening...really a response of love," she said.
Royal message
Two days later, extracts from the play were performed at the church of St. John's, Smith Square, where the Westminster Baha'i community gathered with their friends, 100 years after 'Abdu'l-Baha had addressed its congregation at the invitation of the then Archdeacon of Westminster, Basil Wilberforce.
A highlight of the meeting was a special message received from Princess Helen, the great grand-daughter of Queen Marie of Romania (1875-1938), who was the first royal personage to embrace the Baha'i teachings.
"For me, the message of this great faith is as important today as it has always been," wrote Princess Helen.
"In an increasingly secular society, where market forces, rampant consumerism and selfishness are considered virtuous, the Baha'i Faith offers an alternative way of living, rooted in the propagation of justice, unity and the establishing of peace to bring about prosperity and collective well-being.
"Historically...messengers of such radicalism have been considered subversives. This seems to have been true of 'Abdu'l-Baha, who because of His deep faith in God's goodness and guidance spent most of his life in exile.
"Lesser men would have become bitter separated from their homeland, but that was not so of Abdu'l-Baha. He chose a different path and became a great ambassador of peace and justice, and a welcome guest among all peoples of good will and faith. Such people are unique, inspirational and challenging, and we need to hear their messages of hope," wrote Princess Helen.