Funeral and memorial service planned for Samoan head of state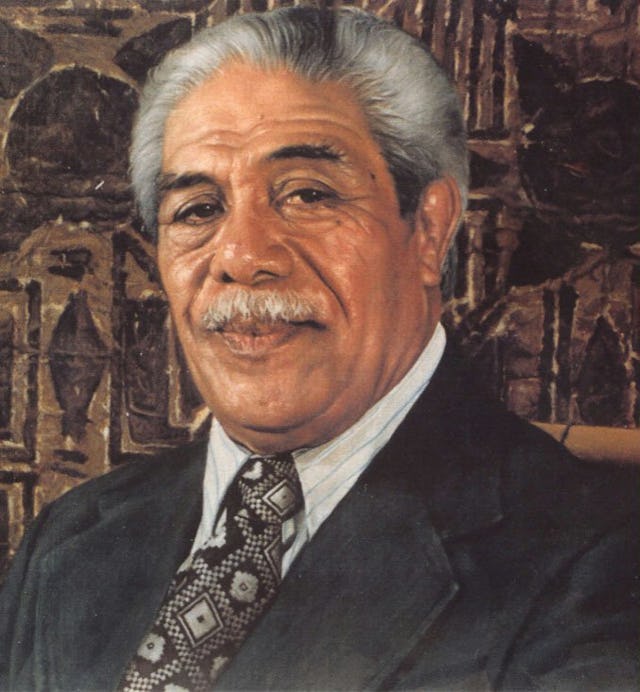 APIA, Samoa — A state funeral is planned for 18 May for the Samoan head of state, His Highness Susuga Malietoa Tanumafili II, to be followed on 20 May by a memorial service at the Baha'i House of Worship near Apia. He passed away on the evening of 11 May in a hospital in Apia.
A follower of the Baha'i Faith, he was one of the longest reigning monarchs in the world. He was 94 years old.
"His service to the people of Samoa as Head of State was distinguished by the high principles, genuine compassion and personal humility that characterized the constancy of his concern for the welfare of all," the Universal House of Justice, the international Baha'i governing body, said in a statement to the National Spiritual Assembly of the Baha'is of Samoa.
"As the first reigning sovereign to accept the Message of Baha'u'llah, he set a record that will forever illumine the annals of our Faith, one that future generations will increasingly extol," the House of Justice said. "His great interest for well-nigh four decades in the Faith's progress was reflected in the enthusiastic affirmation of his belief whenever the opportunity presented itself and in the abiding joy with which he regarded the construction in 1984 of the Mother Temple of the Pacific Islands in Samoa...."
He himself participated in the dedication of that temple, one of only seven such Baha'i houses of worship in the world. The other six, located in Australia, India, Germany, Uganda, the United States, and Panama, will also hold services in his memory.
He had been head of state since the country gained independence from New Zealand in 1962.
The state funeral will be at 10 a.m. on 18 May in front of the Parliament Building, with a government-organized prayer service the day before. Entombment will be in the Malietoa Family crypt a few meters from the Parliament building.
The memorial service at the Baha'i House of Worship near Apia will be on 20 May, organized by the Baha'i assembly. Earlier, on 13 May, a prayer service was held, attended by more than 200 Baha'is, family, friends, government officials, and representatives of churches and the diplomatic community.
New Zealand Prime Minister Helen Clark was one of the first to offer condolences. "Throughout his long reign as Head of State, Malietoa represented Samoa with wisdom, humor, and insight," she said in comments published in the New Zealand Herald.
His Highness Susuga Malietoa Tanumafili II was born on 4 January 1913. His wife, Lili Tunu, died in 1986. They have two sons and two daughters.
Samoa comprises several islands in the South Pacific about halfway between New Zealand and Hawaii. The population is about 200,000.