Baha'i World News Service becomes available in Spanish and French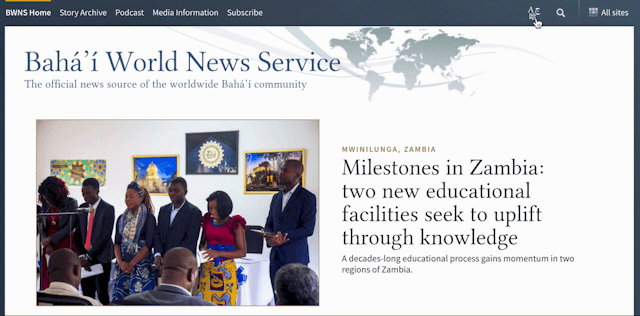 BAHA'I WORLD CENTRE — The Baha'i World News Service is now available in French and Spanish. A language-switching icon on the service's English-language homepage allows users to view translated versions of the website.
French and Spanish translations of articles will typically be available within a few days of their publication in English.
An archive of dozens of previously published stories is available on both the French and Spanish sites. Efforts are underway to translate older stories to fill the archive.
The Baha'i World News Service, established in 2000, publishes thought-provoking and inspiring stories about developments in the global Baha'i community. In 2017, the News Service began producing a podcast and launched a smartphone app (available on Android and iOS). The News Service can also be found on Instagram and Twitter, and is available through an email subscription as well.
The Baha'i World News Service is part of the Bahai.org family of websites, which includes the main Bahai.org site, the Baha'i Reference Library, the Baha'i Media Bank, and the special site made in commemoration of the bicentenary of the birth of Baha'u'llah.
Together with the Persian-language version of the news site, the Baha'i World News Service is now available in four languages. Plans are in place to make it eventually available in all of the languages of Bahai.org, which is in Arabic, English, French, Hindi, Mandarin, Persian, Portuguese, Russian, Spanish, and Swahili.