Heroine of women's emancipation celebrated in Azerbaijan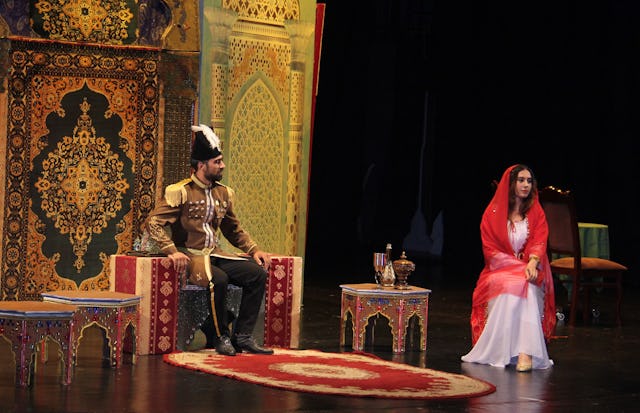 BAKU, Azerbaijan — The heroine, under the admiring gaze of the Persian king, listens to his proposal. Give up your faith, marry me, and enjoy a life of luxury as my favorite queen, was his bid.
The audience of 450 people watches this scene with bated breath.
With grace, wisdom, and courage, Tahirih declines his offer. She chooses instead to devote her life to a Cause she believes is destined to transform the world.
The performance, staged on 8 July at the Azerbaijan State Academic National Drama Theatre, was the opening of Daughter of the Sun, a new play about the life of Tahirih, an influential poet, scholar, and champion of women's emancipation.
The opening night stirred performers and audience members alike.
"Tahirih is a hero of not only one religion but of all of humanity," Sayman Aruz, a poet and Head of the Department of South Azerbaijan Literature in the Azerbaijan Writers Union, told the audience after the play. "She lived and died for divine and spiritual values for the whole of humanity. She has no parallel in the history of the East. She is the voice of freedom for millions."
The play comes at a time when the life of Tahirih is gaining renewed attention and interest in Azerbaijani society.
A book on Tahirih's life and works was translated and published in 2016, catalyzing a growing interest among the people of Azerbaijan about the life of this iconic champion of women's emancipation. After learning about Tahirih, journalist Kamale Selim Muslimgizi was so inspired that she committed herself to producing Daughter of the Sun. Ms. Muslimgizi recruited about 30 students from a dozen universities in Baku to act in the play.
"Tahirih lived and died for the cause of truth," Ms. Muslimgizi says. "This project changed my life. Before I had only ideas and dreams, but now I have spiritual power to make change. Tahirih gave me courage to act for the common good."
"Tahirih is a hero of not only one religion but of all of humanity."




—Sayman Aruz
Tahirih was born to a prominent religious family in early 19th century Qazvin, Iran. She showed great interest in matters that, at that time, were regarded as beyond the capacity of women and inappropriate for them to pursue. Despite the obstacles before her, Tahirih became a renowned poet and scholar whose influence, which was felt profoundly in her time, has not waned with the passage a century and a half.
In 1844, Tahirih became the first woman to accept the teachings of the Bab, the forerunner of Baha'u'llah, and became one of the leading figures in a movement that would spread across Persia and further afield, bringing into its ranks tens of thousands of believers in the span of a few years.
The title, "Tahirih," was given to her by Baha'u'llah, Whom she met in 1848 at the historic Conference of Badasht. The word means "the Pure."
It was at that important conference that Tahirih removed her veil. The act was considered unthinkable in 19th century Persia, a patriarchal society where women had little role in the public sphere. In that history-altering moment, she proclaimed that equality between women and men had been ushered in and that the teachings of the Bab signified a break from the traditions of the past — a "stunning trumpet-blast," as described by Shoghi Effendi.
Four years later, as the Persian government undertook its brutal persecution of the Bab's followers, Tahirih was taken into captivity in Tihran. Refusing to recant her faith, she was executed, her dying words ringing across the century that followed: "You can kill me as soon as you like, but you cannot stop the emancipation of women."
Daughter of the Sun highlights Tahirih's unmatched courage, a quality that has influenced generations of people. Nigar Aliyeva, the lead actor who plays Tahirih, explains:
"Tahirih said in the play, 'I was born as Zarrin Taj but lived as Tahirih.' While acting in the role of Tahirih I felt that I have changed. I am not a person like before. Now my life's refrain is: 'I was born as Nigar but will live as Tahirih.'"
In the performance, dramatization of scenes from Tahirih's life were interspersed between segments of narration and the reading of selections from her poetry.
One audience member commented after the performance: "I now realize how courageous we should be and how we have to raise our voices against oppression and tyranny."
Tahirih has long attracted interest among scholars. Western Orientalists of the 19th century wrote of her influence on literature and gender equality. In recent years, there have been numerous academic articles and books about her as well as translations of three volumes of her poetry into English.
Artists have also sought to depict her important influence on humanity, with playwrights, novelists, musicians, and filmmakers creating works inspired by her life and character.
Tahirih wrote in Persian, Arabic, and Azeri, a widely spoken language in Qazvin and the surrounding region. Azeri is also the main language of Azerbaijan.
The play will continue its run in Baku and in the coming months will go on stage in other cities across the country.