Role of religion explored at Council of Europe Exchange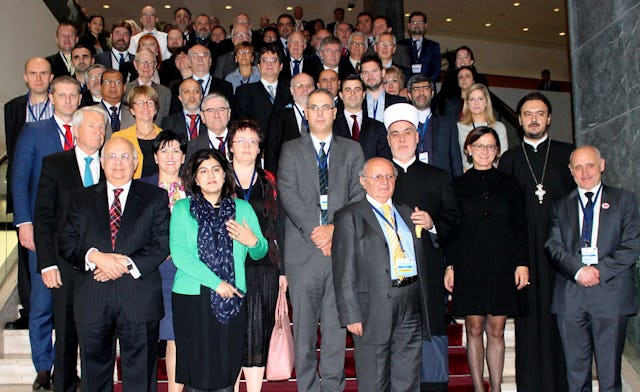 SARAJEVO, Bosnia And Herzegovina — Religion is a powerful source of human motivation and society should gain a deeper understanding of how to benefit from its influence, the Baha'i International Community (BIC) has said at a major Council of Europe meeting.
Political and religious leaders as well as civil society representatives and academics attended the Council of Europe Exchange on the religious dimension of intercultural dialogue in Sarajevo, Bosnia and Herzegovina, on 2-3 November.
The meeting explored the theme of "building inclusive societies together", focusing on the role of religion in the public sphere and how religious and non-religious education in schools could promote more tolerant communities.
Rachel Bayani, Baha'i International Community representative to the European Union, said: "There is a need to analyze some of the assumptions on which current societal arrangements rest and to ensure that they do not deprive society of the constructive role religion can play."
"Religion is a very powerful source of positive human motivation, and we need to gain a deeper understanding about how to tap into that source for the benefit of society as a whole," she continued.
Other themes during the meeting included how religious and secular thought could help prevent the spread of radicalization and violent extremism.
Austria's Interior Minister Johanna Mikl-Leitner said religious leaders shared the common responsibility of making the world a better place for everyone.
"Religion is the solution, not the problem," said the minister.
The President of the Parliamentary Assembly of the Council of Europe, Anne Brasseur, emphasized the symbolism of the gathering taking place in Sarajevo, the scene of one of the most tragic conflicts in the past, whilst at the same time being an emblem of both the crossing of civilizations and religious co-existence.
Annual Exchanges organized by the Council of Europe—a major regional organization comprising some 47 member states—aim to promote human rights and democracy and to provide a platform for open and transparent dialogue on various societal issues.