Senior Anglican leaders praise "significance" and "courage" of Iranian ayatollah's gift to Baha'is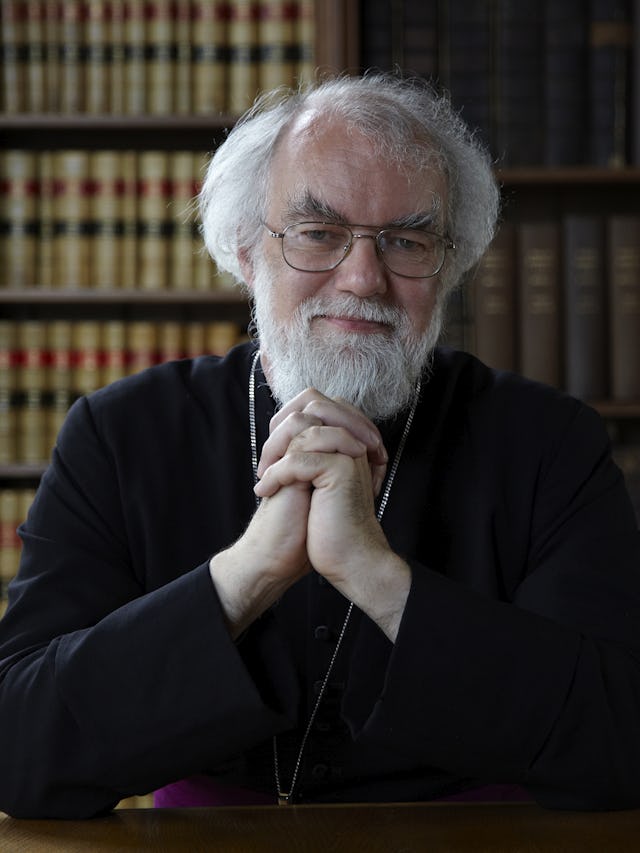 LONDON, England — Two senior leaders of the Church of England have praised the ground-breaking action of an Iranian ayatollah who last week called for religious "coexistence" by dedicating to the Baha'is of the world, and particularly the Baha'is of Iran, an illuminated calligraphic rendering of a passage from their sacred texts.
Lord Rowan Williams of Oystermouth, the former archbishop of Canterbury, said the gift of Ayatollah Abdol-Hamid Masoumi-Tehrani was of "immense significance".
"It represents not only a personally gracious gesture but also a strand within the Islamic world at its best and most creative which is deeply appreciative of all that helps human beings to respond to God's will for peace and understanding," said Dr. Williams.
"Along with many others of all faiths, I shall pray that this marks a turning point in Iran's attitudes to the Baha'i community, and I give thanks for the courage and generosity which have motivated this gift."
Earlier, Christopher Cocksworth, the bishop of Coventry, said he was "heartened to learn" of Ayatollah Tehrani's gift to Baha'is.
"Given the systemic and long standing suffering experienced by the Baha'i community in Iran, this is an imaginatively courageous step by a senior Iranian Islamic scholar," said Dr. Cocksworth on 9 April.
Ayatollah Tehrani's "action reminds us all that despite the dehumanising nature of many of today's conflicts, religious leaders have a shared responsibility to encourage freedom of religion and belief and to foster a deeper respect for human dignity," said Bishop Cocksworth, who is the Church of England's lead bishop in the Lords on foreign policy.
Ayatollah Tehrani's gift was announced on 7 April 2014 when he posted an image of the work on his website, along with a personal statement about his intentions in creating an illuminated calligraphic rendering of several verses from Baha'u'llah's Kitab-i-Aqdas, the "Most Holy Book".
"I present this precious symbol – an expression of sympathy and care from me and on behalf of all my open-minded fellow citizens who respect others for their humanity and not for their religion or way of worship – to all the Baha'is of the world, particularly to the Baha'is of Iran who have suffered in manifold ways as a result of blind religious prejudice," said Ayatollah Tehrani.
News of the action was quickly spread by news organizations and social media last week.
In addition, Christian Solidarity Worldwide (CSW), which advocates for religious freedom, issued a statement on Friday that praised Ayatollah Tehrani's action.
"Ayatollah Tehrani's kind gesture to the Baha'i community is particularly welcome at a time when the community is being actively targeted and vilified by the Iranian regime," said Mervyn Thomas, CSW's chief executive.
"Dozens of Baha'is are languishing in jail and the community is subject to attack, harassment and intimidation. CSW urges President Rouhani to emulate the Ayatollah's inclusivity by upholding the rights of the Baha'i community as equal citizens and to guarantee freedom of religion or belief for all religious communities."
The preparation and dedication of Ayatollah Tehrani's gift was undertaken at great personal risk, given that the Iranian government refuses to recognize the Baha'i Faith as a religion and has systematically persecuted Baha'is since the 1979 Islamic Revolution.