Iran's human rights abuses condemned at national events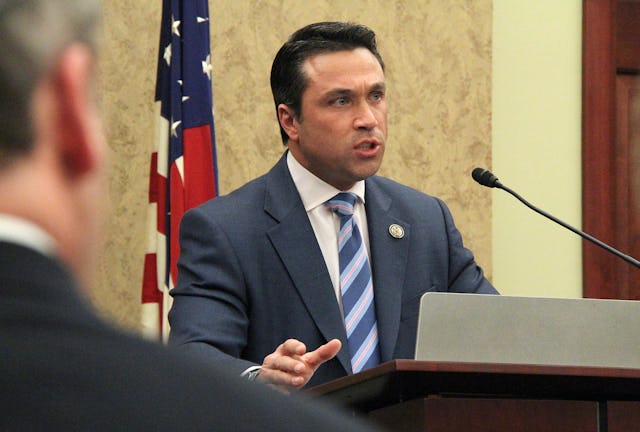 WASHINGTON, United States — Recent national-level events held in the United States, Bulgaria and Canada reflect the ongoing global outcry at the Iranian authorities' crackdown on Baha'is.
A reception in the U.S. Capitol building on 15 February brought together some 100 Congressional staff, US agency officials, and representatives of human rights and religious NGOs.
The gathering sought to promote the passage of House Resolution 134 and Senate resolution 80, which condemn the persecution of Iran's Baha'i community, including the 20-year imprisonment of seven Baha'i leaders. They also call for sanctions against Iranian officials who are "directly responsible for egregious human rights violations in Iran, including against the Baha'i Community."
"We must let the Iranian government know that we are not going to tolerate the unjust persecution of the Baha'is or of any religion or of any Iranian citizen," Representative Michael Grimm of New York told the audience. "It's time for us to speak out and to raise awareness."
Representative Howard Berman of California – a senior member of the House Foreign Affairs Committee – listed a series of abuses against Iranian Baha'is and asked, "What kind of a sick regime treats citizens this way?"
Felice Gaer, a Commissioner on the US Commission on International Religious Freedom, addressed Iran's systematic demonizing of Baha'is as part of an effort to "make sure they don't exist anymore."
"We are talking about people who have been not just imprisoned but systematically turned into something not human," said Ms. Gaer. "Why and how? By denying them their existence, by denying them their basic rights, by denying them the right to education, the right to work, the right to marry, the right to bury the dead, the right to inherit, the right to be human and to live as human beings."
Ms. Gaer's remarks came two days after the Religious Freedom Caucus of the US House of Representatives hosted a briefing on human rights in Iran, which included discussion of a recent report by the Baha'i International Community, titled Inciting Hatred: Iran's Media Campaign to Demonize Baha'is. The report examines how the Iranian government systematically uses state-controlled media to stir hatred against Baha'is.
Bulgarian conference
In Sofia, Bulgaria, on 9 February, a conference on Iran's effort to bar young Baha'is from higher education drew participation from government officials, diplomats, academics and human rights groups.
Georgi Kalaydzhiev of the Bulgarian Prime Minister's office pledged the support of the Prime Minister in helping to defend Iranian Baha'is, saying, "We are most willing to help in this cause for respect for human rights and freedom of all religious communities."
"In the past, we were also in a situation of suppression and now we see the results, the need for spiritual development..." " said Mr. Kalaydzhiev. "That's why we feel most sincere compassion for the problems of the Baha'is in Iran."
Canadian Senate hearing
Continuing a hearing initiated late last year, a number of Canadian senators have also spoken out this month about prisoners unjustly held in Iran, including human rights lawyers and activists, journalists and Baha'is.
On 7 February, Salma Ataullahjan – a Muslim Senator – raised the case of one of the seven Baha'i leaders currently serving a 20-year jail term. "I condemn the deplorable abuse of human rights of the Iranian regime and call for the immediate release of unlawfully held prisoner Behrouz Tavakkoli," said Senator Ataullahjan.
Senator Romeo Dallaire, who in December 2011 said Iran's treatment of Baha'is had reached "pre-genocidal conditions," also cited examples reported in Inciting Hatred.
"Together with demonizing images, this propaganda fuels intolerance in the most fundamentalist segments of Iranian society. Extremism exists," he said.
Baha'i World News Service coverage of the persecution of the Baha'is in Iran
*A Special Section includes detailed information about Iran's campaign to deny higher education to Baha'is. *
*Another Special Report offers articles about the seven Iranian Baha'i leaders – their lives, their imprisonment, trial and sentencing. *
*The International Reaction page is regularly updated with responses from governments, nongovernmental organizations, and prominent individuals, to actions taken against the Baha'is of Iran. *
*The Media Reports page presents a digest of media coverage from around the world. *