Canadian university presidents speak out for Baha'i educators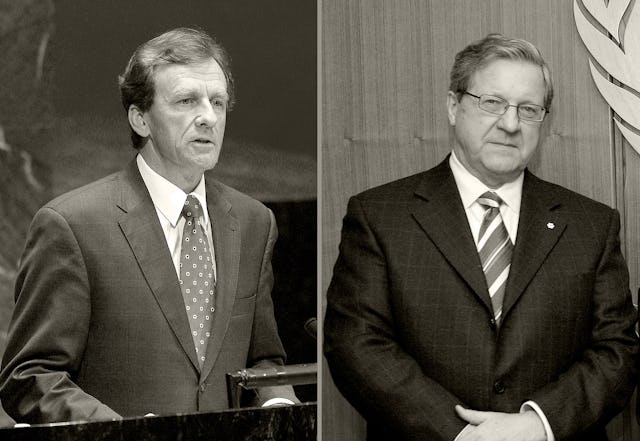 TORONTO, Canada — Two pre-eminent university presidents are urging all of their fellow Canadians to join them in calling for an end to Iran's persecution of Baha'i educators and students.
The appeal comes from Canada's former minister of foreign affairs and president of the University of Winnipeg, Lloyd Axworthy, and Allan Rock – who is president of the University of Ottawa and former Canadian ambassador to the UN.
In an article in the Canadian edition of The Huffington Post, they speak of how "deeply troubled" they are that Baha'is are denied access to higher education in Iran, and express concern that "the brutal regime in Tehran has turned a deaf ear" to calls to end the systematic persecution.
"As Presidents of Canadian universities," they write, "we attach enormous value to access by young people to the knowledge and skills they need to succeed in tomorrow's world. We regard education as the key to a better future for all peoples, and believe passionately that each person has the right to an education."
Their article particularly draws attention to the attack launched by Iranian authorities on an informal community initiative – known as the Baha'i Institute for Higher Education (BIHE) – which was set up to provide education for young Baha'is barred from university.
Among those arrested in May last year for their association with BIHE was Nooshin Khadem – an MBA graduate of Carleton University in Ottawa. She is now serving a four-year jail term. A married couple currently awaiting trial, Kamran Rahimian and Faran Hessami, completed their graduate studies in psychology counseling at the University of Ottawa's Faculty of Education.
"They were charged with teaching without valid accreditation," the article states. "The Iranian authorities confiscated their U of O degrees and then alleged that they had never earned them."
Presidents Axworthy and Rock are encouraging "all Canadians to add their voice in calling on the Iranian government unconditionally to drop all charges against educators, to halt all further aggression towards the Baha'i Institute for Higher Education and to allow the Baha'i access to education. The Baha'i of Iran must know that in resisting the cruel oppression of those who persecute them, they do not stand alone."
The article concludes with the two presidents stating that they are "proud to join" with a "growing group of academics, university administrators and notable advocates for peace including Desmond Tutu, Romeo Dallaire and Jose Ramos-Horta" who are "condemning the Iranian regime's denial of the right to education."
Baha'i World News Service coverage of the persecution of the Baha'is in Iran
*The Baha'i World News Service has published a Special Section which includes further articles and background information about Iran's campaign to deny higher education to Baha'is. It contains news of latest developments, a summary of the situation, profiles of imprisoned Baha'i educators, feature articles, case studies and testimonials from students, resources and links. *
*Another Special Report offers articles and background information about the seven imprisoned Iranian Baha'i leaders – their lives, their imprisonment, trial and sentencing – and the allegations made against them. It also offers further resources about the persecution of Iran's Baha'i community. *
*The International Reaction page of the Baha'i World News service is regularly updated with responses from governments, nongovernmental organizations, and prominent individuals, to actions taken against the Baha'is of Iran. *
*The Media Reports page presents a digest of media coverage from around the world. *