Three Baha'is, jailed for humanitarian work, begin fourth year in detention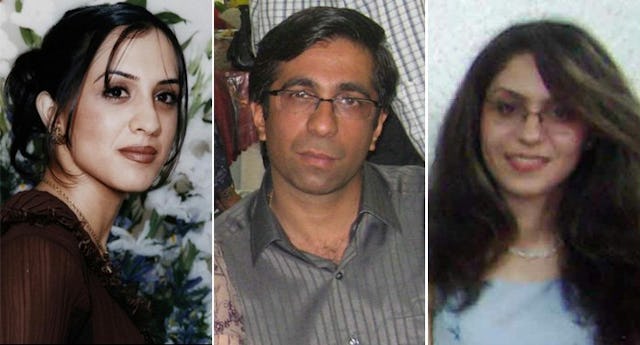 NEW YORK, United States — Despite compelling evidence that they never committed a crime, three Iranian Baha'is today begin their fourth year in captivity.
The two women, Haleh Rouhi and Raha Sabet – and Mr. Sasan Taqva – were arrested in May 2006, along with some 51 other Baha'is and a number of Muslim friends, for their participation in an education program for underprivileged children in and around the city of Shiraz.
While their 10 Muslim co-workers and one Baha'i with learning difficulties were released immediately, the remaining Baha'is were convicted of "indirect teaching of the Baha'i Faith." Ms. Rouhi, Ms. Sabet and Mr. Taqva received four year jail terms. The other 50 were given one year sentences, suspended pending their attendance at mandatory Islamic classes.
It is believed that today, after three years, they continue to be held under the harshest of conditions in a temporary detention center.
"Under Iranian law, the Intelligence Ministry cannot imprison citizens in such centers, only detain them for interrogation," says Bani Dugal, principal representative of the Baha'i International Community to the United Nations. "We understand that conditions have been totally unacceptable for the long-term imprisonment these three have suffered."
The trial and detention have violated both Iranian and international law, says Ms. Dugal. "And every piece of evidence – including a report commissioned from an Iranian official – has pointed to their innocence."
Authorities refused to take notice of that investigator's conclusion. When the report became public, he subsequently wrote another account, rejecting the findings of his original report.
"The Iranian government has utterly failed to address such an obvious miscarriage of justice," says Ms. Dugal. "This is yet another case of religious persecution, pure and simple."
"Why else would three individuals, whose main 'crime' was their engagement in humanitarian projects aimed at helping their fellow citizens, continue to be locked up in this way?" she says.
Jailed for helping the poor
The idea of specifically working with the young people of Shiraz began in a study group organized by Ms. Sabet, who had been involved in aid efforts after the 2003 Iranian earthquake.
Initially, she and her friends worked in Katsbas, a suburb with a reputation for drug abuse and criminal activity. There, the group tutored children preparing for their end-of-term exams. With the full blessing of local parents, efforts extended to include assisting the children to develop social skills and moral values.
As their project grew to serve more than 200 children in Katsbas, the group was successful in receiving a permit from the city council to operate. Another effort started up in Sahlabad, also facilitated by both Baha'is and Muslims. A further initiative – carried out by 14 tutors – involved 100 young people at an educational center.
The group also organized weekly art classes for young cancer patients – an activity that was enthusiastically received by the head of a local hospital. Additionally, regular visits were also made to orphanages and facilities for disabled children.
Arrests and conviction
On 19 May 2006, police simultaneously arrested tutors and project leaders in six locations.
Following the release of their Muslim co-workers, the remaining Baha'is were let go after the course of the following few days and weeks. Ms. Rouhi, Ms. Sabet, and Mr. Taqva were held for nearly a month.
A brief, formal trial was held more than one year later. The Baha'is were accused of, among other things, "indirect teaching of the Baha'i Faith" – based on their use of an educational textbook called Breezes of Confirmation. The text, however, makes no mention of the Baha'i Faith, only presenting moral lessons that are explored through a series of stories. Despite the fact that the city's Cultural Council had approved the use of the book, the verdict declared that permission had been obtained through deceit.
"The charges against them were baseless and unacceptable under Article 18 of the International Covenant on Civil and Political Rights, an international treaty which Iran has signed, that protects the right to manifest belief in 'worship, observance, practice and teaching,'" says Bani Dugal.
"For a start, it was clear that their activities were strictly humanitarian in nature. Secondly, the court even acknowledged that the text they were teaching from had no explicit reference whatsoever to the Baha'i Faith. Even some of their Muslim co-workers said they were unaware that their co-workers were Baha'is or that any 'teaching' was going on," she says.
Most of the Baha'is, because of their young age, received suspended one year sentences, pending their attendance at mandatory classes organized by the Islamic Propaganda Organization. At these classes, Baha'i beliefs and history were ridiculed, insulted and distorted.
But Ms. Sabet, Ms. Rouhi, and Mr. Taqva, were sentenced to four years imprisonment: three years for "organizing illegal groups" and one year "for teaching for the benefit of groups that are against the Islamic regime."
Temporary detention center
On 19 November 2007, Ms. Sabet, Ms. Rouhi, and Mr. Taqva were called to the local office of the Ministry of Intelligence, ostensibly to retrieve belongings that had been seized earlier. This proved to be a deception. When they arrived, they were immediately locked in holding cells.
Three years on, it is believed that they continue to be detained in the same conditions. Mr Taqva has been kept alone for the whole time in a claustrophobic cell. The women were originally incarcerated together in another small cell, normally used for short-term detainees. Today they are all being held apart from each other. They have no windows, beds or chairs, and have only recently been given mattresses. It is reported that all three detainees have developed chronic back pain.
From time to time, they have been granted "temporary releases" but have always had to return to the detention centre to serve out their four-year terms.
For much of the imprisonment, Mr. Taqva has additionally been suffering severe pain from a leg injury, once sustained in a car accident, and sciatic and muscle weakness caused by the lack of all basic facilities. Although he has twice been briefly released for surgery, he remains for the most part without adequate medical attention. Daily exercise and access to fresh air is limited to 30 minutes each day when he is taken, not outside, but to a room that has no roof. Every time he leaves his cell, he is blindfolded.
The continuing detention of Mr. Taqva and his two co-workers is in violation of international standards and legal norms, says Bani Dugal. "Under Iranian law, people convicted of crimes have the right to incarceration in a prison designed for long-term confinement, where there is access to adequate medical facilities, food, and hygiene. The continued detention of these three innocent people in cells designed for short-term stays violates not only common decency but national law."
Confidential report ignored
In June 2008, Vali Rustami – inspector and legal advisor of the Office of the Representative of the Supreme Leader for the province of Fars – submitted a confidential report, made at the request of the representative of Iran's Supreme Leader in the province.
Mr. Rustami confirmed that not only was there no mention of religion in the activities of the prisoners, but that the young people who attended the classes told him they wanted to continue. "They stated 'We ... truthfully learned a lot from this group and would like them to come back to us again,'" Mr. Rustami reported.
When his account became public, he wrote another version which distorted his original findings.
Far from posing any threat to their society, says Ms. Dugal, it is clear that the three were trying their best to serve their society. "In winning the gratitude of those they served, the Baha'is provoked the ire of their government. Only unbridled animosity and hatred could be at the heart of such a perversion of justice as is witnessed in this case."
"After three years of imprisonment, the refusal of the authorities to put an immediate halt to the cruel treatment of these people defies reason. We continue to call on the international community to raise their voices in defense of these individuals – as well as the seven imprisoned Baha'i leaders and the thousands of others in Iran today who are being deprived of their human rights," she says.