International outcry at prison sentences for Iranian Baha'i leaders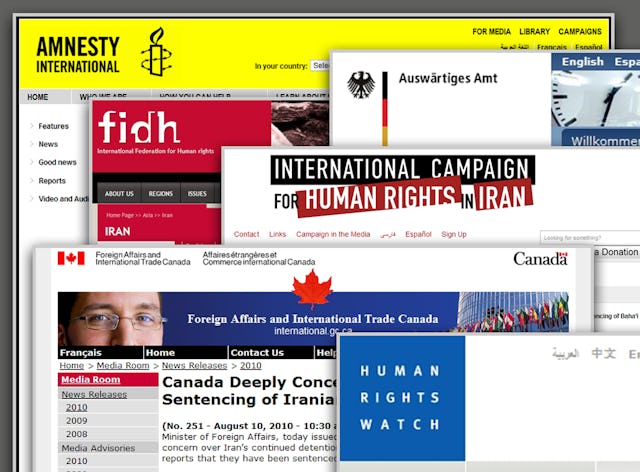 GENEVA, Switzerland — Reports that seven Iranian Baha'i leaders have each received prison sentences of 20 years have been met with condemnation from governments and human rights organizations around the world.
Australia, Canada, France, Germany – and the President of the European Parliament – have all expressed strong statements of concern.
They are calling for the prisoners to be released on bail, for an annulment of the judgment, and for Iran to demonstrate that the trial was fair and in accordance with international standards.
Canada's Minister of Foreign Affairs, Lawrence Cannon, said that his country was "deeply disturbed" by the sentences that were "passed without either written judgments or due process." He urged Iran to grant bail to the prisoners.
Germany described the outcome of the trial as a "massive setback for all those who engage themselves for the promotion of human dignity and human rights in Iran."
Markus Loning, commissioner for human rights and humanitarian aid at Germany's Foreign Office, said Iran must annul the judgment and "provide a fair and transparent court procedure."
"There are major doubts as to the compliance with the basic legal rights during the judicial proceedings," he said.
France expressed its "consternation" at the 20-year jail term.
At a press briefing, Christine Fages, a French Foreign Ministry spokeswoman, stated that Iranian authorities should stop persecuting Baha'is and other religious minorities and "respect the freedom of religion and conscience as defined by the International Covenant on Civil and Political Rights, to which Iran has freely signed up."
Australia has also shared its deep concern at the sentences. "We continue to call on Iran to ensure that all trials are fair and transparent and are conducted in accordance with Iran's international obligations," said a spokesman for the Australian government's Department of Foreign Affairs and Trade.
In a statement issued today, the President of the European Parliament – Jerzy Buzek – called the sentences "a shocking signal and an immense disappointment for all who have hoped for an improvement of the human rights situation in Iran."
"Iran has committed itself to international standards and I underline that this includes also the respect and protection of religious freedom," he said.
International human rights organizations have additionally joined the chorus of protest against the reported prison sentences.
The International Campaign for Human Rights in Iran said the sentencing of the Baha'i leaders was "politically motivated, discriminatory, unjust, and illegal under Iranian and international law."
"They have been sentenced for being Baha'is, nothing else, and their incarceration thus expresses a policy of oppression of the Baha'i Faith and its members," said Aaron Rhodes, spokesperson for the Campaign.
Amnesty International described the Baha'i leaders as "prisoners of conscience jailed solely on account of their beliefs or peaceful activities on behalf of the persecuted Baha'i minority."
"The seven were held for months without charge before being subjected to a parody of a trial. They must be immediately released," said Hassiba Hadj Sahraoui, Amnesty's Middle East and North Africa deputy director.
In a statement, the International Federation for Human Rights (FIDH) and the Iranian League for the Defence of Human Rights (LDDHI) asked for the Iranian government to "act in conformity with the Universal Declaration of Human Rights as well as international human rights instruments ratified by the Islamic Republic of Iran."
Human Rights Watch demanded the Iranian judiciary to release the seven immediately "given that no evidence appears to have ever been presented against them, and they have not been given a fair and public trial."
"For more than two years now the Iranian authorities have utterly failed to provide the slightest shred of evidence indicating any basis for detaining these seven Baha'i leaders, let alone sentencing them to 20 years in prison," said Joe Stork, deputy director of the Middle East division at Human Rights Watch.
Iran should take concrete steps that show it is committed to protecting the fundamental rights of Baha'is, said Mr. Stork
"The immediate and unconditional release of the seven Baha'i leaders would be a good start," he said.
Diane Ala'i, Baha'i representative to the United Nations in Geneva, said the Baha'i International Community deeply appreciates the committed support offered so far by governments and human rights organizations.
"These statements demonstrate that increasing numbers of people of all races and religions throughout the world want to see justice done in Iran – not just for the Baha'is but all of its citizens who face gross human rights violations," said Ms. Ala'i.
"For how much longer will the Iranian authorities remain oblivious to these upraised voices?" she said.