German town re-erects monument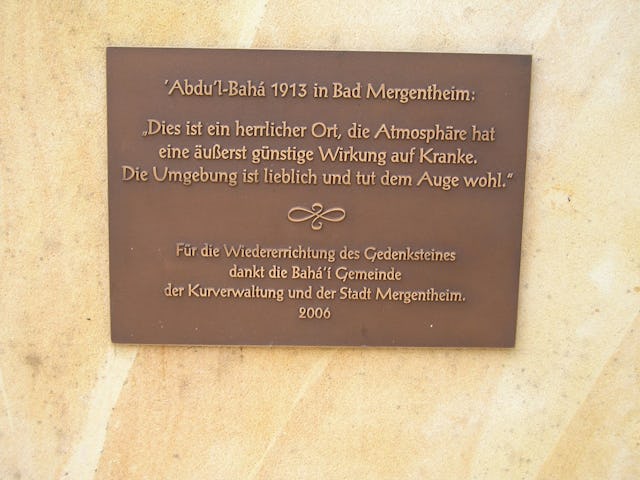 BAD MERGNTHEIM, Germany — A Baha'i memorial removed when the Nazis were in power has been restored by municipal authorities in this resort town in southern Germany. The stone commemorates the visit in 1913 of 'Abdu'l-Baha, the successor of Baha'u'llah as head of the Baha'i Faith.
The original memorial was erected in 1916 but removed in 1937 at a time when the Baha'i Faith was outlawed by the Nazis.
'Abdu'l-Baha took an extended trip to Europe, North America and back to Europe between 1911 and 1913 and took a side trip from Stuttgart to Bad Mergentheim - a small, quiet town known for its health spa - on April 7-8, 1913.
He spent the night there at the invitation of Consul Albert Schwarz, a government official who was the owner of the hotel and mineral bath and also a member of the Baha'i community.
The new memorial was unveiled earlier this month, on 7 April, by Mayor Lothar Barth accompanied by Bahman Solouki, a representative of the Baha'i community of Germany.
"Bad Mergentheim can be proud that 'Abdu'l-Baha came here," the mayor said at the ceremony. "The Baha'i Faith is one of the six major world religions -- there is no other way to put it -- and this should be honoured accordingly."
He continued: "I consider this a good sign. It shows that in Bad Mergentheim we are a tolerant society, that we integrate people of different faiths in our town and are cosmopolitan enough for that."
Dr. Solouki noted that the German Baha'i community two years ago marked its 100th anniversary, and that 'Abdu'l-Baha's time in their country was a significant part of their history.
"'Abdu'l-Baha's visit of 1913 was a milestone for us German Baha'is," he said. "We are greatly blessed by it. He was in Stuttgart; He was in Esslingen twice, each time for a week, and two days of that time He spent here in Bad Mergentheim."
Sussan Rastani, a Baha'i who lives in Bad Mergentheim, thanked local authorities for putting up the monument.
"In these times of religious intolerance and even religious fanatism, it is exemplary of the town authorities and the resort administration to re-erect this memorial stone in remembrance of 'Abdu'l-Baha, who served as an example of love and tolerance towards all religions and people," she said.
-- German Baha'i News Service