At the UN, Baha'is host panel on violence against women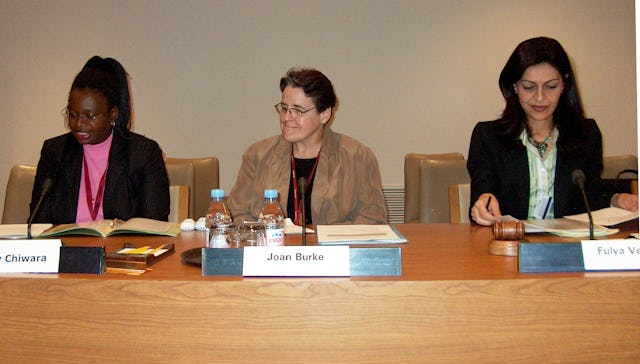 UNITED NATIONS, United States — Stemming the global tide of violence against women will require changes in deeply rooted attitudes that for the most part transcend culture and national borders.
That was the consensus of an 8 September 2006 panel discussion here on "Beyond Violence Prevention: Creating a Culture to Enable Women's Security and Development."
Hosted by the Baha'i International Community and the International Presentation Association, the discussion was held as part of the 59th Annual United Nations Department of Public Information/Non-Governmental Organization conference.
The panelists agreed that violence against women remains a severe problem in almost every nation and culture.
"We all know that at least one out of every three women around the world has been beaten, coerced into sex, or otherwise abused in their lifetime," said Letty Chiwara, a program specialist with the Africa section of the United Nations Fund for Women (UNIFEM).
In some places, such as rural Ethiopia, some 71 percent of women are abused, said Ms. Chiwara.
"Harmful traditional practices -- female genital mutilation, dowry murder, the so-called honor killings, and early marriage -- bring death, disability and psychological dysfunction for millions of women," said Ms. Chiwara.
Charlotte Bunch, executive director of the Center for Women's Global Leadership at Rutgers University, warned against a tendency to see violence against women as strictly a cultural problem.
"We are not just talking about the remnants of cultural practices in a few southern countries," said Ms. Bunch. "It is structurally central to all of the western world, as well as the rest of the world. Violence in general and violence against women is culturally accepted on a lot of levels."
Despite advances in legislation against violence against women, Ms. Bunch said, a lot of people seem to feel that "a little violence against women is no big deal."
Fulya Vekiloglu, a representative of the Baha'i International Community to the United Nations, said broad international frameworks designed to protect and advance women, such as the Convention on the Elimination of All Forms of Discrimination against Women (CEDAW) and the Millennium Development Goals (MDGs, must be bolstered by a new global social climate.
"It is evident that there is still major barrier between legal and cultural practices," said Ms. Vekiloglu, who moderated the discussion. "The challenge before the international community is how to create the social material and structural conditions that will foster the spiritual and physical development of women.
"Such efforts will not only involve deliberate attempts to change the legal political and economic structures of society but equally important the transformation of individuals in society," said Ms. Vekiloglu.
Joan Burke, a Catholic nun who lived and worked in various countries in Africa for 20 years, said she believes that long-standing cultural practices that harm women -- such as female genital mutilation -- can be changed if underlying values are addressed.
"Many such practices are in fact being perpetuated by pressure of women themselves, on other women, in the name of 'cultural values,'" said Sr. Burke. "The holders of those values -- in many case both men and women -- are beginning to re-examine and question them in the light of other deeply held values. I would expect that genuine change will only happen when there is a sufficient level of awareness, which eventually is shared across the larger group."
Layli Miller-Muro, a lawyer and the founder of the Tahirih Justice Center, a Baha'i-inspired women's advocacy organization in Virginia, said that often laws are not enough to address deep-seated attitudes.
She described the case of a 12-year-old girl who was raped by her step-father in retaliation for turning him in to the police for brutally beating her mother.
All the proper laws were in place, the girl had free lawyers, and she was surrounded by a sympathetic and trained police force, but none of these things could prevent the abuse of this child, said Ms. Miller-Muro.
"We had a system that worked on its face, but that cannot prevent someone from unleashing their own violent tendencies behind closed doors," she said.
Ms. Miller-Muro said that such attitudes can only be addressed by a spiritual transformation, both for societies as well as individuals.
"Religion has the capacity for good, to inspire, to motivate, to transform human behavior," said Ms. Miller Muro. "People are willing to change their behavior for a higher power, not for a World Bank loan."
-- by Veronica Shoffstall