"Beyond Critique to Constructive Engagement": Thousands gather in virtual ABS conference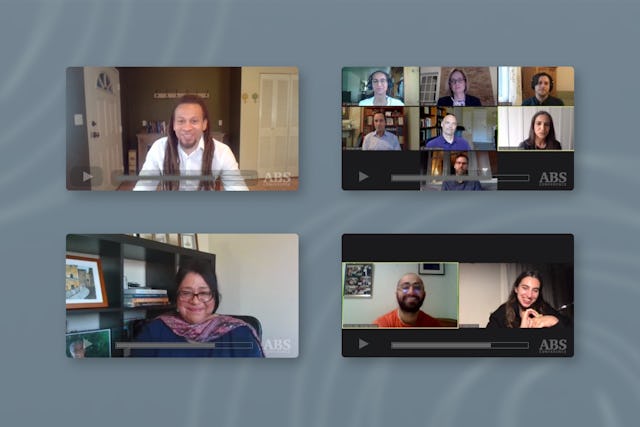 DALLAS, United States — More than 3,000 people in North America and other parts of the world recently participated in the annual conference of the Association for Bahá'í Studies (ABS), which was held virtually this year.
Originally planned for Dallas, Texas, the conference had to be entirely reshaped as a result of the public health crisis. The event, which usually lasts three or four days, took place over two weeks.
"The transition to a virtual conference prompted the Association to rethink its approach in which all participants would feel welcome and have the tools and resources to access materials and sessions, and to know that their contribution is needed and valued," says Julia Berger, Secretary of the ABS executive committee.
This year's theme was "Beyond Critique to Constructive Engagement." Presentations and discussions looked at different issues in light of the Bahá'í teachings—including the implications of the pandemic for the world, scientific truth and objectivity, and the role of media in social transformation.
The question of how society can advance toward harmonious and equitable relations among its members of diverse racial backgrounds was at the forefront of discussions. Conference participants examined foundational concepts underlying constructive action to bring about a pattern of life that reflects the principle of the oneness of humanity.
An area of exploration was how prevalent conceptions of power as a means of domination, often seen in terms of contest, contention, division and superiority, can shape the discourse on racial justice, and how such conceptions must be re-examined in light of new notions of power.
A presentation at the conference, given by Derik Smith, a professor at Claremont McKenna College, looked at the experience of the American Bahá'í community, particularly those of African descent, in contributing over a century to racial equality in the country. Dr. Smith says that "In their effort to promote race unity in an American context badly corroded by racism, Black Bahá'ís have been avoiding modes of contest and conflict by calling upon the powers of the human spirit, such as unity, love, and service. These are subtle powers, but they are deeply transformative. In the Bahá'í teachings, we find perspectives and language that help us to describe and talk about this kind of power, associated with words such as 'release,' 'encourage,' 'channel,' 'guide,' and 'enable.'"
The aim of ABS is to create spaces where people can explore Bahá'í teachings, correlate them with the perspectives of humanity across diverse fields, and attempt to apply them to humanity's current issues and challenges.
In response to circumstances this year, more than 20 "reading groups" were formed in the weeks before the conference to enable participants interested in a particular field of study to engage with relevant literature and consult together. Insights from these discussions were woven into the conference program and presentations.
"A key element of learning is bringing together different perspectives in a collaborative environment in order to advance understanding," says Selvi Adaikkalam of ABS's committee for collaborative initiatives. "Sustained initiatives like the reading groups provide opportunities to develop the depth, rigor, and ongoing discussion needed to identify and rethink certain fundamental assumptions within different disciplines and professional fields."
Another feature of this year's conference was a film festival in which several filmmakers presented works that explore Bahá'í perspectives on contemporary themes.
Amelia Tyson, one of the festival organizers, says, "The approach we took was to curate the whole festival in a way that engages filmmakers and others to think critically about the role of media and film in society, the implications of the stories that are told, what they say about human nature and our place in the world, and what impact films have on us."
Recordings of selected conference sessions will be made available online through the ABS website.