Canadian podcast series explores essential principles in wake of pandemic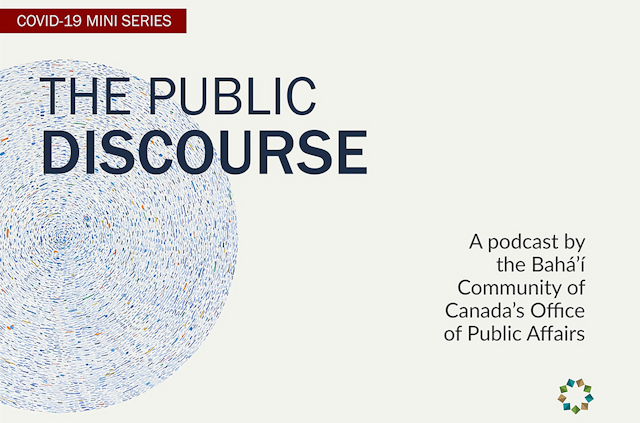 TORONTO — The Baha'i community of Canada has launched a new podcast, beginning with a mini-series titled "Resilience in the face of adversity." Episodes in the series explore how insights from religion can shed new light on contemporary challenges amid the current public health crisis.
"This crisis is giving rise to a new consciousness in our society, as more people are thinking about our interdependence, the need for solidarity, and the values that we want to see reflected in our communities," says Geoffrey Cameron of the country's Baha'i Office of Public Affairs.
"The experience of Baha'is in community building efforts provides some insight into these themes. Our hope is that more people will join in the conversation we are trying to promote on this podcast."
The series brings together academics and social actors to look at questions pertinent to Canadians, such as the power of religion to inspire constructive thought and action and the importance of service to one's society.
In the first episode, a professor of public ethics and a doctor working on the frontlines explore how service to others could remain a prominent feature of public life beyond the crisis.
"One of the basic tenets of most if not all faiths is our human connectedness and our responsibility for each other," says John Milloy, director of the Centre for Public Ethics at Martin Luther University College. "We live in a world that is divided all the time by economics, by geography, by politics—and yet here's one case where we literally are all in this together. Hopefully that sense of shared humanity will be something that lives on after this and will strengthen our world."
In the second episode, released last Wednesday, on religion's power to inspire new ways of thinking, Eric Farr of Canada's Baha'i community, describes how people have come to see humanity's essential oneness with greater clarity and conviction under the current circumstances. Echoing the sentiments of other participants, he expresses the hope for this principle to become firmly established in the public consciousness and to stimulate deep reflection on its implications for the structures of society.
Hannah Marazzi from Cardus, a faith-based think tank, says: "I've noticed that the people around me are revisiting what it means to be human. When I look around me, when I listen to those that I have phone calls with, I'm beginning to see a return to really important questions like: What do I put my hope in? What responsibility do I have towards my neighbor? How can I reorient my life according to what deeply matters?"
Dr. Cameron, reflecting on these conversations, says: "We hope that this podcast can shine a light on an evolving conversation about the values we share and the role of religion and spirituality in our society. We are also looking ahead and talking about our aspirations for the future."
Episodes of the new podcast, titled "The Public Discourse," will be released weekly for the next month on the website of the Office of Public Affairs.