As the earth turns on its axis, torch is passed on to Europe, Americas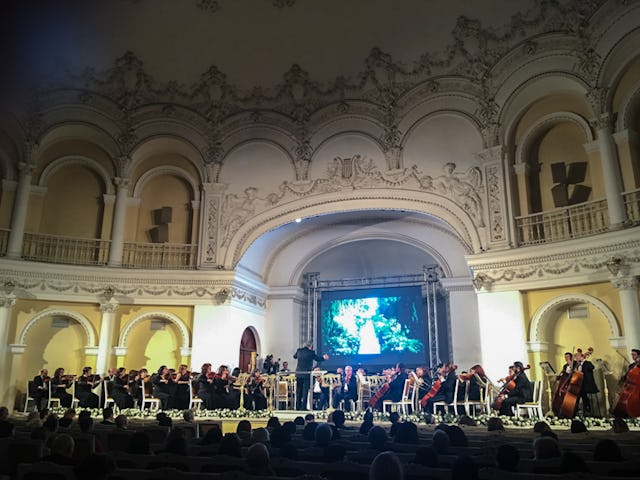 BAHA'I WORLD CENTRE — From a performance by the State Philharmonic Symphony in Azerbaijan, through intimate gatherings in living rooms across Europe and the Americas, to a prayer meeting at a national monument in Washington D.C., moving west across the world, communities carried on the torch of festivities celebrating the light of Baha'u'llah's life and teachings on the occasion of the bicentenary of His birth.
In Norway, Baha'i communities throughout the country coordinated the lighting of beacons in towns and cities from north to south, inspired by the national tradition of burning cairns on mountaintops to signal an important event. While lights dotted the country on Friday night, friends gathered inside their homes to offer prayers and tell stories about the life and person of Baha'u'llah. A map of the trajectory of the beacons can be seen here.
A special feature of the last few hours has been the screening of the film Light to the World in every country. "I thought that the video would mostly be about the life and history of Baha'u'llah. But I realized that it's about how people today have been affected by His teachings and have made them their own. I realized that His words must be something very meaningful since people all around the world have been responding to His words and writings for the past 200 years," commented one young person after seeing the film in Japan.
Another said: "After watching the film, I saw that people all around the world are doing these activities, and I realized how blessed I am to be included among those who have come across and are studying Baha'u'llah's words."
Receptions with dignitaries and officials were also held in many countries, including Kazakhstan and Austria. Across Moldova, communities held joyful celebrations outside to commemorate the bicentenary. In Santa Tecla, El Salvador, the town hall was packed with people who gathered to watch the film Light to the World.
Prayers continued to be offered at the Houses of Worship on every continent, including Frankfurt, and Wilmette. In Santiago, the Temple attracted nearly 5,000 visitors, many participating in services and other events including viewing an exhibition, attending talks, and taking part in children's activities.
Live streaming of events at Houses of Worship will continue throughout the day, beginning with a broadcast from Kampala, Uganda, starting shortly [7:30 GMT, schedule].