Sunset brings light over Oceania, Asia, Africa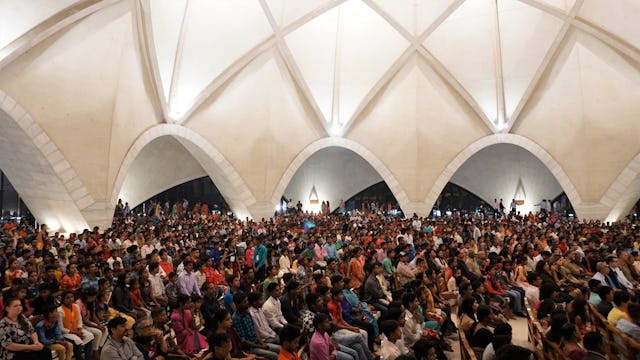 BAHA'I WORLD CENTRE — From Apia to Tokyo to Lubumbashi to Delhi, a striking array of bicentenary celebrations for the birth of Baha'u'llah unfolded throughout the day on Friday.
In Samoa and India, celebrations were held at Baha'i Houses of Worship, marking the beginning of the 200-year anniversary of the birth of Baha'u'llah.
Countless other commemorations took place among close friends and neighbors. In Akita, Japan, for example, a small group of youth joined a celebration in the home of one their friends, where they watched Light to the World, a recently released film about Baha'u'llah and then made watercolor paintings to embellish quotations from His writings.
"I always thought the prominent figures in the past were oppressive towards the weak," said one of the youth while painting. "I was surprised to learn that Baha'u'llah gave up His wealth to actually help the downtrodden."
In a village near Chiang Mai, Thailand, a student—one of only two Baha'is there—had hoped to invite a few friends and neighbors to a small commemoration at his residence. Unexpectedly, word of the celebration spread throughout the village, prompting a request to hold the gathering in the public community hall instead. More than 60 neighbors joined him to celebrate and watch a screening of Light to the World. The head of the village read before the audience the public message of the Prime Minister of Thailand to the Baha'i community there.
Some celebrations were on a larger scale. Hundreds walked together in parades held in a number of cities, including in the Democratic Republic of Congo and in Vanuatu.
"Today was a blessing to all," said one of the participants from the island of Efate in Vanuatu. "It lit up the spirit of the celebration."