Bicentenary website shifts to focus on 72 hours of celebration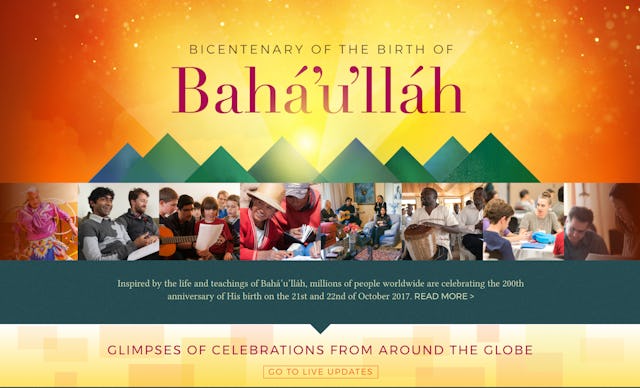 BAHA'I WORLD CENTRE — The setting of the sun over the Pacific islands of Kiribati a short while ago marked the start of the global commemoration of the bicentenary of the birth of Baha'u'llah.
Over this period—spanning a total of 72 hours beginning in Kiribati on 20 October and ending at sunset in Hawaii on 22 October—celebrations will be held in thousands of localities throughout the world.
Programs at six Baha'i Houses of Worship will be available for view through a live stream on the official bicentenary website. The first of these will come from the Temple in New Delhi, India, and will begin today at 13:00 GMT. A full schedule of the live streaming program is available on the site.
Glimpses of the festivities will be captured through a sampling of stories, photos, and videos on the bicentenary website. A regularly updated feed will show a few of the artistic presentations, service projects, commemorative gatherings, encounters with dignitaries, and other acts undertaken around the world to celebrate the life and teachings of Baha'u'llah.
"As the world now faces its most pressing challenges yet, we acclaim Baha'u'llah, born two hundred years ago...as the One Whose teachings will usher in that long-promised time when all humanity will live side by side in peace and unity," the Universal House of Justice wrote in its October 2017 message for the occasion.
The period of celebration commemorates the birth of both Baha'u'llah, born 200 years ago in 1817, and the Bab—the forerunner of Baha'u'llah's Revelation—born in 1819. These Twin Holy Days are celebrated on consecutive days as one annual festival.
Coverage on the bicentenary website begins soon after 8:00 GMT on 20 October and concludes at 4:00 GMT on 23 October. Documenting for the first time the worldwide events marking the anniversary of the birth of Baha'u'llah, the website will connect the world by providing a vista of some of the thousands of celebrations.