'Embodied Light' exhibition features Chile House of Worship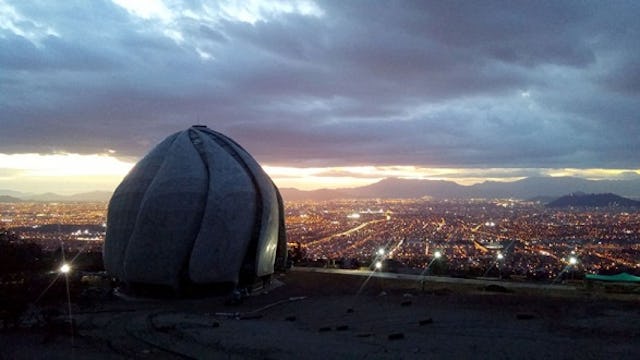 TORONTO, Canada — The construction of South America's first Baha'i House of Worship has been at the center of an exhibition in Canada this week.
Titled 'Embodied Light: The Bahá'í Temple of South America', the exhibition features photos and material samples of the temple in Santiago and a lecture by the temple's architect, Siamak Hariri.
"The aim was to achieve an interplay of seeming contradictions: stillness and movement, simplicity and complexity, intimacy and monumentality, solidity and yet a building capable of dissolving in light," said Hariri, who spoke at the exhibition opening in Toronto on 29 October.
"The architectural challenge was to design a sister temple to the existing temple of North America, while also enabling it to find its own unique presence at the foot of the Andes."
The temple design uses cutting edge digital technology and advanced engineering solutions to create a design that 'helps lift the spirit', Hariri said.
Work on the temple began in 2010. The temple will be inaugurated in 2016 and will be the last continental Baha'i House of Worship to be erected.
In a letter dated 1 August 2014, the Universal House of Justice explained that scores of people were being welcomed to the temple for prayer and discussion on its significance.
"The friends in Santiago, supported by others from throughout the Americas, have been diligently striving to prepare the surrounding population for the emergence of the House of Worship; increasing numbers are participating in the community-building endeavours, and a stream of visitors are being welcomed to the Temple site for prayer and discussion on the practical and spiritual dimensions of the enterprise. Measures are currently being put in place in that country in anticipation of the many demands that are sure to arise once the Temple is inaugurated in 2016."
The exhibition will be run until 13 November. For more information on the progress of the House of Worship, visit here.