Los Angeles marks Education is Not a Crime Day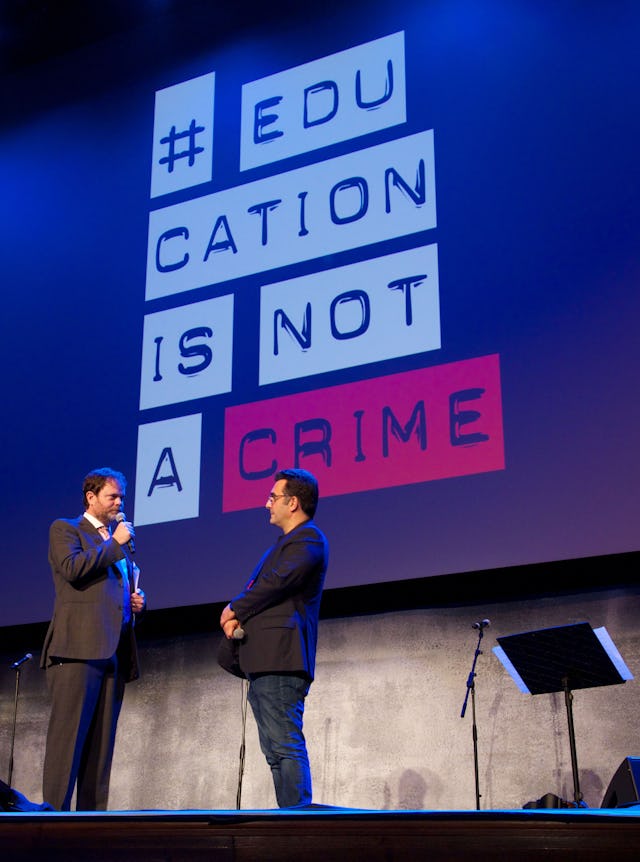 LOS ANGELES, United States — Over 1100 people gathered at the Ace Hotel in downtown Los Angeles on Friday, 27 February to honor those Baha'is who have been denied the right to higher education in Iran.
"Education is Not a Crime – Live 2015" was a major event for the "Education is Not a Crime" campaign launched in November 2014 by Maziar Bahari, an Iranian-Canadian journalist and filmmaker who was himself imprisoned in Iran in 2009. The campaign was inspired by the film "To Light a Candle", a documentary made by Mr. Bahari.
"To Light a Candle" highlights the constructive resilience of Baha'i youth who have expressed their desire to pursue their education by developing an informal arrangement, called the Baha'i Institute for Higher Education (BIHE), through which they could access university-level studies.
Over the course of the weekend in over 300 localities around the world, from the Antipodes to Canada, from the United Kingdom to Brazil, and India to the Netherlands, the film was screened. There have been numerous interviews with university lecturers who serve as volunteer tutors of BIHE students and the highlighting of the denial of access to higher education to the Baha'i youth of Iran. Articles and reports have been published on many websites including the Daily Beast, the Globe and Mail, Star Tribune, Australian Broadcasting Corporation (ABC), the Irish Times, The Telegram, Pittsburg Post-Gazette, Amnesty International, and World Religion News.
At the Los Angeles event, it was announced that letters had been received from four members of the California congressional delegation – Karen Bass, Janice Hahn, Alan Lowenthal, and Edward Royce (Chairman of the Foreign Affairs Committee of the U.S. House of Representatives), emphasizing the importance of universal education and written in support of the event.
The evening featured a range of musical performances interspersed among narrative readings and live interviews with Baha'is about the persecution they had experienced in Iran, conducted by Mr. Bahari.
In a conversation on stage with the evening's emcee, actor Rainn Wilson, Mr. Bahari commented that when he first learned of the story of the Baha'is he was "surprised by the way they resisted through education and nonviolence". He added that "many people around the world need to learn from the Baha'is".
Actress Eva LaRue performed an emotional dramatic narrative written by Alistaire Taylor. It was based on the thoughts of Keyvan Rahimian – a Baha'i sentenced to 4 years imprisonment for his involvement with BIHE – as he was awaiting the call that would summon him to begin his incarceration.
In addition, Quattro Sound, a Grammy Award-nominated instrumental ensemble, performed an upbeat and rhythmic piece.
There followed an interview conducted by Mr. Bahari with Farideh Samimi, the wife of one of the eight members of the second National Spiritual Assembly (the national governing body of Baha'is) in Iran who were arrested, summarily tried, and executed in December 1981.
Actor Justin Baldoni recited a fictional narrative of a young woman named Behfar, who, in attempting to take university qualifying exams in high school, is refused permission to sit for the exams because she is a Baha'i. She then declares that the "government will never stop us from studying. Education is one of the 12 pillars of our religion".
Mr. Bahari also interviewed Marjan Davoudi about being expelled from university in the early 1980's. She said that the Dean of the university told her: "You are not human. You are lower than an animal. Get the hell out of my office." Although heartbroken, she told herself at that time that she would never stop learning. She later had the opportunity to take correspondence courses with Indiana University, explaining that all of the materials, except for one original textbook kept in a central location, were photocopies. It took her twelve years to obtain her Bachelor's degree from Indiana University.
Later, a touching narrative was read by actor Anthony Azizi which portrayed Sonia, a fictional Baha'i student, who was taught from an early age that Baha'is do not lie about who they are. She was put to the test when the receipt of her prize for best student in her high school was made conditional on her denying her Faith. She refused, lost her chance to go to university, and eventually enrolled in BIHE.
This was followed by one of three short clips from "To Light a Candle". Mr. Bahari then added that the Iranian government will make every form of accusation against Baha'is, but the nature of its accusations are such that they actually increase the curiosity of Muslim youth about the Baha'i Faith.
The two-hour programme concluded with a lively and rhythmic musical finale featuring Ozomatli, Quattro Sound, Ellis Hall, and K.C. Porter – an appropriate way to end an evening that, though it had many somber moments, was also full of inspiring instances. Ultimately, it was a celebration of the Iranian Baha'i community's resilience in the face of adversity.