"Five Years Too Many" campaign leads to global outpouring of support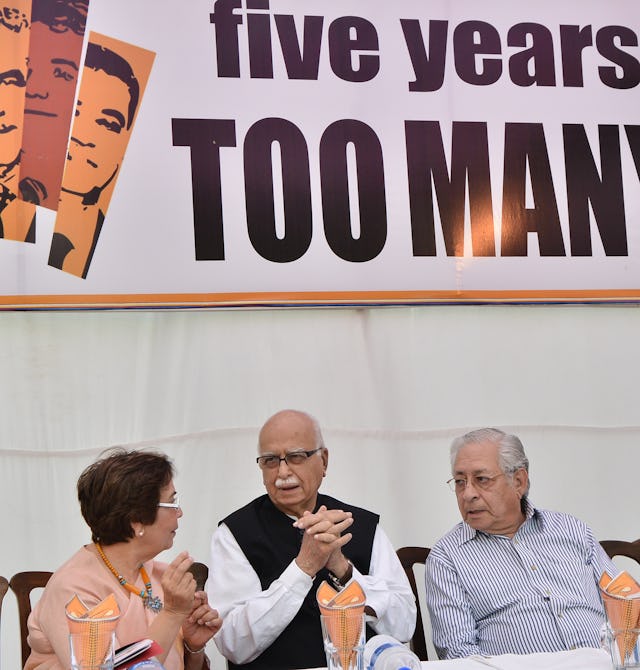 BIC GENEVA, Switzerland — A global outpouring of support and concern for the plight of the seven Iranian Baha'i leaders – and for the situation of other prisoners of conscience in Iran – marked worldwide commemorations of the fifth anniversary of the arrest of these Baha'is.
Statements calling for the immediate release of the seven came from every continent, issued by government officials, religious leaders, human rights activists, and ordinary citizens during 10 days in May as part of the "Five Years Too Many" campaign. Local and national media reports also carried news of the campaign around the world.
"Our hope is that the government of Iran will understand clearly that the seven Baha'i prisoners, who have been unjustly and wrongfully held for five long years simply for their religious beliefs, have not been forgotten," said Diane Ala'i, the Baha'i International Community's representative to the United Nations in Geneva.
"Our ultimate hope, of course, is that Iran will immediately release the seven – and all other prisoners of conscience in Iran," said Ms. Ala'i.
As the campaign came to a conclusion, one theme that emerged was the degree to which religious leaders around the world find Iran's persecution of Baha'is unconscionable.
In South Africa, Shaykh Achmat Sedick, vice president of the national Muslim Judicial Council, used a Five Years Too Many campaign event on 15 May to talk about freedom of religion from an Islamic perspective. He described how the teachings of the Qur'an support religious freedom – and added that Iran's persecution of the Baha'i community is entirely unjust.
On 14 May, some 50 religious leaders representing virtually every religious community in the United Kingdom sent a letter to UK Foreign Secretary William Hague, calling on him to demand that Iran immediately release the seven.
Signatories to the letter included Rowan Williams, former Archbishop of Canterbury; Jonathan Sacks, Chief Rabbi of the United Hebrew Congregations of the Commonwealth; and Shaykh Ibrahim Mogra, an Assistant Secretary General of the Muslim Council of Britain.
"Iran has abandoned every legal, moral, spiritual and humanitarian standard, routinely violating the human rights of its citizens," they wrote. "The government's shocking treatment of its religious minorities is of particular concern to us as people of faith."
And in Uganda, the Inter-Religious Council issued a joint statement with the Baha'i community there calling on Iran to respect the fundamental human rights of Iranian Baha'is.
"These sheer violations of basic human rights of Iran's religious minorities by the regime of that country gave rise to international outrage from governments and civil society organizations and all freedom-loving people worldwide," said Joshua Kitakule, Secretary General of the Council, on 15 May in Kampala.
Other significant responses during the final days of the campaign included:
● A letter calling for the "immediate release of the seven" by prominent people in India, signed by L. K. Advani, chairman of Bharatiya Janata Party; Soli Sorabjee, former Attorney General of India; Imam Umer Ahmed Ilyasi, Chief Imam of the All India Organization of Imams of Mosques; and Miloon Kothari, former UN Special Rapporteur on adequate housing, among others.
● A series of statements issued by prominent Austrians in support of the seven, including one by Efgani Donmez, the first Muslim elected to the Austrian Parliament, who said "The Baha'is in Iran are part of the society, part of the Iranian culture. They should also have the (same) rights as all the other citizens in Iran."
● A speech in Ireland by campaigner and Holocaust survivor Tomi Reichental, who said the discrimination faced by Iranian Baha'is sadly reminded him of what happened to the Jews in Nazi Germany. "I can very well identify with the struggle that the Baha'i religion suffers in Iran," said Mr. Reichental on 15 May in Dublin.
● A video message by Nico Schrijver, a member of the Senate of the Netherlands and vice-chairperson of the Geneva-based UN Committee for Economic, Social and Cultural Rights, who said: "The leaders of the Baha'i community have been detained for the sole reason that they are Baha'is. This is of course a complete violation of human rights law."
The campaign, which ran 5-15 May, quickly found support from others, including Australia's Minister for Foreign Affairs, Senator Bob Carr, and Lloyd Axworthy, former Minister of Foreign Affairs in Canada, as previously reported.
Among the most notable expressions of concern was a joint press release by four UN human rights experts, issued on 13 May, which stated that the seven are held solely because of their religious beliefs, that their continued imprisonment is unjust and wrongful, and that Iran's treatment of religious minorities violates international law.
Six of the seven Baha'i leaders were arrested on 14 May 2008 in a series of early morning raids in Tehran. The seventh had been detained two months earlier on 5 March 2008.
Since their arrests, the seven leaders – whose names are Fariba Kamalabadi, Jamaloddin Khanjani, Afif Naeimi, Saeid Rezaie, Mahvash Sabet, Behrouz Tavakkoli, and Vahid Tizfahm – have been subject to an entirely flawed judicial process, and were ultimately sentenced to 20 years imprisonment, the longest of any current prisoners of conscience in Iran.
Further details can be found at the campaign website, located at: http://www.bic.org/fiveyears.