"Five Years Too Many" campaign gathers momentum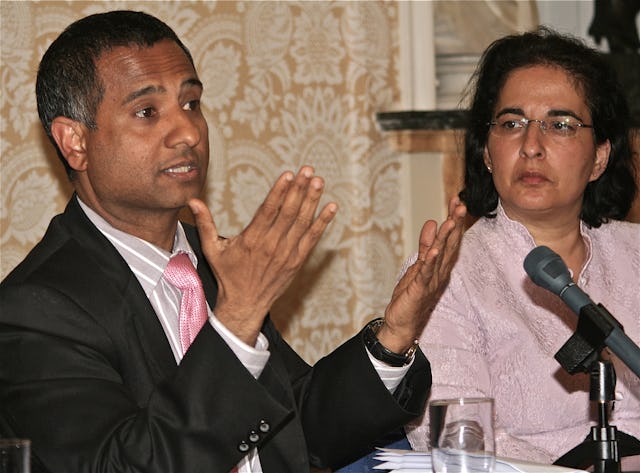 BIC NEW YORK, United States — Throughout the world people are raising their voices in a global campaign to free the seven imprisoned Iranian Baha'i leaders.
The "Five Years Too Many" campaign marks the fifth anniversary of the arrest of the seven and seeks to highlight their entirely unjust and wrongful imprisonment and the deteriorating human rights situation in Iran.
"Midway through our ten-day campaign we have seen an overwhelming and heartfelt response from both ordinary people and prominent individuals," said Bani Dugal, the principal representative of the Baha'i International Community to the United Nations.
Among the highlights of the response so far have been:
• A call for the immediate release of the seven issued by Australia's Minister for Foreign Affairs, Senator Bob Carr.
• An Op-ed article by Lloyd Axworthy, former Minister of Foreign Affairs in Canada, which states that the treatment of Iran's Baha'i minority is a "litmus test" for Iran's intentions in the international arena.
• An artistic installation on the beaches of Rio de Janeiro, created by noted artist Siron Franco, featuring a huge mural based on the concept that "human beings should be free as birds."
• A legal seminar in London at the Law Society of England and Wales which focused on the seven's wrongful imprisonment. Among the speakers was Ahmed Shaheed, the United Nations Special Rapporteur on human rights in Iran.
Six of the seven Baha'i leaders were arrested on 14 May 2008 in a series of early morning raids in Tehran. The seventh had been detained two months earlier on 5 March 2008.
Since their arrests, the seven leaders – whose names are Fariba Kamalabadi, Jamaloddin Khanjani, Afif Naeimi, Saeid Rezaie, Mahvash Sabet, Behrouz Tavakkoli, and Vahid Tizfahm – have been subject to an entirely flawed judicial process, and were ultimately sentenced to 20 years imprisonment, the longest of any current prisoners of conscience in Iran.
Many who have spoken out on their behalf have used the occasion to connect their situation to the plight of the hundreds of other prisoners of conscience in Iran.
At a forum in Washington DC on Monday, 6 May, for example, Thomas O. Melia, of the US Department of State, said the wrongful imprisonment of the seven was "emblematic" of the persecution faced by Baha'is throughout Iran – and a "reminder" of the situation of other minority religious communities who are currently facing persecution by the Iranian government.
"This is a government that also prevents Sunnis from worshiping, flogs Sufis, and detains Zoroastrians without charge simply for who they are," said Mr. Melia. "This is a government that raids house churches and arrests Christian leaders for their activities. The government discriminates harshly also against Jews and confiscates property from a variety of religious communities."
The campaign runs until 15 May. Further information can be found at http://www.bic.org/fiveyears