Baha'is face particularly severe violations amid deteriorating religious freedom in Iran, says US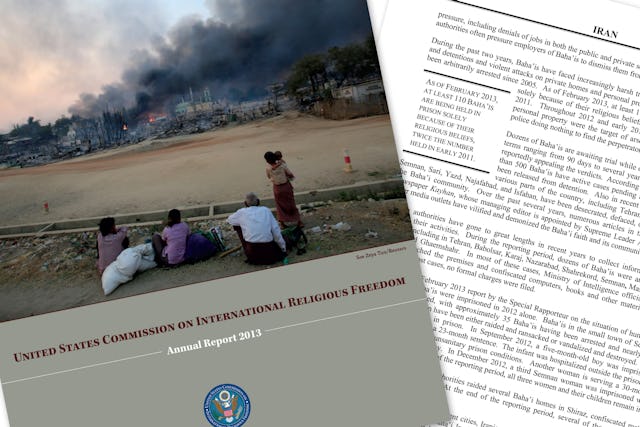 WASHINGTON, United States — In its annual report on international religious freedom, the United States said religious freedom in Iran has continued to deteriorate over the past year, especially for religious minorities such as Baha'is, as well as for Christians and Sufi Muslims.
"The government of Iran continues to engage in systematic, ongoing, and egregious violations of religious freedom, including prolonged detention, torture, and executions based primarily or entirely upon the religion of the accused," said the US Commission on International Religious Freedom (USCIRF), an independent federal advisory body.
"Physical attacks, harassment, detention, arrests, and imprisonment intensified," said the USCIRF. "Even some of the recognized non-Muslim religious minorities protected under Iran's constitution – Jews, Armenian and Assyrian Christians, and Zoroastrians – face harassment, intimidation, discrimination, arrests, and imprisonment."
The annual report examines the situation of religious freedom in all countries outside the US. Since 1999, Iran has been listed as a "country of particular concern" by the US Department of State.
This year's report devoted nearly two pages to the situation of the Baha'i community of Iran.
"The Baha'i community has long been subject to particularly severe religious freedom violations," said the report. "Iranian authorities view Baha'is, who number at least 300,000, as 'heretics,' and repress them for 'apostasy' and other baseless charges."
It noted that since 1979, the Iranian government has been responsible for the deaths of more than 200 Baha'is and dismissed more than 10,000 from public sector and university jobs.
"Baha'is may not establish places of worship, schools, or any independent religious associations," said the report. "Baha'i cemeteries, holy places, and community properties are often seized or desecrated, and many important religious sites have been destroyed. The Baha'i community faces severe economic pressure, including denials of jobs in both the public and private sectors and of business licenses."
The report said over the last two years, "Baha'is have faced increasingly harsh treatment, including increasing arrests and detentions and violent attacks on private homes and personal property."
It noted that more than 650 Baha'is have been arbitrarily arrested since 2005, and that at least 110 Baha'is were held in prison as of February 2013, twice the number in early 2011.
"Iranian authorities have gone to great lengths in recent years to collect information on Baha'is and monitor their activities," said the report. "During the reporting period, dozens of Baha'is were arrested throughout the country, including in Tehran, Babolsar, Karaj, Nazarabad, Shahrekord, Semnan, Mashhad, Bandar Abbas, Shiraz, and Ghaemshahr. In most of these cases, Ministry of Intelligence officials appeared at their homes, searched the premises and confiscated computers, books and other materials, and then made arrests. In most cases, no formal charges were filed."
The report also mentioned the situation of the seven imprisoned Baha'i leaders, Fariba Kamalabadi, Jamaloddin Khanjani, Afif Naemi, Saeid Rezaie, Mahvash Sabet, Behrouz Tavakkoli, and Vahid Tizfahm, noting that they have been imprisoned since 2008 on "an assortment of dubious charges, ranging from espionage to 'corruption on the earth.'"
"In August 2010, the seven were sentenced to 20 years in prison. The two women currently are held in Evin prison while the five men are held under appalling conditions in the notorious Gohardasht prison outside Tehran. Attorneys for the seven Baha'is, including Nobel Laureate Shirin Ebadi, have had extremely limited access to their clients and court proceedings," said the report.
The full report can be read at http://www.uscirf.gov/