Calls for Iran to uphold right to education intensify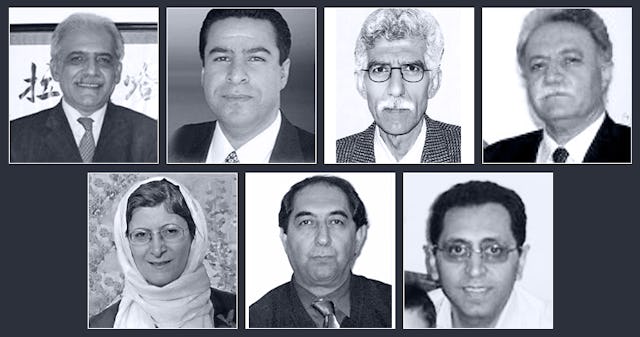 GENEVA, Switzerland — The Baha'i International Community has joined with 16 other non-governmental organizations to call upon the government of Iran to urgently address the state of higher education in the country.
A joint statement addressed to Iran's Supreme Leader, Ayatollah Ali Khamenei, is the latest in a growing number of protests around the world at Iran's abuses of the right to education.
In their statement launched today, the 17 organizations note that more than 600 students, and some university lecturers, have been arrested since 2009 for peacefully expressing their opinions. Hundreds have been deprived of education for their political beliefs, while student gatherings, publications, and organizations have been shut down.
"The right to education for all persons without discrimination is explicitly guaranteed under international instruments, which Iran has accepted or to which it is party," they write. "It is also guaranteed under Iran's Constitution."
In addition to the Baha'i International Community, the statement is signed by such organizations as Amnesty International, the Cairo Institute for Human Rights Studies, Human Rights Watch and United4Iran.
Read more about the statement here.
They also note that Iran's minorities face systematic deprivation and discrimination in education. "Authorities have prevented – and specifically targeted – members of the Baha'i Faith from pursuing higher education solely on the basis of their religious beliefs..." the statement says.
In May 2011, Iranian authorities raided homes of Baha'is associated with an informal community initiative, known as the Baha'i Institute for Higher Education (BIHE). A number of Baha'i educators were arrested and are currently serving four- or five-year jail terms.
The statement strongly urges Iran to release "immediately and unconditionally all Iranian students and higher education personnel who have been jailed for peacefully exercising their rights to freedom of expression, association, and assembly, including educators at the Baha'i Institute of Higher Education, and including those who have expressed political opinions..."
Iran is also urged to abolish "all policies and practices that discriminate against or otherwise violate the rights of religious and ethnic minorities...particularly the Baha'i community, including in regard to their access to higher education and academic freedom."
Other recent actions
A report released on 17 May by the Iranian Advocacy Council for the Right to Education (ACRE) – an organization founded by students who have been banned from education – also detailed the discrimination faced by university students in Iran.
"The educational apartheid has specifically gained speed over the past three years, with hundreds of students...banned from pursuing their education through rulings issued by disciplinary committees on campuses and the Ministry of Science's disciplinary committee," the report stated.
In Belfast, Northern Ireland, the Students' Union Council at Queen's University passed a motion on 26 April condemning Iran's denial of access to higher education for Baha'is and others.
The Council called on its Executive Management Committee to adopt "a policy to assist ... BIHE thus allowing us to build links through education and resource sharing that will benefit the Baha'i community in Iran during a time of oppression and open persecution."
In an editorial published on 23 May in Embassy – Canada's foreign policy newspaper – Roger Blockley, former Carleton University Dean of Graduate Studies, wrote, "Canadian university presidents should approach their national and international organizations with a view to sanctioning Iranian universities until they accord Baha'i students equal treatment."