On anniversary of arrests, Canadian MPs highlight Iran's human rights violations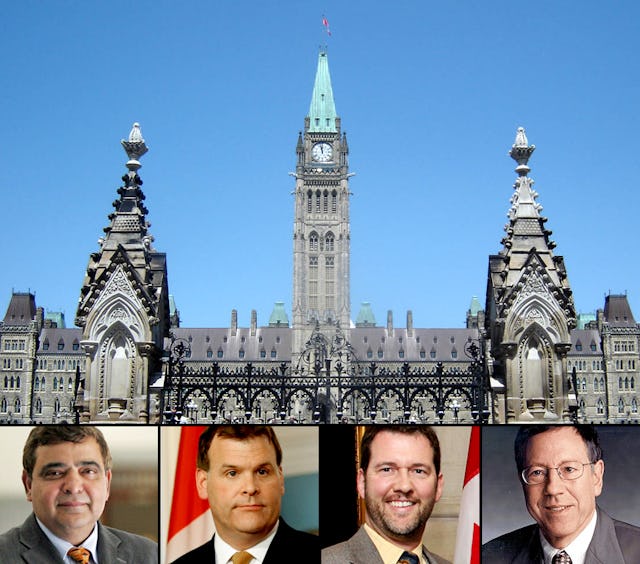 OTTAWA, Canada — In a wide-ranging debate that took place on the fourth anniversary of the arrest of imprisoned Iranian Baha'i leaders, members of the Canadian Parliament voiced their grave concern about worsening violations of human rights in Iran.
Earlier on Monday 14 May, Canada's Minister of Foreign Affairs – John Baird – marked the anniversary by issuing a statement which said, "Iranian authorities continually undermine the right to freedom of religion by tolerating and even encouraging persecution of Baha'is, Christians and members of other minority religious communities. Freedom of religion is a universal human right."
"We urge Iran to uphold its international obligations and allow for freedom of religion, and to respect the fundamental rights of its people," said Minister Baird.
Opening the debate in the House of Commons, Deepak Obhrai – Parliamentary Secretary to the Minister of Foreign Affairs – said that Iran's refusal to respect human rights obligations is a "violation not just of universally recognized norms and standards but of those enshrined within its own constitution."
Read a full transcript of the debate here.
Mr. Obhrai and other speakers highlighted, among other things, the Iranian authorities' suppression of women's rights, attacks on journalists, artists, independent trade unionists, and civil society, and the persecution of minorities.
"With respect to religious minorities, Iran remains a dangerous place for members of numerous communities, including the Baha'i," said Mr. Obhrai, a Conservative MP from Alberta.
"For years, this peaceful community has been targeted by the Iranian authorities and subjected to discrimination and detention. Baha'i leaders have been arrested and imprisoned for practicing their faith.
"Iranian officials have also made statements to try to link the Baha'i to the political unrest in that country. These are trumped-up accusations and a cause of concern for the safety and well-being of those unjustly detained in Iran."
Irwin Cotler, a Liberal MP from Montreal, told the debate that the plight of Iran's Baha'is offers a looking glass into the situation of human rights in Iran in general, and the "criminalization of innocence."
"Simply put, the persecution and prosecution of these Baha'i is a case study of the systematic if not systemic character of Iranian injustice as a whole," said Mr. Cotler, "including arbitrary arrest and incommunicado detention, false and trumped-up charges."
Scott Reid, a Conservative from Ontario, added "Baha'is face what really amounts to a systematic effort to exterminate the religion," calling Iran's persecution of Baha'is "one of the great tragedies of modern times."
Welcoming the debate, Susanne Tamas – director of government relations for the Canadian Baha'i community – said it was significant that representatives from all of Canada's major parties spoke and were unanimous in expressing their concerns.
"The debate was very heartfelt and very much appreciated," said Ms. Tamas.