Amnesty International report condemns Iran's human rights abuses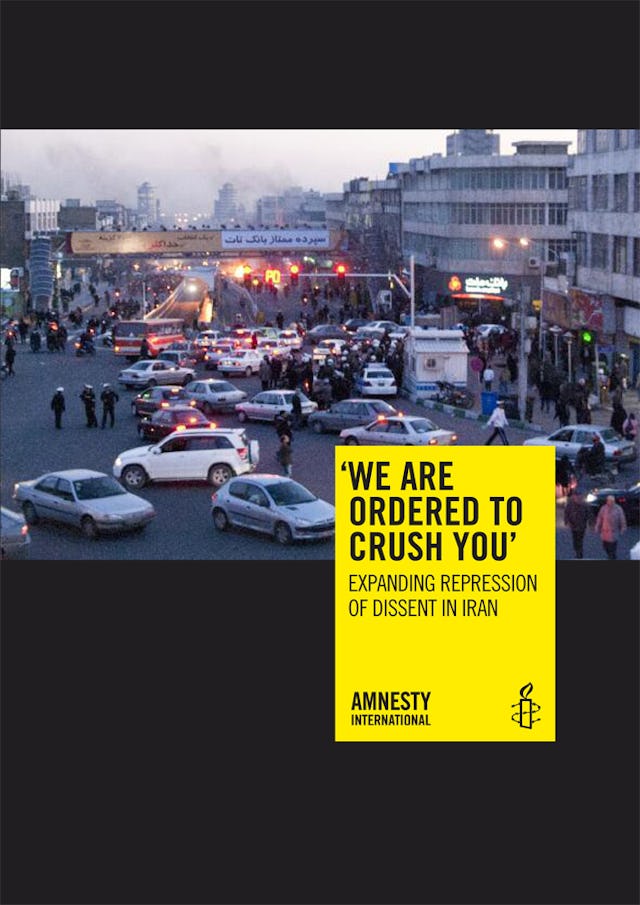 GENEVA, Switzerland — The Baha'i International Community has noted with alarm a new Amnesty International report that highlights the widening crackdown on dissent in Iran.
The document, titled 'We are ordered to crush you': Expanding Repression of Dissent in Iran, cites a wave of recent arrests of lawyers, students, journalists, political activists, filmmakers, and religious and ethnic minorities.
Widespread restrictions on freedom of expression, association and assembly are described, as well as torture, other ill-treatment and poor conditions in detention.
Particular concern is expressed at the high rate of public executions – around four times more in 2011 than in the previous year – and Iran's continuing execution of juvenile offenders, which is strictly prohibited under international law.
The Iranian authorities also see the internet and social media as a major threat, said Ann Harrison, Interim Deputy Director of Amnesty International's Middle East and North Africa Programme. "Anything from setting up a social group on the internet, forming or joining an NGO, or expressing your opposition to the status quo can land you in prison," she said.
The document reports an increase in the number and severity of attacks against Baha'is – attacks that have ranged from arrests to arson, and the publishing of slanderous articles in the press.
"Non-Muslims, especially the Baha'i community, have been increasingly demonized by Iranian officials and in the Iranian state-controlled media," says the report. "In 2011, repeated calls by the Supreme Leader and other authorities to combat 'false beliefs' – apparently an allusion to evangelical Christianity, Baha'ism and Sufism – appear to have led to an increase in religious persecution."
Welcoming the report, Diane Ala'i – the Baha'i International Community representative to the United Nations in Geneva – said, "What it confirms is something Iranian Baha'is have known for years. Anyone who falls outside the government's very narrow concept of what is socially or politically acceptable is now an official pariah in Iran, and subject to severe consequences."
Baha'i World News Service coverage of the persecution of the Baha'is in Iran
*A Special Section includes detailed information about Iran's campaign to deny higher education to Baha'is. *
*Another Special Report offers articles about the seven Iranian Baha'i leaders – their lives, their imprisonment, trial and sentencing. *
*The International Reaction page is regularly updated with responses from governments, nongovernmental organizations, and prominent individuals, to actions taken against the Baha'is of Iran. *
*The Media Reports page presents a digest of media coverage from around the world. *