UN investigator who revealed Iran's "Baha'i Question" memorandum dies aged 93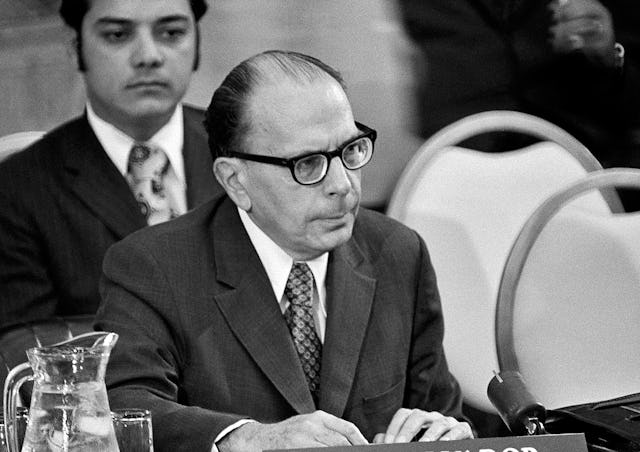 SAN SALVADOR, El Salvador — Reynaldo Galindo Pohl, a noted legal scholar who uncovered significant evidence of human rights violations in Iran in the late 1980s and early 1990s, passed away here last Thursday.
A prominent diplomat and professor of law, Prof. Galindo Pohl was well known internationally even before his 1987 appointment as the United Nations Commission on Human Rights' Special Representative on Iran. He had served as El Salvador's UN ambassador and was also – among other posts – the director of legal affairs for the Organization of American States.
But in the field of human rights, his eight years as Special Representative were particularly significant, principally for a series of reports that authoritatively documented the intense, often brutal, violations committed by Iran against its own citizens.
In 1990, for example, Prof. Galindo Pohl cited numerous interviews and documents to expose the Iranian government's extensive use of execution and torture, and lack of judicial safeguards.
"The Baha'i International Community wishes to express its deep condolences over the passing of Professor Galindo Pohl, whose impact and influence in the field of human rights will long be remembered," said Diane Ala'i, the representative of the Baha'i International Community to the United Nations in Geneva.
"His tireless efforts to interview victims, their families, and others with direct or inside knowledge of the kinds of violations that the government hoped to keep secret became an essential feature of his reports to the UN Commission on Human Rights. These were critical in calling the world's attention to the brutality of the regime at the time," said Ms. Ala'i.
Prof. Galindo Pohl's 1993 report to the Commission was notable for its disclosure of the so-called "Baha'i Question" memorandum, a previously secret 1991 letter – issued by the Supreme Revolutionary Cultural Council – that established a national policy for dealing with Iran's Baha'is, setting limits on their educational, economic and cultural activities.
"The public release of this memorandum was extremely important," said Ms. Ala'i. "It documented how the highest levels of the Iranian government had devised a plan to completely block the development of the Baha'i community in ways that would draw less attention than the executions and imprisonments carried out in the 1980s – but which would still eventually result in the end of the Baha'i community as a viable entity."
Prof. Galindo Pohl visited Iran three times during the course of his mandate and, on those visits, often boldly challenged Iranian authorities by conducting interviews in prison or with individuals that the government otherwise sought to prevent from meeting with him. He was also known to be scrupulously fair, reporting the extensive inquiries he made of Iranian officials – and also their responses.
Born 18 October 1918 in Sonsonate, El Salvador, Prof. Galindo Pohl was a graduate of the University of El Salvador, where he obtained a doctorate in law and social sciences. In 1950, he was elected President of the National Constitutional Assembly. He also served as Minister of Education from 1950 to 1956. From 1960 to 1964, he was a member of the Inter-American Commission on Human Rights.