Brazilians march together to demand justice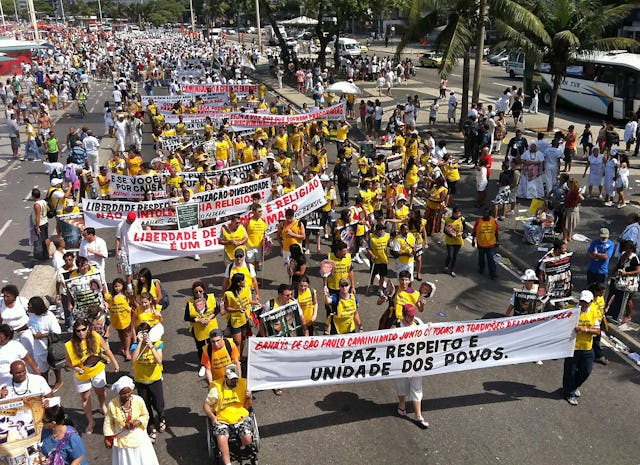 RIO DE JANEIRO, Brazil — The ongoing persecution of Iran's Baha'i community featured prominently as 25,000 people from Brazil's diverse traditions marched to defend the right to religious freedom and call for justice.
Established in 2008 by Rio's Committee for Combating Religious Intolerance (CCIR), the Religious Freedom Walk initially aimed to call attention to the prejudice faced in Brazil by followers of traditional Afro-Brazilian religions. Since then, the march has become an annual event, growing from 2,000 participants at the first rally to this year's record figure.
Yesterday, Afro-Brazilian religious leaders were joined by Roman Catholics, Muslims, Jews, Protestants, Buddhists and Baha'is, all united in their aim to draw attention to intolerance.
Baha'is distributed 1,000 yellow vests bearing the slogan, "Today, we are followers of all religions" – a sentiment that was happily worn by participants from the different communities.
In the opening speech of the rally, CCIR's coordinator, Babalorixa Ivanir dos Santos, highlighted the persecution faced by Iranian Baha'is and called the crowd's attention to the "group in yellow" who, in his words, "are active supporters of the cause of religious freedom in Brazil."
Leaders and representatives from the gathered communities then addressed the rally about the need to respect others.
"Prejudice, stereotypes and lack of information about the various religious traditions make people behave irrationally against those who have different beliefs," Brazilian Baha'i Iradj Roberto Eghrari told the crowd.
"It is as if they stop seeing these 'other people' as human beings, as people who deserve respect and fair treatment," he said.
Mr. Eghrari spoke of the seven Iranian Baha'i leaders who have been kept behind bars since 2008, sentenced to 20-year jail terms on trumped-up charges.
"There are many similarities between the persecution of the Baha'is in Iran and the Afro-Brazilian religions here," he said. "Properties are destroyed and confiscated, children are harassed and youth cannot have access to education because of their beliefs. And the only way in which the oppressors agree to leave these people alone is if they agree to recant their faith – but how can you forcefully remove a religious belief from a person without tearing him or her completely apart?"
Religious intolerance generates racism and threatens democracy, said Babalorixa Ivanir dos Santos.
"Religion is a cause of war in the world, but here we are bringing the religions together to dialogue," he said.
"Our movement is not religious, it does not promote any faith, just the right to be respected."
Baha'i World News Service coverage of the persecution of the Baha'is in Iran
*The Baha'i World News Service has published a Special Report which includes further articles and background information about Iran's campaign to deny higher education to Baha'is. It contains news of latest developments, a summary of the situation, feature articles, case studies and testimonials from students, resources and links. *
*Another Special Report offers articles and background information about the seven Iranian Baha'i leaders – their lives, their imprisonment, trial and sentencing – and the allegations made against them. It also offers further resources about the persecution of Iran's Baha'i community. *
*The International Reaction page of the Baha'i World News service is regularly updated with responses from governments, nongovernmental organizations, and prominent individuals, to actions taken against the Baha'is of Iran. *
*The Media Reports page presents a digest of media coverage from around the world. *