Homes demolished in campaign to drive Baha'is out of Iranian village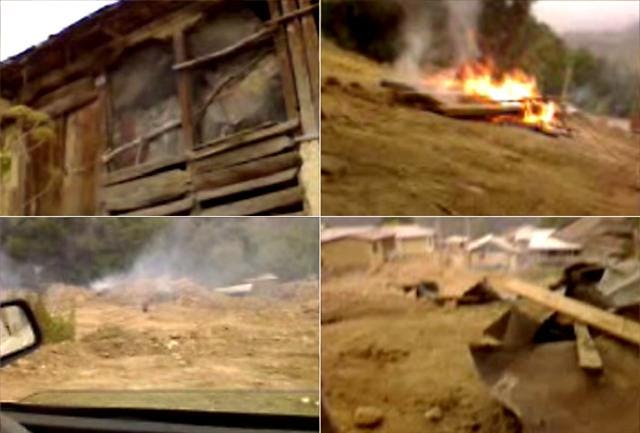 GENEVA, Switzerland — Homes belonging to some 50 Baha'i families in a remote village in northern Iran have been demolished as part of a long-running campaign to expel them from the region.
The action occurred in Ivel, Mazandaran, when inhabitants – incited by elements inimical to the Baha'i community – blocked normal access to the village, while allowing trucks and at least four front-end loaders to begin leveling the houses.
Amateur video, shot on mobile telephones and posted by Iranian human rights activists on the Internet, showed what appeared to be several buildings reduced to rubble as well as fiercely burning fires.
The demolitions are the latest development in an ongoing, officially-sanctioned program in the area which has targeted every activity of the Baha'is.
"They're being forbidden to associate with Muslims, or even offer service to their friends and neighbours," said Diane Ala'i, representative of the Baha'i International Community to the United Nations in Geneva.
"Even the smallest acts of good will – such as taking flowers to someone who's sick in hospital or donating gifts to an orphanage – these are being seen as actions against the regime."
Most of the Baha'i homes in Ivel have been unoccupied since their residents fled after previous incidents of violence or as a result of official displacement. In 2007, for example, six of their houses were torched.
"Baha'is have lived in this area for more than 100 years and it once had a large community," said Ms. Ala'i. "But in 1983, a few years after the Iranian revolution, at least 30 families from this and neighboring villages were put on buses and expelled.
"Since then, they have tried to seek legal redress to no avail, while returning in the summer to harvest their crops," she said.
The day after the demolitions took place, a Baha'i man who visited the site with his family to harvest his produce was beaten and insulted by other residents. In the past, those who are trying to drive the Baha'is out have set upon them when they tried to enter the neighborhood to rebuild or renovate their properties.
Persistent government attacks on Baha'is in all the mass media – along with inaction by local officials to protect them – have continued to incite hatred against the Baha'is in the region and throughout Iran, said Ms. Alai.
"This latest action shows the degree to which the authorities have completely failed to live up to their responsibilities to protect the Baha'is and their religious freedom," she said.
Members of the Baha'i community have made repeated complaints both before and after the latest incident to local government officials, including to the provincial governor in Sari. In every case, knowledge of the demolitions or the motive behind them was denied.
While reports about the latest action began appearing on various Persian-language websites last Friday, the Baha'i International Community was only able to confirm details of the incident today. Latest reports indicate that 90 percent of the Baha'i homes have now been demolished.
On 28 June, the Persian-language radio station, Radio Farda, broadcast an interview with Mr. Derakhshan, one of the Baha'is whose property was destroyed in the village of Ivel.
Excepts from the interview are transcribed below:
Mr. Derakhshan: We had heard some rumours about the destruction of the village and the burning of homes of the Baha'is but did not believe that such a thing could happen. However, we went to the offices of the governor general, the governor and the deputy governor in that district and informed them that this was what [the villagers] had said they were planning to do, and asked whether it was true. We were told not to worry and that there was not such a possibility; we believed them. However, when Mr. Mahmoud Piri and his family were going to [their home] in Ivel, as soon as they arrived in the village he was severely beaten and verbally insulted. He was told that he should not be there. At that point he noticed that they were destroying his home.
Radio Farda: Who were the people who beat and verbally abused Mr. Piri?
Mr. Derakhshan: The local residents - because they had told him that he should immediately leave the area and that he was not to get close...for 48 hours. Unfortunately, with the help of the local residents, they destroyed 50 houses, using four bulldozers. It is shocking to see 50 houses demolished and burned in one instant.
Radio Farda: What is happening to the residents of these homes and what happened to their belongings?
Mr. Derakhshan: Every house we go to, we hear their lamentations. I should mention that these friends were not living there. During the first few years after the revolution, on [28 June 1983] these people were expelled from their homes. They [the residents of the village] told them that they had to convert to Islam; they were imprisoned in a mosque, threatened and beaten with shovels and axes. They were then thrown out of the village.
Since those events, these Baha'is go to the village once a year for two to three days to harvest their crops. Of course they have to obtain a permit from the officials to be able to go there and stay in their own homes for a few days and cultivate their lands, even though most of their lands were confiscated.
Radio Farda: You mean that the owners of these homes and farms were made to obtain permits in order to be allowed to go to their own homes?
Mr. Derakhshan: Precisely. Each time or each year when they wanted to go there they had to obtain permits from the Justice Administration to be allowed to stay in their own homes for two or three days. We complained to a number of authorities concerning this issue and we were treated unkindly. When we went to the office of the deputy governor and told them that they were destroying our homes, we were told that the letters of complaint that we had written were considered to be in opposition to the regime. They even threatened to arrest us. We told them, "Our homes are being demolished right this minute. We are Baha'is and your fellow-citizens. We are not your enemies. We are not from Israel, England or America. By God, we are Iranian citizens. What should we do? God is our witness, we do not know what to do. Please help us."
**Radio Farda: Are the people who are involved in these activities the local residents or some government officials? **
Mr. Derakhshan: What do you think? How could 50 homes - each having a wood storage area and a place for keeping animals - be demolished without prior arrangements? We informed [the authorities] before and during the demolition. What do you think the answer is? Besides all our friends [the Baha'i residents of the village] also informed the authorities, but unfortunately nothing was done to prevent this event.
Radio Farda: Do you think that the bulldozers were probably brought by the order of the governor or the deputy governor?
Mr. Derakhshan: We do not know and cannot say that it was ordered by someone. All we know is that unfortunately everything has been completely destroyed. It should be mentioned that when we visited the office of the governor general, we told his deputy that there was a possibility that such an incident may occur. His response amazed us; he said, "The governor general is like a physician in any society, if he feels that there is a malignant tumour in the body of the society he tries to remove it." I now ask you a question, "How could the Baha'i farmers in the village of Ivel be considered as that malignant tumour?"
This transcript was added on 29 June 2010 to the original Baha'i World News Service report published on 28 June.