Baha'is participate in U.N. Sustainable Development session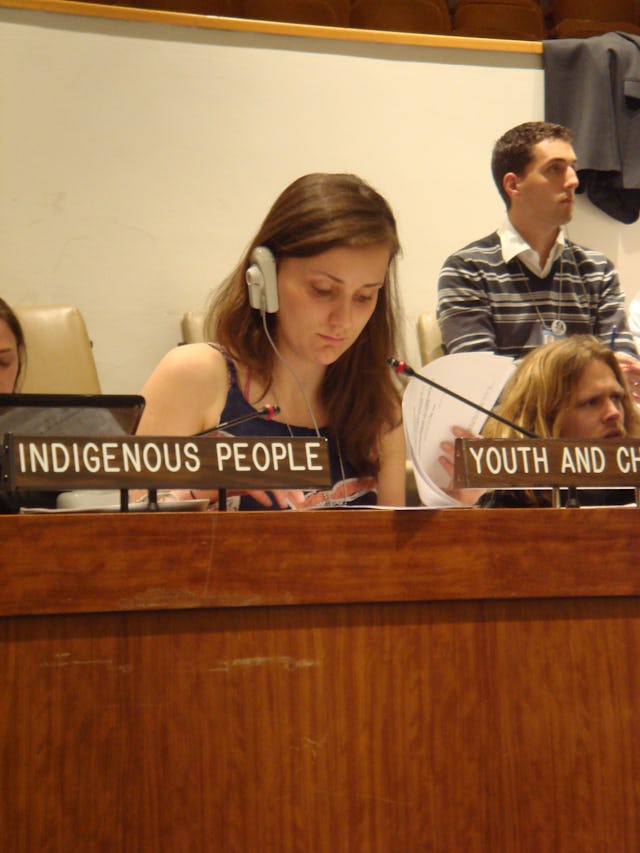 UNITED NATIONS, United States — As one of the youngest representatives from a nongovernmental organization to attend this year's U.N. Commission on Sustainable Development, it was natural that 19-year-old Alicia Cundall would participate in the youth caucus.
But she didn't expect to be appointed by the group to deliver their main statement to the plenary session of governments, which she did on 14 May.
"I didn't want to read it but the people in my group said it would make sense for me to do it because I had worked really hard on it," said Ms. Cundall, who is an environmental science student at the University of Toronto and one of six youth delegates from the Baha'i International Community to this year's session of the commission, held 4-15 May.
The youth statement sought to emphasize the commission's responsibility to take future generations into account as it grapples with this year's agenda, which focused on the food crisis, agriculture, and Africa.
"In times of crisis we're often urged by convenience or panic to fall back on old practices and cheap fixes," said Ms. Cundall, reading the youth statement.
"But we cannot continue along this road," the statement said. "We must ensure that wherever possible, even if it's hard, even if it costs more now, we prioritize truly sustainable practices that meet the needs of the present without compromising the ability of future generations to meet their own needs."
Tahirih Naylor, the Baha'i representative to the U.N. who specializes in sustainable-development issues, said that the goal in sponsoring so many young people at the meeting was to emphasize the role of education and capacity building as an essential component of sustainable development.
"Youth, with access to quality education and training, can be the protagonists of their own development," she said.
In addition to the Youth caucus, Baha'i delegates – 12 in all – participated in the Women's caucus, the NGO caucus, and the Indigenous Peoples caucus.
The Baha'i International Community sponsored and participated in several side events at this year's session of the U.N. Commission on Sustainable Development. These included:
-- A Learning Center program on "Climate Ethics." The interactive course intended for policy makers and others sought to enable participants to identify key ethical and moral responsibilities that should guide decision-making in the area of climate change.
The discussion focused on how the threats of climate change to agriculture, rural development, and land productivity should be addressed within an ethical framework that allows nations to move beyond national interest to consideration of the common good.
Facilitators included Donald A. Brown, associate professor of environmental ethics, science and law, Penn State University; Marilyn Averill, an attorney and doctoral candidate in environmental studies in the Center for Science and Technology Policy Research, University of Colorado at Boulder; and Peter Adriance, NGO liaison for the National Spiritual Assembly of the Baha'is of the United States.
-- A panel discussion on "Poverty and the Climate Crisis" organized by the Working Group on Poverty and Climate Change of the NGO Subcommittee on Poverty Eradication. The event featured Fred Matwang'a of the Kenyan mission to the United Nations; Kiara Worth, a specialist in sustainable development from South Africa; Dessima Williams, ambassador of Grenada to the United Nations; and Ms. Averill of the University of Colorado. The event was moderated by Anita Wenden, convener of the Working Group on Poverty and Climate Change.
Ms. Worth, 25, who was one of the Baha'i delegates, presented a one-woman dramatic presentation titled "Theatre of Survival: Grassroots Climate Change Communication." She appeared as an old and wizened village songoma who tells the story of young white scientists overtaking her village with complicated charts and numbers, demanding that the people change the type of crops they grow.
"It's often difficult to communicate scientific concepts without taking into account the existing cultural realities," said Ms. Worth, explaining why she chose to use theater for her contribution – a technique she often employs in her work with Golder Associates in promoting sustainable development in South Africa.
"The beauty of theater is that anyone can do it and it can be adapted to various social messages," she said.
(The Web site of the United Nations Office of the Baha'i International Community at http://www.bic.org/ has additional information, including links to video with portions of some of the presentations.)