Regional conferences in Ghana and Azerbaijan conclude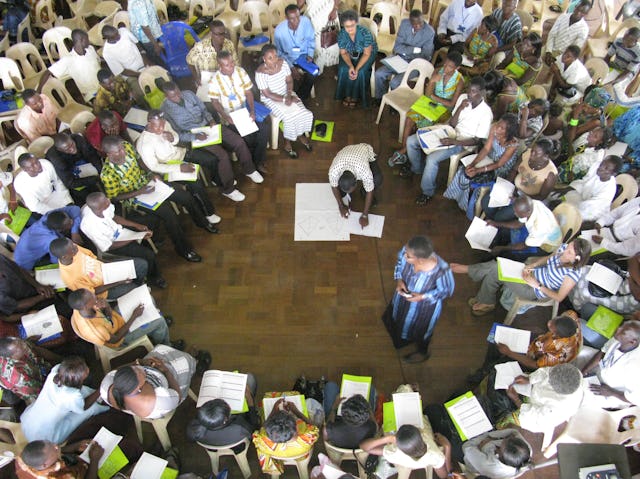 ACCRA, Ghana — Accra was host this last weekend to the largest of the nine regional conferences held in Africa with 1,700 participants from eight countries.
The Accra gathering was held concurrently with the regional conference in Baku, Azerbaijan. They were the 39th and 40th in the series called for by the Universal House of Justice and begun on 1 November in Lusaka, Zambia.
The conference in Accra included about 950 participants from Ghana itself, 156 from Benin, 140 from Burkina Faso, four from Cape Verde, three from Guinea Bissau, 106 from Niger, 137 from Nigeria, and about 200 from Togo.
The regional conference for Azerbaijan, Georgia, and Turkmenistan drew 360 people to Baku, on the shores of the Caspian Sea, to celebrate achievements in the Baha'i work of the last two and a half years and consult about future goals. A hotel and conference center at the seaside served as the venue for the gathering, which attracted 27 Baha'is from Turkmenistan and 47 from Georgia, along with a large contingent from Azerbaijan and a few participants from other countries.
Reports from participants tell of a sense of invigoration among the attendees, brought to further heights by music, drama, and dances from the many cultures gathered together. "This conference is like rain after an unbearable heat," said Yegana Farzaliyeva, 20, of Azerbaijan.
Next weekend's conference in Kiev, Ukraine, is the 41st, the last of the series. Some 77,000 people have attended the conferences, which have been organized to review achievements of the worldwide Baha'i community in the present stage of its growth, and to consider the next steps in moving the community forward.