Cambodia hosts 2,100 Baha'is at historic gathering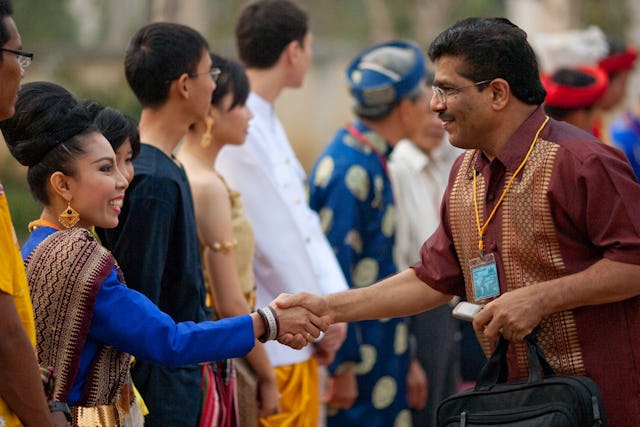 BATTAMBANG, Cambodia — Some 2,100 Baha'is from Cambodia, Laos, Thailand, and Vietnam gathered in Cambodia's second-largest city for a historic conference that had citizens of all four nations sitting side by side to discuss service activities in their communities.
The gathering last weekend was one of a series of 41 Baha'i conferences being held in major cities around the world. The events began on 1 November in Lusaka, Zambia, and will conclude on 1 March in Kiev, Ukraine.
More than 67,500 people have participated in the conferences, with only six of the 41 events still remaining.
In Battambang, a representative of the provincial government, Aem Thoeurn, addressed the conference and emphasized the diverse nature of the gathering.
"The unity of religion and the harmony of its followers is essential for peace," he said. "Your gathering here is proof that this is possible."
He expressed the wish that "each one of us will bring this (spirit) back to our own people."
As in many of the cities hosting the conferences, Baha'i organizers in Battambang were challenged to find a venue large enough for all participants. The Battambang city hall fit the bill, with 1,500 people filling the main auditorium and others watching proceedings by video link from tents set up outdoors.
A simultaneous conference was held last weekend in Auckland, New Zealand, where 1,700 people from 10 countries and Pacific island groups gathered.
All the conferences are being held at the call of the Universal House of Justice, the head of the Baha'i Faith. The purpose is to celebrate achievements in community-building and make plans for future work. This includes devotional gatherings; children's classes; and programs for the moral education of young people.
For links to reports and photographs from the conferences held to date, go on the Web to:
https://news.bahai.org/community-news/regional-conferences/