Gathering in Lae draws 1,500; in the Americas, series is complete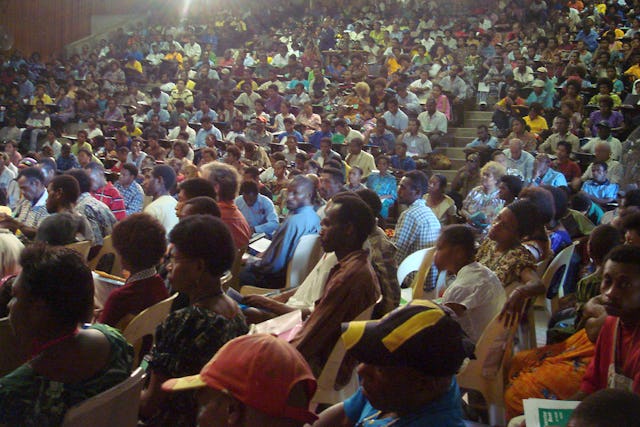 LAE, Papua New Guinea — From every corner of Papua New Guinea, the Baha'is came – and that was not easy.
They were eager to reach the city of Lae to attend a regional conference – one of 41 being held in cities around the world at the call of the Universal House of Justice, the elected body that is the head of the Baha'i Faith.
But at Rabaul on the Papua New Guinean island of New Britain, the long-threatening volcano was acting up, requiring Baha'is who wanted to attend the conference to be ferried out by helicopter to a landing spot where they could then catch a boat or plane to Lae, on the main island of New Guinea.
Boats to Lae had their problems, too. One group of travelers was almost stranded when their craft blew its engine. Similar challenges were experienced by some of those who traveled by bus. Others walked long distances – up to a week – in a country where most of the people live in rural villages, many of them settlements that are isolated and difficult to reach.
But at 8 a.m. sharp on 17 January, right on schedule, the two-day conference in Lae got under way with 1,500 people in attendance.
The 41 conferences – being held over a four-month period that will end on 1 March – are meant to give an opportunity to Baha'is to celebrate recent achievements in community-building work and to plan future activities.
People in Papua New Guinea were showing the same eagerness to accept the invitation from the Universal House of Justice that Baha'is in Africa demonstrated earlier at the eight conferences held so far on that continent. In some African countries, people literally traveled through a war zone to reach their regional Baha'i gathering. Others walked as much as 100 kilometers or more, so determined were they to attend their conference.
Many other stories of sacrifice have surfaced at the 30 conferences held to date, as Baha'is demonstrate their interest in meeting to consult on how best to serve their local communities.
Last weekend, in addition to the conference in Lae, gatherings were held in Managua, Nicaragua, and Vancouver, Canada. Those two represented the final conferences of 13 that were held in the Americas. Earlier gatherings were held in Toronto, Canada; six cities in the United States; Guadalajara, Mexico; Quito Ecuador; Antofagasta, Chile; and Sao Paulo, Brazil.
Some 55,000 people have attended the 30 conferences to date.
For links to reports of the conferences, go to https://news.bahai.org/community-news/regional-conferences/