Baha'is celebrate most important festival at most holy site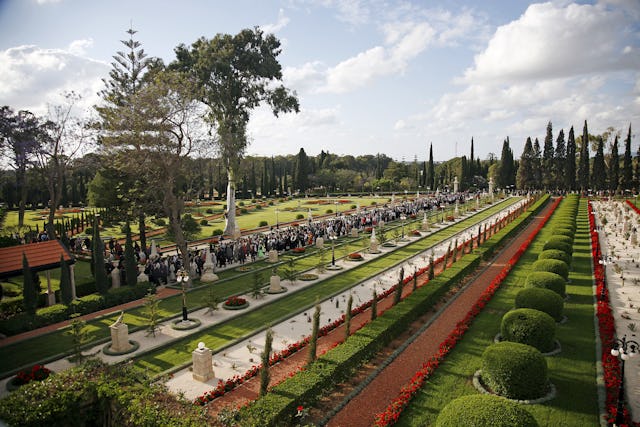 ACRE, Israel — Followers of Bahá'u'lláh from more than 150 countries gathered yesterday at what for them is the holiest spot on earth – the tomb of Bahá'u'lláh – to celebrate Ridván, their most important festival.
This year's celebration at Bahjí, outside Acre in northern Israel, was special because it came during the 10th International Bahá'í Convention, currently under way in nearby Haifa.
A thousand delegates from around the world – a true representation of the global community of five million Bahá'ís – joined with nearly a thousand other Bahá'ís for a program of prayers and readings and to circumambulate together the Shrine of Bahá'u'lláh.
With 2,000 people in attendance, the stream of Bahá'ís making their way through the beautiful gardens of Bahjí stretched more than half a kilometer as they walked together around the sacred tomb, where in 1892 the earthly remains of Bahá'u'lláh were laid to rest.
The nine members of the Universal House of Justice, the international governing body of the Bahá'í Faith, led the procession. Many of the convention delegates came in distinctive native dress, highlighting the diversity and international character of the Bahá'í community.
Gerda Haug, a delegate from Germany who was participating in such an event for the first time, said circumambulating the Shrine of Bahá'u'lláh with Bahá'ís from around the world was a memorable experience.
"It was a symbol to me," she said, "not just something spiritual but more than that: We were all walking together in one direction, devoted to what Bahá'u'lláh taught, guided by the Universal House of Justice – it was a great moment."
Ridván – Arabic for "paradise" – is a 12-day festival commemorating the 12 days in 1863 that Bahá'u'lláh spent in the Garden of Ridván in Baghdad. It was during that period that He announced publicly for the first time that He was God's Messenger for this age, the latest in a line of divine teachers that includes Jesus, Mohammad, Buddha, Krishna, Moses, Zoroaster, and others.
The Festival of Ridván goes from 21 April to 2 May, and the first, ninth, and 12th days of the period are marked as specific holy days. Yesterday's commemoration was for the ninth day of Ridván.