Combating peer pressure a focus of Baha'i program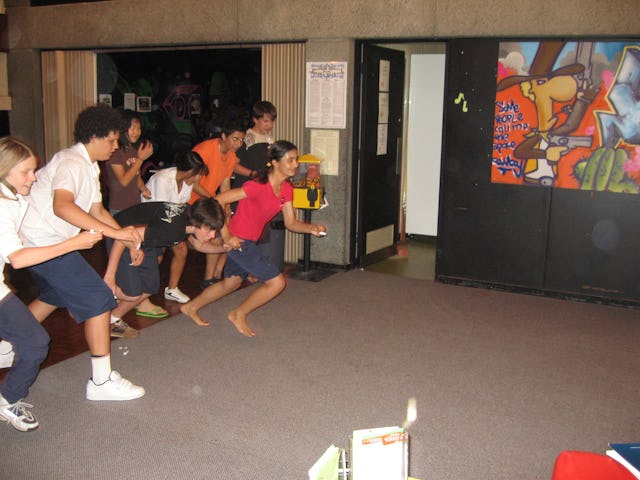 PERTH, Australia — Like young teens everywhere, Jani Song often feels social pressure to conform – even when the things that are fashionable may also be harmful.
"When you're in high school, you see the popular, or cool, group and they often take drugs," said Jani, who is 14 and in 10th grade. "You see people drinking or doing other sorts of stuff. And you kind of just want to do it because you want to follow the crowd."
A program established by the Baha'i community here for youths aged 12 to 15 is helping Jani and others like her develop tools to resist such influences and establish their own values.
Some 160 young people, about half of them members of the Baha'i Faith, belong to small groups that follow a specially developed curriculum, part of which involves learning to avoid harmful behavior.
"When you do these classes, and you really know the reason why not to do it, your brain automatically tells you not to do it," Jani said.
That kind of impact is one reason that about 20 of the Baha'i-sponsored groups – designed for youths aged 12 to 15 – have sprung up in Perth over the past three years.
The program is designed to empower young people both spiritually and morally, said Shirin Reyhani, the coordinator for the state of Western Australia for what the Baha'is call "junior youth groups."
"It gives them the tools needed to recognize the moral issues underlying the choices they make," Ms. Reyhani said of the program. "It also develops in the youth a power of expression."
The curriculum is designed to achieve specific goals, including step-by-step problem-solving, nurturing virtues, and social awareness. Organizers say the activities also foster improvement in reading, writing, mathematics and science.
The groups typically meet once a week, and participants play games, discuss issues, study literature and organize service projects. The sessions are facilitated by an older person, called an animator, who serves as a moderator rather than a teacher.
Youths who have become involved say the gatherings are not only spiritually enriching but also fun.
"It's a pretty good course," 14-year-old Calvin Martin said of the group he attends. "You get to learn lots of new stuff, and I've met lots of new people. ... It's pretty fun – lots of different activities to do."
Yann Vissac, 14, agrees. "I come to these classes because they teach me things which are interesting. And my friends are here. A lot of people don't feel certain about themselves these days. They don't have much self-confidence. Maybe these classes can help those people."
Jani Song said the classes are more effective at helping her see the value in good behaviors because the discussion points come from peers.
"We get lectures in class about drugs, but what's the point?" she said. "I don't listen to that kind of stuff. I think that if you take this class you'll really understand why it's necessary not to do things [that are bad] "
Parents say the program helps equip youngsters to make choices based on their own values rather than on what their peers are doing.
"My main concern is that my son has a strong sense of self to know how to deal with the demands of his social environment and issues that he's up against. That's what I feel he gets from this course," said Vivian Vissac, the mother of Yann.
"I like the emphasis on developing the wholeness of the students – their inner resources, their sense of self, their sense that they can do and contribute," she said.
Gayle Corbauld has two daughters in the program and feels it has enhanced their best personal qualities.
"They are reflective, and they have a sense of responsibility about what they are doing," she said of her girls. "They feel they have control of what they are able to manage in a social situation. Rather than just repeating behavior, they can improve and make things better for themselves and for others."
The curriculum for the program was developed over the past decade at various Baha'i institutions around the world, and by one estimate, Baha'i communities worldwide now operate some 3,000 junior youth groups involving 25,000 people.
The animators are volunteers who receive special training. Ms. Reyhani, 24, a schoolteacher as well as a junior youth coordinator, said that many of the animators in Perth are themselves alumni of an older junior youth program.
"These groups work because they put young people in a group with their friends," Ms. Reyhani said. "They feel like they are in a safe environment."
She said the learning that takes place in the groups is different from regular school.
"The focus in the classroom is one of competition," she said. "Competition with yourself to do better than you did last time. Competition with your classmates to be the best in the class, that type of thing. In the junior youth groups we try to get the kids to focus on their own personal development rather than comparing themselves to others."
Also, in regular school the teacher must be an authority figure that maintains discipline; in a junior youth class, the animator is more a friend, she said.
"The children themselves love coming to the classes," added Mrs. Corbauld. "They like the interaction with other people. They like also to sound out some of the difficulties they might have had in school, or somewhere else during the week. They can bring them along to the group and they know they can open it up and discuss it."