Baha'is help found Interfaith Forum in Iceland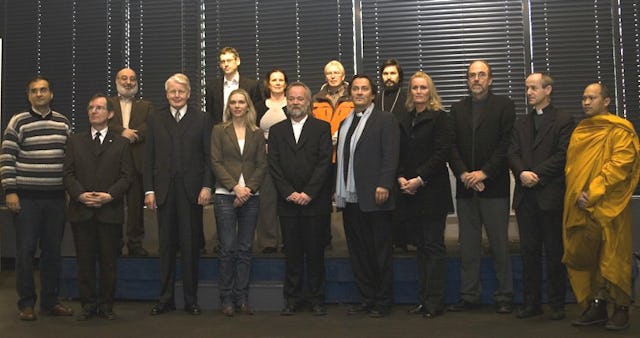 REYKJAVIK, Iceland — The Baha'i community of Iceland joined with twelve other faith groups and collaborative partners here to form the country's first national interfaith forum last month.
The Iceland Forum for Interfaith Dialogue was officially founded on 24 November 2006 in ceremonies at the Reykjavik City Hall.
"The object of the Forum is to promote tolerance and respect between persons of different religions and religious organizations with differing outlooks on life as well as to protect religious freedom and other human rights," said Ingibjorg Danielsdottir, secretary of the Baha'i community of Iceland.
This initiative was put together by the Intercultural Center in Reykjavik. The Center is a human rights advocacy organization based in Iceland. One of this organization's main areas of focus is in facilitating exchange between different cultures and groups. The Forum took some 18 months of patient negotiations to create.
The president of Iceland, Olafur Ragnar Grimsson, was present at the City Hall ceremonies that launched the Forum, as were representatives of the thirteen founding faith and belief communities.
The founding groups drafted and signed an "Interfaith Dialogue Policy Statement." The document calls for the building of understanding and respect, as well as the upholding of religious freedom between persons and religious organizations.
"As Baha'is we feel that we have a unique perspective to offer this type of dialogue," said Bridget McEvoy, a member of the Baha'i community who worked closely on the Forum's creation. "A central feature in the Baha'i Faith is the unity of religion and we want to be involved in any activity that promotes this idea.
"Understanding different cultures has become an important issue in Iceland during recent times," said Ms. McEvoy. "With the inclusion of Iceland into the European Economic Area and the European Single Market many people have chosen to move to Iceland to work. We have lots of cross border work opportunities, a good standard of living and have traditionally thought of ourselves as being an open society."
Ms. McEvoy said that the creation of this Forum would help ensure that Iceland's traditional openness to different cultures would be maintained.
"As Baha'is this process is important to us and we see a lot of value in it," said Ms. McEvoy. "Therefore we were very happy to have been invited to participate in the creation of the Forum for Inter Faith Dialogue."
In addition to the Baha'i community of Iceland, founding members of the Forum are: The Cross, Reykjavik Free Church, The Buddhist Association of Iceland, The Lutheran State Church of Iceland, The Church of Jesus Christ of the Latter Day Saints, The Church of the Seventh Day Adventists, The Family Federation for World Peace and Unification (FFWU), The Muslim Association of Iceland, The Icelandic Asatru Society , The Parish of St. Nicholas of the Russian Orthodox Church, The Roman Catholic Church, and The Way Free Church.