Baha'i Academy enters training agreement with top Indian University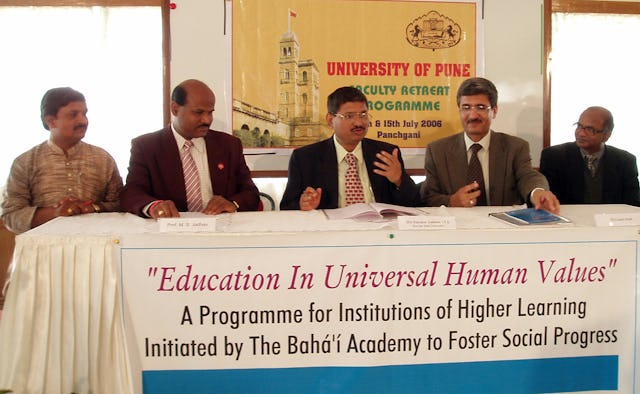 PANCHGANI, India — The Baha'i Academy has entered into a formal agreement with one of India's top-ranked universities to offer specialized training in education for moral development to its students, faculty, and staff.
The University of Pune signed an agreement, called a memorandum of understanding with the Academy on 15 July 2006 that will formalize and expand an existing collaboration between the two institutions regarding a program of "Education in Universal Human Values" that was developed by the Academy.
The University of Pune is one of India's leading centers for research and teaching, with over 380,000 students from both India and abroad, according to the University's website.
The agreement was signed during a faculty retreat for University department heads at the Academy, which is located in this quiet hill town about 100 kilometers southwest of the city of Pune.
"I'm happy that we are opening a new chapter, so let's look forward to this fruitful coordination, cooperation and collaboration between these two very important organizations," said Ratnakar Gaikwad, the University's Vice-Chancellor before the signing of the agreement
The Baha'i Academy, which was founded in 1982, has developed the Education in Universal Human Values program as a means to provide institutions of higher learning, such as the University of Pune, with socially relevant training in moral values.
"It consists of four modules to empower the participants to develop their personal capacities and qualities, and to acquire necessary skills, insights and attitudes to contribute their share for the betterment of the society, peace and harmony" said Lesan Azadi, director of the Academy.
The course instructs participants in issues such as rectitude of conduct, promoting environments of unity built on diversity, fostering initiative, and attraction to beauty, said Mr. Azadi.
The course includes also uses participatory, cooperative and experiential learning, as well as performing arts and service learning activities.
It is designed to assist university-level faculty members to develop new approaches and ways of thinking about traditional academic subjects in a way that fosters social progress
"This is a significant breakthrough in our relationship with the University of Pune," said Mr. Azadi.
The Academy has provided some courses already at the University over the course of the last year.
Sanjay D. Chakane, National Service Scheme program coordinator of the University of Pune, said faculty members have already begun to draw on points presented in the program for their courses.
"The method of participatory and cooperative learning is a great choice in itself," said Dr. Chakane. "Two of our teachers have started teaching physics by this method to first year Bachelor of Science students. The students' response is amazing and encouraging us to go further in this regard."
"Learning and getting trained at Baha'i Academy, especially about Universal Human Value Education, has been a wonderful experience," said Dr. Chakane. "All our teachers are really happy in getting training at the Academy."