Guyana youth try to "move the world"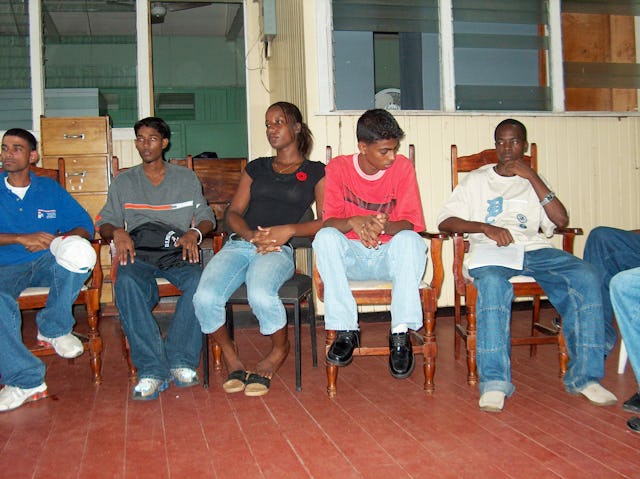 GEORGETOWN, Guyana — With an empty Coke bottle for a pint of rum and a white plastic chair the only other prop, the skit performed by five young men and women during a recent meeting of the Future Club here told a story that is unfortunately all too familiar in this vibrant South American country.
A husband drinks too much and beats his wife, shouting and swearing at her for failing to have dinner ready on time. Crying and inconsolably depressed after many such episodes, she decides to take her own life.
However, as performed before an audience of several dozen other young people from every section of this gritty coastal capital one recent day, the young woman's friends intervene, pleading with her not to take her life.
And so the heroine, played by 16-year-old Rayana Jaundoo, triumphantly throws the poison aside. "I have learned I don't care what other people do and what other people say," she says, breaking character and addressing the audience directly. "I can live a positive life."
Although a little overplayed, it is a happy ending, just the sort encouraged by the young facilitators of an innovative and highly successful youth leadership training program here, known as Youth Can Move the World (YCMTW), which often uses skits, songs and other types of media to drive home its message.
The program focuses on the prevention of alcohol and drug abuse, suicide, HIV/AIDS, and domestic violence. Since its founding in 1997, YCMTW has offered more than 7,000 Guyanese young people strategies aimed at helping them cope with and avoid such problems.
Its success at reaching youth on the margins has been widely recognized, not only by other youth-oriented NGOs but also by the government-run national university, which has given support to YCMTW.
Much of its funding has come from international development agencies and, most recently, researchers at the University of Ulster in Northern Ireland have launched a three-year study on the project's methods and accomplishments.
"The project in Guyana is quite innovative," said Roy McConkey, a professor in the health promotion group at the Institute of Nursing Research at the University of Ulster, who is heading up the study. "They manage to do a remarkable amount of work with very little resources."
Established by the Varqa Foundation, a Baha'i-inspired non-governmental organization based here, YCMTW also emphasizes in its training the importance of -- and the possibilities for -- personal and community transformation. To do that, the project uses a program of spiritual and moral education produced by the Ruhi Institute of Colombia, which draws quite directly on the Baha'i writings for its motive power.
"From the very beginning of the project, we saw that the only way that genuine change could come about was through community and personal transformation," said Brian O'Toole, director of YCMTW and chairman of the Varqa Foundation. "We saw that these Baha'i materials were successful around the world."
Observers say the emphasis on spirituality is an important part of the program.
"The approach of integrating spiritual values, including positive community values, makes it a program with a difference," said Samuel A. Small, director of the Institute of Distance and Continuing Education at the University of Guyana, which provides end-of-training certification to YCMTW graduates.
"In the [other] youth programs that I know of and have participated in, spiritual values are never part of the core of the curriculum, and personally I believe that because of the tremendous problems that are being brought upon young people today, every effort should be made to help them to see that spiritual values are not taught separately in churches, mosques, temples and so on, but that they are really part and parcel of our every day life skills," said Mr. Small.
The social problems addressed by the project are by no means unique to Guyana -- but they are nevertheless serious concerns in this beautiful tropical country situated on the southern edge of the Caribbean basin.
After Haiti, Guyana has the highest HIV/AIDS rate in the Caribbean, which is the world's second-most afflicted region after Sub-Saharan Africa, according to the World Health Organization. AIDS has become the leading cause of death for people aged 25-44 in Guyana, according to the WHO.
Domestic violence, unemployment, alcohol and drug abuse are also major problems here.
The program, which has received funding from UNICEF, the European Union, and the InterAmerican Development Bank among other agencies, seeks to fight these problems mainly by educating young people about the risks associated with each behavior.
The facilitators' manual, for example, discusses the short and long term effects of alcohol, ranging from poor judgment and lowered inhibitions to cirrhosis of the liver and dependency. It explains clearly how HIV/AIDS is transmitted and discusses a range of protective measures, from less risky types of sex to condom use to abstinence.
The curriculum also promotes the development of social action -- such as the protection of the environment -- and positive moral values. The section on domestic violence, for example, explains ways in which qualities like honesty, compromise, and forgiveness can improve a relationship.
Spiritual ideas, such as the Golden Rule, are also emphasized, underpinned by quotations from the major world religions.
"It comes out of a Baha'i framework, but we have enriched it with spiritual insights from Islam, Christianity, and Hinduism," said Dr. O'Toole, who came to Guyana with his wife, Pamela, 27 years ago from the United Kingdom.
The incorporation of religious quotations has resonated particularly well in Guyana, said Dr. O'Toole, owing to the distinctive religious diversity of Guyanese society, which is about 50 percent Christian, 35 percent Hindu, and 10 percent Muslim. The remaining five percent belong to other religions, including the Baha'i Faith.
Young people who have participated in YCMTW training say the discussion of spirituality is an important part of the program.
Susan Coocharan, 17, said the program's balance between practical education and the holy writings of various religions has given her new tools to avoid risky behaviors.
"I used to think that guys were the only thing in life that matters," said Ms. Coocharan, a Christian from Essequibo in the western part of the country, who participated in an intensive two-month YCMTW training program in July and August 2005. "But when I came to this program it helped me to develop spiritual qualities and it made me see that guys are not the only thing in life."
Dhanpaul Jairam, 31, has been involved in YCMTW since March 2005, when he received training to become a facilitator. A Hindu, he has since established a YCMTW subgroup in his home village of Bath Settlement in the Berbice region of Guyana, where he has reached out to young people from every religious background.
At first, he said, the Hindus didn't want to mix with the others. "But I talked about all of the religions," said Mr. Jairam, who works as a radio telephone operator for the Guyana Sugar Corporation. "I do have a Bible and a Qur'an. And Hindu writings."
Because of the emphasis on all religions, Mr. Jairam said, young people of all backgrounds were willing to participate. "That is why I think YCMTW is doing a great job of encouraging youth of all walks of life to make of themselves somebody," said Mr. Jairam.
Another key feature of the project is its use of youth, themselves, as agents of change. By encouraging young volunteers to establish YCMTW groups in their own villages and neighborhoods, it has grown organically as young people themselves involve their friends and acquaintances.
Troy Benjamin, 19, started a 17-member YCMTW group in his village in the remote North Rupunui Region after attending the intensive training program last summer.
"I was very much interested, because some of the topics mentioned were dealing with alcohol abuse, domestic violence, and such," said Mr. Benjamin, who is himself of Native American -- or "Amerindian" background -- as are most of the other 500 residents of his village. "And I knew that those problems were kind of arising, and I was facing it in my community as a whole."
Prof. McConkey of the University of Ulster said using young people themselves to deliver health promotion messages is one of the key innovations of the project.
"In affluent countries like the United States and Great Britain, we rely on professional educators, who may well have a special training or special expertise," said Prof. McConkey. "But they may lack a relationship with young people. Hence we sometimes wonder why our health promotion messages don't come through.
"The model that they are using, in which local groups are built up, in which [young] people in those groups have knowledge about each other and their own behaviors," said Prof. McConkey. "I think in that setting people are more likely to be open about what they actually do."