Religions gather to pray for peace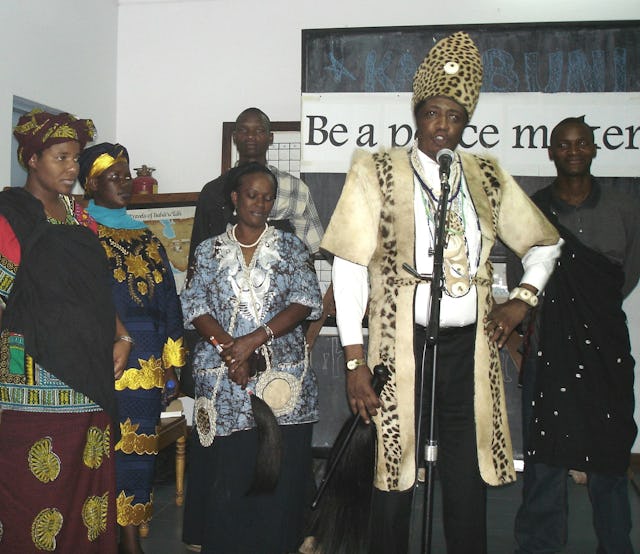 DAR ES SALAAM, Tanzania — Representatives of nine religious communities offered prayers on the International Day of Peace at a gathering organized by the Baha'i community of Tanzania.
"This is an historic day," said keynote speaker, United Nations representative Eshila Maravanyika.
Ms. Maravanyika expressed her delight at witnessing representatives of the various religious denominations coming together in a united forum to offer prayers for peace on 21 September 2005.
Listening to her address were representatives of the Baha'i Faith, Buddhism, Christian denominations, Hinduism, Islam, and Zoroastrianism as well as from the Aga Khan Council and African traditional religion.
In a general discussion, participants presented their suggestions on what should be done to become peacemakers and how to make a contribution individually and jointly towards building a peaceful world.
Dr. Navruz Lakhani, a representative from the Aga Khan Council, said that we need to learn about other cultures, religions and traditions.
"Most of the times we have conflict it is because of our ignorance of others," Dr. Lakhani said.
"If as individuals we make an effort to learn about others, then the respect and tolerance will come," he said.
Ms. Gladys Denis, a Christian, said peace should start with individual people, who then take it to the community and make it collective.
"It should be responsibility of everyone," Ms. Denis said.
"Let's take the attitude of 'my responsibility', before we say 'we,'" Ms. Denis said.
Ms. Jessica Mkuchu, the secretary of the Tanzania Ecumenical Dialogue Group said we need to believe in peace first.
"Then (we must) avoid conflict and violence," Ms. Mkuchu said.
The program included a parade by children who carried banners that read: "Guess who are we? Children of one creator and flowers of one garden; guess what we need? peace, please."
Explaining the reason for organizing the gathering, Baha'i spokesperson Mitra Deliri Sabet said that humanity now stands at the beginning of a great new era of peace as promised in scriptures of the world's religions.
"The purpose of the gathering was to provide a common ground where various religious organizations can come together and pray for a common goal -- peace," Ms. Sabet said.
The gathering followed other interfaith activities in which the Baha'is of Tanzania have also been involved, she said.
"We work hand-in-hand with other religious organizations in many areas, for example, poverty reduction, and in HIV programs," she said.
(For an earlier story about the Baha'is in Tanzania, See https://news.bahai.org/story.cfm?).