Heroic life inspires conference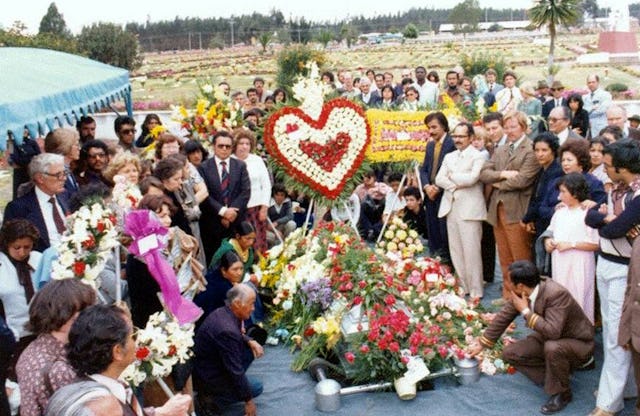 OTAVALO, Ecuador — Participants at a conference commemorating the 25th anniversary of the passing of a deeply cherished Baha'i resolved to increase their service to humanity.
The "Growth and Victories" conference was held from 30 December 2004 to 2 January 2005 in honor of the Hand of the Cause of God Rahmatu'llah Muhajir (1923-79).
A highly effective promoter of the teachings of the Baha'i Faith, Dr. Muhajir died in Quito, the capital city of Ecuador, while undertaking a tour of encouragement of Baha'i communities.
Baha'is attending the conference came from a range of South American countries as well as from Australia, Canada, Switzerland, the United Kingdom, and the United States.
Most of the Baha'is who came from Colombia, Peru, and Bolivia traveled for several days by land to get to the conference.
In a message to the participants, the Universal House of Justice called upon the Baha'is to arise to serve "with the same unrelaxing vigor, spiritual discipline, and generosity that characterized dear Dr. Muhajir."
Highlights of the conference were talks on the life of Dr. Muhajir by his daughter, Gisu, and by a member of the Continental Board of Counsellors in the Americas, Eloy Anello of Bolivia.
Ms. Muhajir related anecdotes from her father's life and those of other Hands of the Cause of God.
"They possessed a special spirit and capacity that was evident from an early age," she said.
Other speakers included two other members of the Continental Board of Counsellors in the Americas, Crystal Shoaie of Bolivia and Leticia de Solano of Ecuador.
Among the topics of the talks were "The Dynamic Power of Example," "The Glorious Future of the Indigenous People," and "The Process of the Institute, Teaching, and Growth."
In between the talks, several Baha'i communities of Ecuador including those of Otavalo, Santa Rosa, Cuenca and Samborondon, gave presentations on their activities, achievements, and service performed in the name of Dr. Muhajir.
On each morning of the conference, the participants gathered for devotional meetings during which prayers and quotations often recited by Dr. Muhajir were read.
Local musicians, as well as international Baha'i artists KC Porter and Leonor Dely, gave performances that enhanced the enjoyment of the conference participants.
The Baha'i community of Ecuador has 16 Local Spiritual Assemblies and is home to a Baha'i radio station, Radio Baha'i, which has its studios in Otavalo. It is oriented towards community development and service.