Author linked psychology and spirituality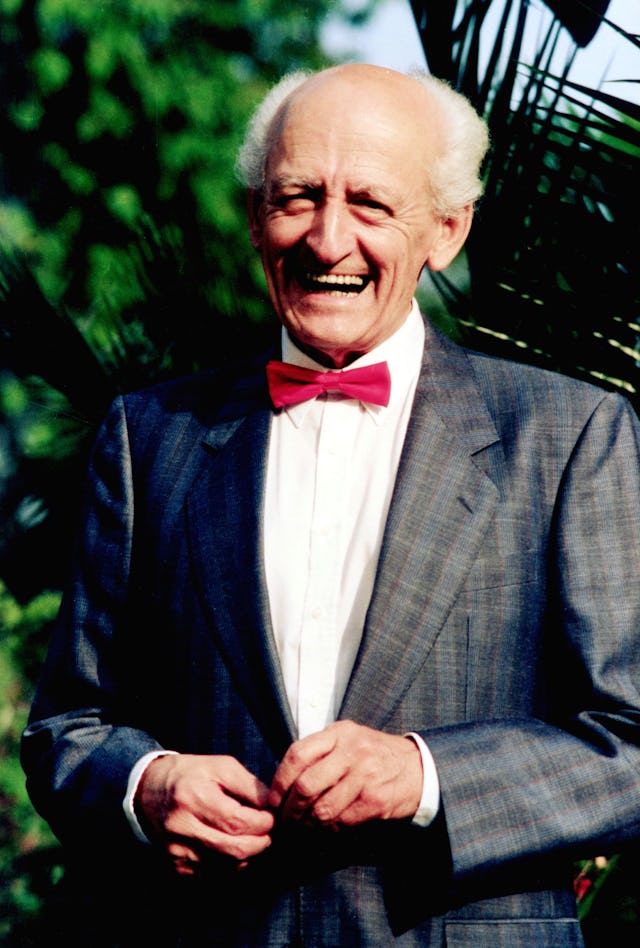 LANGENHAIN, Germany — Baha'i author and psychologist Erik Blumenthal said that human beings have two important tasks -- to become more conscious and more spiritual.
To assist people carry out those tasks, Erik Blumenthal wrote a series of profound and easy-to-read books that offer practical advice on marriage, child education, the meaning of life, encouragement, and aging.
The far-reaching influence of his wisdom was demonstrated after he passed away in Germany aged 89 on 27 June 2004, when messages of mourning and sympathy poured in from many countries.
Among those tributes was a message from the Universal House of Justice, which praised the selfless devotion of this "dearly loved" Baha'i in his service as a member of the Continental Board of Counsellors for Europe since its inception in 1968 until 1985.
"The guidance he provided as a prominent psychologist, the high standard of personal excellence he set, and his kind and gentle manner served as an example for all those with whom he interacted," the Universal House of Justice said.
In accordance with the advice of the Universal House of Justice, the National Spiritual Assembly of the Baha'is of Germany will hold a memorial meeting in his honor at the Baha'i House of Worship here on 5 September 2004.
Erik Blumenthal based the advice in his books on the teachings of the Baha'i Faith and on the findings of his psychological research. Among his most popular books were "Peace with Your Partner: A Practical Guide to Happy Marriage" and "Believing in Yourself: A Practical Guide to Building Self-Confidence."
Translated from the original German into many languages including English, French, Russian, Chinese, and Japanese, his books are still popular worldwide.
Mr. Blumenthal traveled extensively to offer the teachings of the Baha'i Faith and to elaborate the findings of his psychological research.
The secretary of the German Baha'i National Spiritual Assembly, Foad Kazemzadeh, told the hundreds of people at his funeral that Mr. Blumenthal was a very sought-after speaker. "He not only had a lovely personality but he could connect psychology and religion in a way that always put man's spiritual development in the foreground," Mr. Kazemzadeh said.
In a eulogy, Dr. Stefan Blumenthal, Erik's son, said that his father gave strength to his family and to thousands of people all over the world, fostering peace in families and partnerships. "Characteristic for him was his sense of ethics and his encouragement of his fellow human beings, attitudes which governed his life," Dr. Blumenthal said.
When he faced difficulties, Erik Blumenthal lived up to his own beliefs in the power of faith, a positive attitude, and a realistic optimism -- themes of his book "The Way to Inner Freedom." Because of his father's Jewish origins, he was forbidden entry to university, where he wanted to study medicine. During World War II he was forced to go into hiding for a while to escape harassment by Nazis.
At 38, Erik Blumenthal began his study of psychology, reviewed his life, and became a Baha'i.
Among those who taught him the Faith was Adelbert Muhlschlegel, a Hand of the Cause. Dr. Muhlschlegel later appointed Mr. Blumenthal as an Auxiliary Board member. Mr. Blumenthal was a member of the National Spiritual Assembly of the Baha'is of Germany from 1955-63.
The Baha'i principle that science and religion should be in harmony helped Mr. Blumenthal to select the school of psychology he found most appropriate, the Individual Psychology of Alfred Adler.
In 1964 he became president of the Swiss Society for Individual Psychology, and in 2001 Mr. Blumenthal was awarded the Medal of Honor by the Guild of Counsellors of Individual Psychology.
In 1957 when his wife, Dolores, died, Mr. Blumenthal drew on his faith to carry on and care for their four dependent children.
In 1959, he married Marianne, who became his colleague in both Baha'i and psychological activities for more than four decades. They had two children.
Erik Blumenthal is survived by Marianne, four children, fourteen grandchildren, and six great-grandchildren.