A life in pursuit of noble endeavors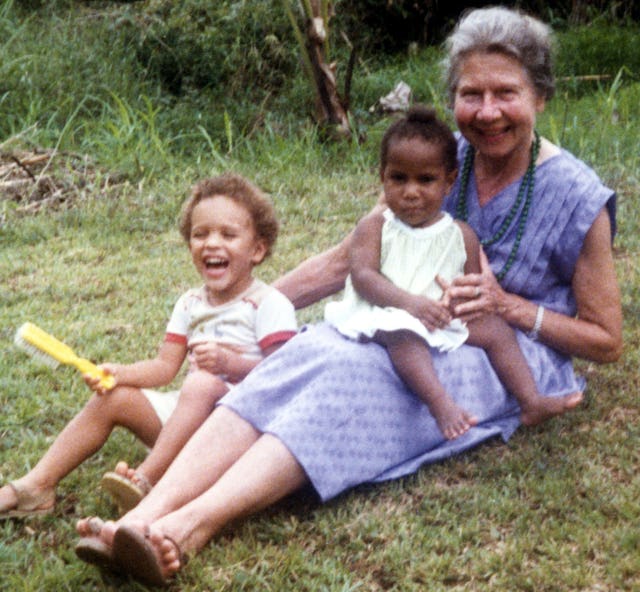 PORT MORESBY, Papua New Guinea — After Violet Hoehnke introduced the Baha'i Faith to Papua New Guinea in 1954, she climbed steep mountains, drove along tortuous roads, and sailed through sometimes stormy seas to bring the teachings of Baha'u'llah to the local people.
By accepting the people's invitations to spend the night in their often humble dwellings – a practice rare for Europeans there in the 1950s – Violet Hoehnke demonstrated her commitment to the principle of the oneness of humanity, and she won the hearts of her hosts.
When she died, aged 87, on 4 June 2004, the Baha'i community of Papua New Guinea had grown from a solitary individual half a century ago to include 252 Local Spiritual Assemblies and thousands of Baha'is living in more than 3000 villages and towns in all 19 provinces of the country.
"What seemed at first an enormous challenge, has now become a reality," Ms. Hoehnke wrote in a short autobiography penned in 1997.
"It is the responsibility of every Baha'i, wherever they reside and whoever they may be, to share these teachings of unity with everyone they meet so that peace may come to Papua New Guinea and the world," she wrote.
Ms. Hoehnke was confined to bed and could not attend the national convention of the Faith here in April this year, but the delegates and observers conveyed to her by telephone their loving greetings as they consulted on the ongoing development of the vibrant Papua New Guinean Baha'i community she had initiated.
Violet Hoehnke, who had remained at her pioneering post for 50 years, passed away less than two months after that message.
Following a funeral service attended by hundreds of Baha'is and members of other religions, she was laid to rest in the first grave in a new Baha'i section of the 9-Mile Cemetery on a hillside outside Port Moresby.
A trained nurse who was widely known as "Sister Vi," Ms. Hoehnke was the matron of the first integrated hospital in the country. She maintained impeccable standards in her hospitals.
Her steadfast adherence to the injunctions of her Faith to love all humanity, and her humility, made her a beloved figure – for example, she had many friends among the clergy of other faiths.
Throughout the decades she wrote countless encouraging letters to hundreds of Baha'is and other friends, some of whom later became prominent leaders in the country. In 1975 she became a citizen of the newly independent country.
Violet Hoehnke, born in Australia, became a Baha'i aged 23 after being introduced to the Faith by a Scottish migrant, Jim Heggie, and then hearing more from the first Australian Baha'i, Oswald Whittaker, and three believers who were later designated as Hands of the Cause: Martha Root, John Henry Hyde Dunn, and Clara Dunn.
Her nursing qualifications enabled her to quickly answer a call to take the Faith to the Admiralty Islands, now Manus Province, in Papua New Guinea.
Her arrival fulfilled a goal of a ten-year plan to spread the Baha'i teachings worldwide.
For this service, the then head of the Faith, Shoghi Effendi, bestowed upon her the accolade of Knight of Baha'u'llah.
Ms. Hoehnke invited local people to her home in the Admiralty Islands and held first aid classes for them, which prompted criticism from members of the European community, who practiced racial segregation.
As a result, the hospital authorities quickly transferred her to a hospital in Rabaul on the nearby island of New Britain.
Although seemingly a setback, it turned out to be fortunate because she met up with the only other Baha'i in Papua New Guinea, Rodney Hancock, a 21-year-old New Zealander who had arrived in Rabaul about the same time that Ms. Hoehnke had first arrived in the Admiralty Islands.
In 1956, after being introduced to the Baha'i Faith by Ms. Hoehnke and Mr. Hancock, a teacher on Manus Island, Apelis Mazakmat, became the first Papua New Guinean Baha'i.
In the subsequent years, as thousands entered the Faith, more than 150 Baha'is from other countries came to Papua New Guinea to assist the local Baha'is as they administered and developed their national community.
In 1973 Ms. Hoehnke was appointed a member of the Continental Board of Counsellors and it was in that role that she visited, guided, and encouraged many Baha'i communities in Papua New Guinea and elsewhere in the Pacific Ocean. She served in that capacity for seven years.
After she retired, she lived in Mount Hagen in the highlands and continued to nurture Baha'is. Her home there was always open to the community.
She donated the proceeds from her former home in Lae and her most recent house in Port Moresby to the Baha'i community.
Even in latter years, when her eyesight had failed and she was confined to bed, she followed the guidance of the Universal House of Justice to the Baha'is of the world to participate in capacity-building study circles.
The Universal House of Justice sent a message of condolence to the National Spiritual Assembly of the Baha'is of Papua New Guinea.
It said that Ms. Hoehnke's record of accomplishment included "dedicating herself totally to the advancement of the Cause of Baha'u'llah and demonstrating an exemplary willingness to undergo hardship in the pursuit of her noble endeavors."
"Throughout these years, she became known far and wide for the genuine love and respect she offered to the indigenous people of Papua New Guinea," the message said.
The Universal House of Justice asked for memorial gatherings to be held for her throughout Papua New Guinea.
It called upon the National Spiritual Assembly of the Baha'i of Australia to arrange a memorial service in the Baha'i House of Worship in Sydney.