Chile Temple Web site launched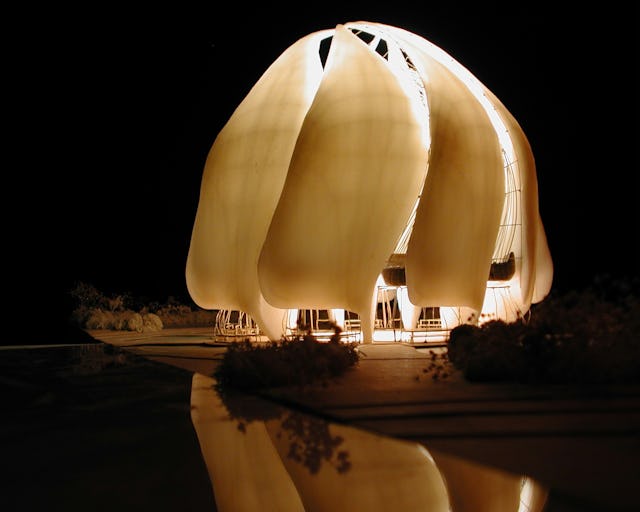 HAIFA, Israel — The Baha'i International Community launched a Web site presenting the design of the Baha'i House of Worship to be constructed in Chile. The site is located at http://temple.cl.bahai.org.
The site, in both Spanish and English, features an animated tour, a slide show and "fly-through" of the Temple, accompanied by text.
Canadian architecture firm Hariri Pontarini Architects received approval by the Universal House of Justice to develop its competition-winning scheme for the Temple in the environs of Chile's principal city, Santiago.
It is the final continental Baha'i Temple, taking its place among seven existing temples in Australia, Germany, Panama, Uganda, the United States, Western Samoa, and, most recently, India.
The starting point for the design was to create what architect Siamak Hariri calls "a glowing temple of light, inviting to people of all faiths."
According to Mr. Hariri, "Light, the connecting force of the universe, shapes all aspects of the design. By day, light draws you into the building, and concentrates at the oculus. Light creates an interior experience of ever-changing texture and unpredictable iridescence as it is filtered through the inner tracery of wood.
"The stone shell glows with a dreamlike serenity at night. Golden light spills out between the leaves, and the inner form of the building is revealed."
The two-stage international call for design submissions attracted 185 entries from over 80 countries around the world. The Hariri Pontarini scheme was selected from a shortlist of four designs by architecture teams from Australia, Great Britain, the United States, and Canada.
The brief called for a nine-sided domed structure with nine entrances to symbolically welcome people from all directions of the earth for prayer and meditation.
The winning design is a glowing temple of nine gracefully torqued translucent alabaster "leaves" that floats over a large reflecting lily pool and nine prayer gardens.
The translucent leaves of stone form the Temple's outer shell, with a delicate wood tracery as an inner layer.
Space for communal and private meditation and prayer is provided by two distinct spaces: the area under the dome seating 600 people, and nine intimate, light-filled alcoves nestled between the wings beneath a mezzanine that rings the Temple perimeter.
Although visually light, the building is structurally strong to respond to its location in a seismic zone. The structure is designed to accommodate ground movement and flex under lateral loads, with each wing composed like a leaf whose primary steel stem and secondary veins support the two layers. Three supporting bands tie the leaves into one integral whole.
For more on the Chile Temple see http://www.bahaiworldnews.org/story.cfm?storyid=229.