Double blessing for Cook Islands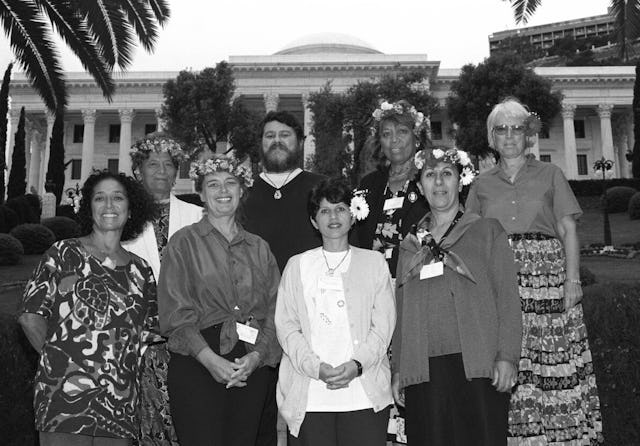 RAROTONGA, Cook Islands — Two women -- from different countries but with the same aim -- brought the Baha'i Faith to these remote islands half a century ago.
As part of an internationally co-ordinated effort to spread the Baha'i Faith around the world, Edith Danielsen, from the United States, and Dulcie Dive, from New Zealand via Australia, arrived here in 1953 and 1954 respectively.
Their efforts soon bore fruit. In March 1955, two Cook Islanders, Tuaine Karotaua (also known as Mr. Peter Titi) followed by Rima Nicholas, became Baha'is.
A year later, the first Local Spiritual Assembly was formed. The National Spiritual Assembly of the Baha'is of the Cook Islands was first elected in 1985.
The stories of these early Baha'is and those who followed were told during the 50th jubilee celebrations held here from 10 to 15 October 2003.
More than 100 participated, including overseas visitors and guests.
A commemoration event on 14 October began with a traditional welcome from Cook Islands Baha'i Nga Makirere.
Mrs. Makirere described how the message of both Jesus Christ and Baha'u'llah arrived in the Cook Islands through the island of Aitutaki, Mrs. Danielsen's first landing point.
Among the official guests at the jubilee were Queen Elizabeth's representative to the Cook Islands, Frederick Goodwin, and his wife, Ina Goodwin, the former representative, Sir Apenera Short and Lady Short, and Prime Minister Robert Woonton with his wife, Sue Woonton.
Also present were traditional tribal chiefs and a representative from the country's Religious Advisory Council.
During his address, Sir Apenera commended the organizers of the jubilee, and the Baha'is in general.
"I praise you Baha'is for bringing your religion to the Cook Islands," Sir Apenera said.
"I pray God to take you to another 50 years, and God will make that happen."
Baha'i speakers included Heather Simpson, a member of the Continental Board of Counsellors, and Alan Wilcox, chairman of the National Spiritual Assembly of the Baha'is of New Zealand. The Baha'i communities of both countries have close links.
Among the guests were the brother and daughter of Tuaine Karotaua, Papa Poreo Tavai Portoru and Te Oru Karotaua; a son of Rima Nicholas, Albert Nicholas and his wife; and a daughter of a prominent Baha'i, the late Pa Ariki, Chief of Takitumu, Lily Henderson.
Also present during the festivities were Baha'i pioneers Nan Greenwood, from Canada, and Gwen Welland, from the United States, who have lived in the Cook Islands since 1972 and 1962, respectively.
Professor Duane Varan of Australia gave talks on the Faith to audiences comprising Baha'is and members of the wider community.
The events also included a devotional gathering that opened with a prayer said in eight languages, and featured children singing and readings from the Baha'i holy writings. The program also included reading messages of congratulations from Baha'is overseas.
Other highlights included a concert with singing, drumming and dancing, and a visit to the island of Aitutaki.
Georgie Skeaff, who has compiled a record of the Cook Islands Baha'i community, led a tour to historical Baha'i landmarks, such as where Mrs. Danielsen and Mrs. Dive first lived here.
Mrs. Skeaff's account tells how Mrs. Danielsen (1909- 1984) was in San Francisco when she ran her finger over a map, stopped it at the Cook Islands, and decided to go there. She arrived in October 1953, and remained until 1958.
Mrs. Danielsen was responding to a call by the then head of the Faith, Shoghi Effendi, to move to places where there were no Baha'is so that the spiritual benefits of Baha'u'llah's teachings would be available to all.
An outgoing personality, Mrs. Danielsen was also a talented musician -- she played the organ to entertain guests -- and she delighted in extending hospitality and teaching the Baha'i Faith.
Meanwhile, Dulcie Dive (1909-1962), a member of the National Spiritual Assembly of the Baha'is of Australia and New Zealand since 1944, left her adopted country of Australia in 1954 to be a Baha'i pioneer in the Cook Islands.
Mrs. Skeaff said Mrs. Dive had a loving nature, which attracted people to her. She is still spoken about with affection in the Cook Islands.
As first Baha'i arrivals, both Mrs. Danielsen and Mrs. Dive were named Knights of Baha'u'llah by Shoghi Effendi.
Mrs. Skeaff's record also describes the first two Baha'is in the Cook Islands and others who followed.
In 1956, the first Cook Island Baha'i, Mr. Titi (1907-84) moved to New Zealand where he came to be loved for his spiritual insights, his happy personality and his devotion to spreading the Baha'i message.
The first Cook Island Baha'i woman, Mrs. Nicholas (1926-2000), had been a star student, and became a popular singer and instrumentalist, and a leader of the Girl Guides. She greatly assisted the progress of the Faith by providing her skills as a translator to Mrs. Danielsen.
Another prominent Baha'i was Pa Tepaeru Terito Ariki (1923-1990), who became a Baha'i after meeting Dulcie Dive and Edith Danielsen. In 1978, Pa Terito inherited her traditional chief's title. As Ariki (hereditary chief) of Takitumu, she was able to reach many levels of society, and she actively proclaimed the Faith in the South Pacific.
Te Atamira Makirere was a clergyman when, in the face of considerable local disapproval, he and his wife, Nga, became Baha'is in 1977. Te Atamira, also known as "Ta" or "Papa Ta," lives on Aitutaki and is a member of the National Spiritual Assembly.
There were more than 100 pioneers in the Cook Islands from 1953-2003, and more than 170 traveling teachers.
Much of the development of the Baha'i community has been carried out in difficult circumstances.
In 1975, a law was enacted allowing only four religious groups -- all Christian denominations -- to publicly teach their faith. This law was repealed in 1978.
In 1992, four Baha'is formed a private pre-school, which has now developed into a primary and intermediate school, Te Uki O. There have been many other Baha'i-inspired projects over the last 50 years. A current one is the "Cook Islands Learning Disability Reading Program."
For the last eight years, a popular Baha'i television program, "Baha'i on Air," has screened at first weekly, and now fortnightly, in Rarotonga.