Greek youth dance into view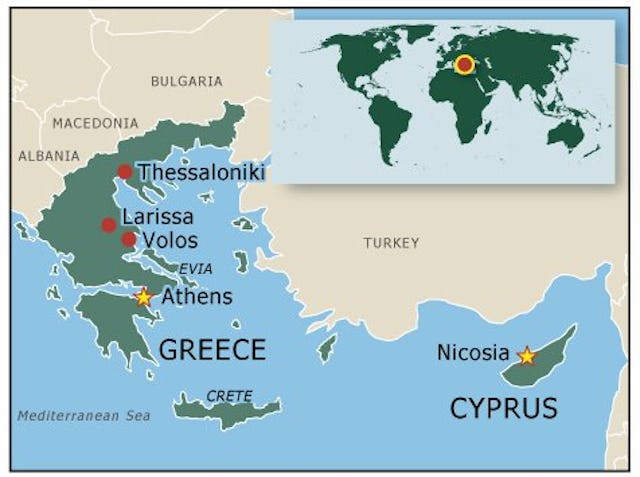 ATHENS, Greece — Young Baha'i dancers from Greece received an enthusiastic reception when they performed at an exhibition by nongovernmental organizations in Athens last month.
The exhibition was organized under a development program of the Greek Ministry of Foreign Affairs and held at the historic Zappio.
The applause was matched when they performed at an international gathering for peace held at another elite venue, the Palia Vouli ("Old Parliament") in Athens.
Such response is becoming familiar to the Flame of Unity troupe.
Similar positive reactions came when the 15-member troupe danced at a seminar on conflict resolution held in Cyprus last summer, and when it performed at two other venues on that island -- in an old khan (hotel) in the northern part of Nicosia and at a Baha'i summer school in the south of Cyprus before 300 people from 28 countries.
The dancers, aged between 11 and 17, aim to inspire their audience to tackle and overcome the causes of such social problems as racism, poverty, abuse in the family, and illicit drug use.
One of two co-coordinators of the troupe, Helen Kontos, a Baha'i from Thessaloniki, said organizers of prestigious events are impressed by the dancers' excellence, their enthusiasm in raising awareness about important issues, and the choreography.
Mrs. Kontos said their audiences appreciate the sincerity of these young performers in giving their message.
"And they admire the fact that the multi-cultural group, which includes youth from Greek, Albanian, Dutch, Swiss, Persian, and other backgrounds, shows such unity."
The other co-ordinator of Flame of Unity, Lida Mirra, a Baha'i from Patras, said that members of Flame of Unity make an effort on tour to develop their own characters.
"We conduct daily deepenings (spiritual study sessions) and prayers and, besides their arts skills, the youth develop their social skills and their spirituality."
This past summer, Flame of Unity toured Greece where they presented their show in Volos, Larissa, Amarinthos, Zagora, and Patras, and finished in September with three performances in Thessaloniki.
"It was exhausting, but wonderful," said Andreas Vatsellas, a 17-year-old from Athens and the oldest member of the group.
He said he couldn't believe how impressed people were and that such young people could cause such an impression.
Mrs. Kontos said that when they danced on 6 September 2003 at the gypsy settlement of Agias Sofias near Thessaloniki, the audience response was spontaneous and warm-hearted.
"There was a crowd of people of all ages, and they would surround them and come closer and closer," she said.
"We had to make more space so they could dance, and some of the men helped us. They responded with such generosity, care and warmth that they impressed us as much as our youth did them."
The troupe also received a warm reception when it performed at a youth prison near Volos.
Some of the troupe had already experienced the taste of success as members of the Phoenix Theatre, a drama group that was founded in the summer of 2001 and which performed local material in the Greek language. Most of the Flame of Unity dancers were part of that group.
Mrs. Kontos taught them songs and choreographies for her play "Beast TV, Channel One," a fable about human rights in which an owl reads news about uprisings all over animal country. Each of the scenes is followed by a song and dance.
Her husband, Greek composer Kostas Kontos, instructed the group in singing, and taught them one of his own compositions.
Theater director Jessica Naish from the United Kingdom instructed the young people in stagecraft and directed the play, assisted by actress Shirin Youssefian-Maanian from Athens.
After rehearsals on the island of Evia in 2002, Theatre Phoenix performed before a Turkish-speaking minority in Athens and in Volos, Larissa, and Thessaloniki. A national television channel covered a performance at a gypsy camp.
That year the troupe members began their intensive training in dance organized by the National Youth Committee of the Baha'is of Greece.
They went to Crete for intensive training in the choreographies of the dance workshop. Their teacher was Ramin ("Wrighley") Mazloum of Germany.
This year the youth gathered in March to rehearse the dances with the help of Jesse Fish, an American Baha'i youth.
"We learned much more than just dancing," said Daphni Kontou, a 13-year-old from Thessaloniki.
"We needed to focus and be disciplined, and not to waste time, otherwise we could never manage to rehearse in time for the performances. It was also very important that we had unity in the group and didn't forget what we were doing it for."