Public parade a triumph of faith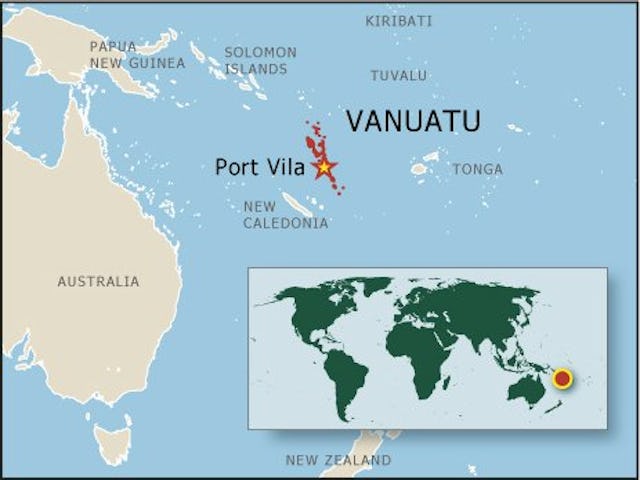 PORT VILA, Vanuatu — On the 50th anniversary last month of the arrival here of the Baha'i Faith, a parade set out from Baha'i Street and moved through the center of this capital city.
The streets were closed for the occasion and the police provided an escort for the hundreds of Baha'is on parade.
Singing songs and waving to the crowds, the Baha'is paraded under banners proclaiming principles of their Faith such as "the oneness of humanity."
Traditional dancers from the Vanuatu island of Tongoa led the parade along the main streets.
Members of local Baha'i communities, wearing different floral uniforms, followed them.
The Baha'is of Mele, for example, wore yellow and purple, those from Pango were in pale blue, and the Erangorango Baha'is had on green and white.
Interspersed with the marchers were colorful floats including a replica of the S.S. Caledonien, the ship on which Bertha Dobbins had traveled to Port Vila in 1953. Mrs. Dobbins was the first to bring the Baha'i Faith to the New Hebrides (now Vanuatu).
In the time since her arrival, the Baha'i community of Vanuatu has grown to have 44 Local Spiritual Assemblies, and a National Spiritual Assembly. The Faith is now established in 199 localities throughout this archipelago of some 80 islands.
Before a 500-strong audience including many government and community leaders, the chairman of the National Council of Chiefs, Chief Paul Tahi, welcomed the parade and congratulated the Baha'is on the anniversary.
"I would like to praise the Baha'i community for all its contributions to this country, especially in education and promoting good health," Mr. Tahi said.
"Thank you, too, to the Baha'is who have set up businesses in Vanuatu and helped us economically.
"The Baha'i Faith is here to promote unity. Now unity is something that we must all protect. If we want to have unity in our communities, it is not enough to leave the chiefs to arrange it. Each of us, as individuals, has the responsibility of working towards it."
A Baha'i youth representative, Laifi Soalo, pointed out that everyone is part of one family, the human family, and that the barrier to the unity of the human race is prejudice.
A representative of the Baha'i children, Faleono Mototorua, 10, said, "We children beg of you, our parents to think strongly about our education. We want you to guide us along the straight path and to teach us how to achieve spiritual qualities."
Later, at a public festival on Port Vila's tropical seafront, other leaders to speak about the Faith included Vanuatu's Director-General of Education, Abel Nako, and the Mayor of Port Vila, Patrick Crowby.
"The Baha'i Faith is not new to me," Mr. Crowby said.
"It has been part of my life as a child at home, and now as Mayor of this city. My mother is a strong Baha'i. Even though I have not accepted the Faith, I always admire her."
Baha'is first provided education in Vanuatu in 1954, and the tradition continues today on the island of Santo where the Rowhani school has 80 primary and kindergarten pupils from different religious backgrounds. It has a potential roll of 200. In 2004 it will grow to include a high school.
The Vanuatu Baha'is have their own radio program, and are frequently asked to participate in seminars on social issues. They are active in adult literacy and work in socio-economic projects involving health care, water supply and environmental conservation.
They reach out to the community by offering devotional meetings, children's classes and study circles aimed at developing skills, knowledge, and spiritual capacity.
A highlight of the jubilee, celebrated between 16 and 19 October 2003, was the opening of an extension to the national Baha'i center, which virtually doubles its size.
To a spontaneous eruption of cheering, singing and dancing, the cutting of the ribbon was performed by Vanuatu's first local Baha'i, Peter Kaltoli, and Madge Featherstone, who with her late husband, Hand of the Cause Collis Featherstone, often visited Vanuatu.
Mrs. Featherstone spoke about her memories of Bertha Dobbins, who had taught both her and her husband the Baha'i Faith in South Australia in 1944.
Mrs. Dobbins (1895-1986) was a New Zealand schoolteacher who, before arriving in Vanuatu in 1953, had moved to Australia, where she became a Baha'i in 1929, edited the Baha'i magazine "Herald of the South" for 22 years, and served as a member of the National Spiritual Assembly of Australia and New Zealand.
In consultation with her Baha'i husband, Joe, and her teenage children, Joseph and Helen, she decided to respond to a call from the then head of the Faith, Shoghi Effendi, and arrived by herself in Vanuatu on 17 October 1953 to offer the Baha'i message to people there.
In March 1955, Mr. Kaltoli, of Ifira, became the first person in Vanuatu to accept the Faith. Other early believers were David Lonis of Erakor, William Titiongoaroto of Tongoa, and Alice Wombu of Erromango.
Mrs. Dobbins established the Nur primary school in Port Vila in 1954, and continued teaching there until 1971. The first Local Spiritual Assembly was formed seven years after her arrival.
By 1977, there were enough Baha'is to allow the formation of the National Spiritual Assembly, and Mrs. Dobbins, her goal achieved and by then elderly, felt able to leave the country.
Throughout the decades, local Baha'is assisted by those from other countries who had settled in Vanuatu, actively developed the Baha'i community, their efforts supported by traveling teachers of the Faith.
Other historic Baha'i events in Vanuatu included the visit in 1979 of Madame Ruhiyyih Rabbani, a Hand of the Cause and the widow of Shoghi Effendi.
Another occurred in 1998, when a representative of the Universal House of Justice, Giovanni Ballerio, met Vanuatu's president, Jean-Marie Leye Lenelgau, to talk about the role of Pacific Island leaders in bringing about world peace.
In 2002, the community received its first visit from a serving member of the Universal House of Justice, Ali Nakhjavani.
Among the many international guests attending the jubilee was a representative of the National Spiritual Assembly of the Baha'is of Australia, Kath Podger, and an Australian-based member of the Continental Board of Counsellors, Stephen Hall.
They participated in a day of laughter and tears as Baha'is remembered the hardships, achievements and personalities of the past, expressed confidence in the plans for future growth, and enjoyed musical items and traditional food cooked overnight in several earth ovens.
Representatives came from Baha'i communities in the Solomons and French Polynesia, and there was a 56-strong delegation from New Caledonia, who brought gifts and performed a powerful dance.
A professional Baha'i musician, Gary Stirling, performed for the Baha'is and, with Sylvain Malsungai, was a master of ceremonies at a full-day public concert of song and dances staged on the city's sea-front.
Non-stop entertainment there came from a Baha'i choir and dance groups from the Vanuatu island of Efate and from New Caledonia and French Polynesia.
Meanwhile Baha'i communities in Tanna, Malakula, Pentecost and Ambae held local jubilee festivities.