In the midmost heart of the oceans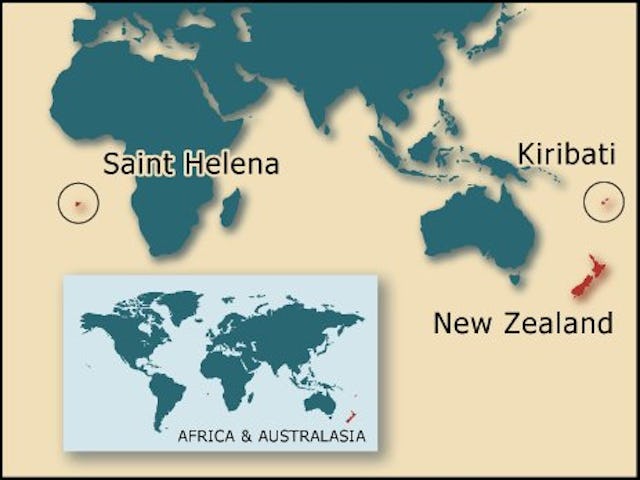 JAMESTOWN, Saint Helena — Two Baha'is who have contributed to societies on remote islands have received high awards for their services.
Basil George, who led a successful attempt to restore British citizenship to the people of the St. Helena, has received an OBE (Officer of the Order of the British Empire) for his services to his birthplace, which lies about midway between South America and Africa.
Robin White, a New Zealander who lived with her family in the Pacific nation of Kiribati from 1982 to 1999, has been appointed a Distinguished Companion of the New Zealand Order of Merit for services to painting and printing. Much of her recent work depicts Kiribati.
Basil George, 67, a descendant of the early settlers of St. Helena, received the award at a ceremony on the island, which has the status of a British Overseas Territory.
St. Helena's population of under 6,000 comprises people of British, African, Indian and Chinese descent. There is no air service but a ship calls monthly.
"The announcement of the award came unexpectedly and I am very touched by people on the island who put my name forward intending it as a surprise," Mr. George said.
Mr. George has served on the Local Spiritual Assembly of the Baha'is of St. Helena, including a number of times as chairman.
In 1996 the Anglican Bishop of St. Helena, John Ruston, asked Mr. George to take over as chairman of the Citizenship Commission.
The Anglican Church had set up the commission four years earlier in an attempt to reverse a 1981 decision of the British Government to introduce various classes of citizenship, effectively depriving the islanders of their longstanding legal status as full British citizens.
Under Mr. George's leadership, the commission took its case to the United Nations in 2000 and 2001. Victory was achieved when the British government restored full citizenship rights, including the right of abode in the United Kingdom and the European Union, to the people of their overseas territories.
The law came into effect on 21 May 2002, specifically timed for the St. Helena celebrations of the 500th anniversary of the discovery of the previously uninhabited island.
In a tribute, the monthly magazine, the "St. Helena Catalogue," said: "Basil George's love and devotion to his island and its community are amply demonstrated in his work in education and his commitment to the restoration of British citizenship to the people of St. Helena."
Mr. George became a Baha'i in 1961 when he was a policeman. To serve the Faith and the community more effectively, he took up teaching, gaining an honors degree in secondary education and being appointed headmaster of the secondary selective school.
In 1983 he became the Chief Education officer of St. Helena, was closely involved in a project to establish the island's first Community High School open to all children. He managed the introduction of a three-tier system of education on the island.
Mr. George has also contributed to the island as chairman of the Agricultural Authority Board, founding member and chairman of the Disabled Persons' Aid society, Heritage society, and diving club. He is now retired but serves as a tourist guide, and writes children's stories and poems about the island. He is married with three adult children.
Award for artist
Robin White is one of New Zealand's most prominent artists, with her work represented in major collections.
Ms. White, 57, was invested as a Distinguished Companion of the New Zealand Order of Merit at Government House in Wellington in August 2003.
"When I was first informed of the award I couldn't understand why I had received it for 'services to painting and printmaking' when there are so many very fine artists in New Zealand," she said.
"But I gather it has something to do with international connections -- the fact that I have exhibited overseas (India, United Kingdom, France, Japan, Australia) and that I have collaborated with Pacific artists."
Ms. White has been a member of the Baha'i Continental Board of Counsellors since 1995, and is now based in Masterton in the Wairarapa region of New Zealand.
Many images in her works are regarded as symbolic of aspects of her country's life. Her art is known for its clear images, strong colors and clean lines.
In 1982, when her works were in ever-increasing demand, she and her husband, Mike Fudakowski, moved to Kiribati to assist with the development of the Baha'i community there. Two of their three children were born there.
Kiribati is an independent nation comprising a group of 33 coral atolls in the Pacific Ocean. Straddling the equator, it is about half-way between Australia and Hawaii and has a population of about 98,000.
Robin White and her husband chose to live in a pandanus-thatched and coconut-ribbed house with a studio on stilts, rather than move into a conventional western style house.
After their relocation, Ms. White began producing images depicting the Kiribati environment. She used a Pacific woodblock and hand-coloring technique by which she carved a design into a block of wood, which was then inked before paper was pressed against the design.
Ms. White created detailed images depicting scenes of fishing, women conversing, people strolling in villages, children, and ocean scenes. Those common, every-day images were the basis for an exploration of universal themes.
Her reputation grew and her work was exhibited in distant New Zealand and Australia to good reviews.
A tragic 1996 fire, destroyed their family's house and her studio and equipment. The loss, however, prompted her to collaborate with indigenous artists and to extend her skills in the use of locally available material. Her collaborative work includes tapa (bark cloth) pieces produced with Fijian artist Leba Toki. (See http://www.bahaiworldnews.org/story.cfm?storyid=77)
In Kiribati she also learned the Gilbertise language to the extent that she served as a translator and worked with the local women to enhance the education and advancement in society and participated fully in the Baha'i community.
She has been an artist in residence in New Zealand and Australian universities and still travels in the Pacific region.