In Panama's remote indigenous villages, Baha'i volunteers provide much needed educational services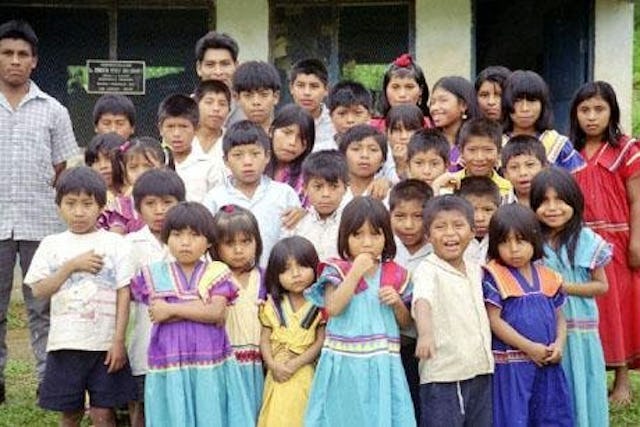 CHIRIQUI PROVINCE, Panama — At 5 a.m., dawn's light spread like a crimson streak across the dark sky and Victorino Rodriguez was already on his way. Every Monday he makes the three-hour walk from his home in Soloy to the tiny village of Quebrada Venado, high in the lush green mountains of Western Panama, to the tiny school there.
The 36-year-old teacher hurried along the narrow trails, anxious to arrive by 8 a.m., when classes start. With only some coffee for breakfast, he nevertheless wound energetically through green rice fields, banana groves, and up past moss-covered rocks, thick red clay coating his worn shoes.
A dozen children had been standing lookout since 7:30. With their parents working in the fields since dawn, the children are alone. As Mr. Rodriquez came around the last hill, a joyful shout went up and the students rushed out to greet their teacher. He named and embraced each one tenderly and then, putting his arms around them, walked the last kilometer together to the village school.
One of ten primary schools operated by Panama's Baha'i community here in the Ngabe-Bugle region, the school in Quebrada Venado is bare-bones basic, consisting of a thatched palm roof on wooden poles.
Yet, like the other schools, which together serve more than 300 students, it offers the children in the far reaches of this remote region virtually their only chance for an academic education. With the region's low population density and isolation -- all of the villages served by the Baha'i schools are accessible only by foot or horse -- the government has not been able to maintain a school system here.
"The children, because of the remote communities in which they live, which are up to six hours walking distance from the nearest town, would receive no education at all, were it not for these schools," said Rosemary Baily, secretary of the Foundation for Development and Culture (FUNDESCU), a Baha'i-inspired non-governmental organization that supports the schools. "So this effort really does make a huge difference in the lives of the children."
Most of the teachers, indigenous people themselves, are not formally trained. Rather, they are simply among those who have more education than others in the Ngabe-Bugle community, and so they feel obligated to pass along their learning.
"History testifies to the great material, cultural and spiritual wealth that indigenous peoples have enjoyed in the past, but for lack of education, they have not been able to develop," said Mr. Rodriguez, who himself has finished the 10th grade. "I have chosen the path of service in order to help generate the step-by-step process of development needed by the community, especially by the children who are the future of the Ngabe-Bugle region in Panama."
The schools began nearly 20 years ago as small local initiatives of the Baha'is of Panama, who sought to provide basic bilingual (Spanish and the native Ngabere) pre-school and elementary education in the indigenous Ngabe-Bugle communities. They have developed gradually, as the resources of the community have grown.
In the early 1990s, after a number of volunteer teachers had been forced to look for work elsewhere, a group of young Baha'is in the Ngabe-Bugle community came together to talk about how to keep the schools going. They made a solemn pact to offer themselves as teachers, and to remain for as long as they were needed, even without salary, whatever the sacrifice.
"Our own families are poor, but how can we leave these precious children without education?" said Mr. Rodriguez, who has now been teaching for seven years.
The group, composed of about a dozen individuals, initially worked without pay. More recently, FUNDESCU has been able to raise enough money to provide the teachers -- there are currently 13 -- with a monthly stipend equivalent to about US$50. The funds have come from the Baha'i sources, as well as from private foundations and contributors.
"I began my service as a volunteer," said Alexis Bejerano, who must travel each week from his home some three hours by bus, three hours by boat, and then three hours on foot to reach the Baha'i School of San Felix Bocas del Toro, where he teaches fourth, fifth, and sixth graders.
"I am serving my people because of the love and affection I feel for the children," added Mr. Bejerano. "The Baha'i Faith has given me this light -- that of sharing what one has learned. I feel so satisfied and I gain so much every day that I am in contact with the children. I learn a lot just by sharing the limited knowledge gained during my own studies."
Government officials have praised the project for filling an important need. Indeed, the Ministry of Education recently began funding the salary for a 14th teacher.
On a visit to the Ngabe-Bugle region in October 2002, Professor Aguedo Acosta, Regional Director of Private Education in Chiriqui for the Ministry of Education, said: "You see me here today for a second time within the Ngabe-Bugle homeland, to visit you and to offer all the moral and legal support that the Baha'i Schools need."
Parents and local leaders tell of their happiness with the opportunities provided by the schools.
"I cannot read or write, but with these schools, my children will learn to read and write," said Enrique Espinoza, head of the village council in Quebrada Molejon, where a Baha'i school serves roughly 60 students in grades one through six.
Although the schools are run by the Baha'is, the teachers and administrators do not seek to convert the students. Some of the villagers are Baha'is, some are Catholics, some Evangelicals, and some follow the native Mama Tata religion. In all, about half the students are Baha'is.
The influence of the Baha'i Faith nevertheless ensures that there is a strong moral component to the program. In addition to the standard academic curriculum, the schools include a weekly class on "Virtues and Values."
"They need more than just education in science and math, but education of the spirit," said Benita Palacios, who has been serving as a teacher for nine years.
"When I was school-aged, we females had few opportunities to study because of the belief that women would never go farther than their own homes," added Ms. Palacios, who teaches kindergarten in the village of Boca de Remedios. She said, however, that the Baha'i teachings on the equality of women and men have inspired her to go beyond this limitation. "My own education only went as far as ninth grade, and it was with great difficulty that I was able to go even that far."
Like the others, Ms. Palacios started out as a volunteer. "As a Baha'i, I felt I had a responsibility to my own community."
While not formally trained as educators, over the years the teachers have received training from various Baha'i organizations, facilitated by FUNDESCU. Last summer, for example, the Mona Foundation, a United States-based, Baha'i-inspired organization that strives to support grassroots educational initiatives around the world, held an in-depth training workshop on the fundamentals of educational philosophy and classroom management. In addition, the Mona Foundation has contributed $6,000 to the project over the past two years.
Mr. Rodriguez, for example, spends the school week away from his wife and three small children. After providing for his family, the $50 monthly stipend barely covers the cost of rice and sometimes a small package of beans or lentils for himself, which he has learned to cook over an open fire after school each afternoon.
The people of Quebrada Venado are certainly grateful. They treat Mr. Rodriguez with obvious respect. As subsistence farmers, they have no money or food to offer, but they take turns providing firewood for Victorino's outdoor kitchen. They have built him a small wood-framed shelter with corrugated zinc panels on three sides, a packed mud floor and a narrow wooden platform for his bed.
"The Baha'i Faith has been a light to our people," said one Quebrada Venado villager. "With this school, our children will be freed from the darkness of ignorance. These children are our future."
-- By Randie Gottlieb