Statement on racial prejudice spurs vital conversation in the US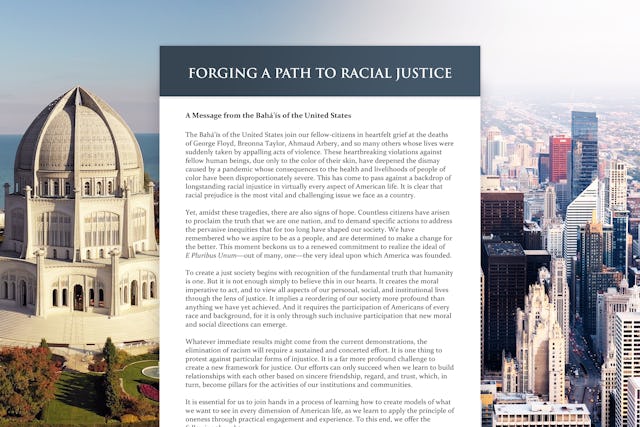 CHICAGO — A public statement from the Baha'i National Spiritual Assembly of the United States on racial prejudice and spiritual principles essential for progress toward peace released days ago has already stimulated critical reflection across the country.
The statement comes at a moment when recent tragedies and long history have intersected to bring anti-Black racism and other forms of prejudice to the forefront of public consciousness in the United States and across the world.
The message reads in part: "To create a just society begins with recognition of the fundamental truth that humanity is one. But it is not enough simply to believe this in our hearts. It creates the moral imperative to act, and to view all aspects of our personal, social, and institutional lives through the lens of justice. It implies a reordering of our society more profound than anything we have yet achieved. And it requires the participation of Americans of every race and background, for it is only through such inclusive participation that new moral and social directions can emerge."
The statement was released on 19 June, a date traditionally dedicated to commemorating the end of slavery in the United States. Initially published in the Chicago Tribune, it has also appeared in dozens of other publications, reaching a wide range of people.
Youth across the country have been examining how the statement can assist them in their efforts to contribute to greater harmony and understanding among their fellow compatriots. Participants in a recent national forum on race unity drew on ideas from the statement to illuminate their discussions.
The message voiced by the National Assembly is one of hope, speaking about what is required to address the root causes of racism: sustained and concerted effort guided by the recognition of the fundamental truth that the human family is one.
This view is informed by the experience of a national Baha'i community in which, since its inception at the turn of the 20th century, people of African and European descent and eventually of all origins have joined hands to labor towards the elimination of racial prejudice.
May Lample of the country's Baha'i Office of Public Affairs says that this message addresses profound questions that people are raising. "Americans are asking who we are as a society. What do we believe, and what will we tolerate? How much longer will we allow suffering to continue before we take action to make substantive change?"
P.J. Andrews, also of the Office, says: "In the culture of 'othering' in which we're embedded, diversity can be seen as a source of weakness. But in truth diversity is a source of wealth. Unity in diversity is something that strengthens us spiritually as a society."
Speaking about current circumstances, Anthony Vance, Director of the Office of Public Affairs, states: "It is remarkable that in just a short span of weeks, demands for racial justice have not only been strongly renewed but are made with a much broader base of support throughout the US population. With smart phones everywhere to record events, injustices that the Black community has spoken about for generations have become indisputable fact. Large segments of society have become conscious of this reality to a degree where inaction becomes untenable. In seizing this opportunity to act, Baha'is seek to undertake or expand activities, learn, think systematically, and, perhaps most importantly, persist over the long term to make a lasting advance toward justice and unity."